CHRISTIE ADMINISTRATION KICKS OFF CHOOSE AND CUT CHRISTMAS TREE SEASON
Spirit of Giving Ceremony Theme

For Immediate Release: December 2, 2013
Contact: Lynne Richmond
(609) 633-2954
lynne.richmond@ag.state.nj.us 

(WHITE TOWNSHIP) – As part of the Christie Administration's third annual 'Season of Service' Initiative, New Jersey Secretary of Agriculture Douglas H. Fisher and Department of Children and Families Commissioner Allison Blake today cut a Christmas tree at Wyckoff's Christmas Tree Farm in White Township, Warren County, ceremonially kicking off the choose and cut Christmas tree season.

Governor Christie proclaimed December 2, 2013 as Jersey Grown Christmas Tree Day, encouraging New Jersey residents to support the state's farmers and visit choose and cut Christmas tree farms, as well as helping their neighbors in need and the military during the holiday season.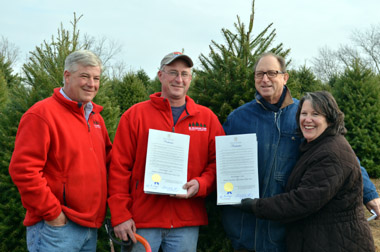 Christian Nicholson, President of the NJ Christmas Tree Growers Association, John Wyckoff, Secretary Fisher and Commissioner Blake display the Governor's proclamation declaring Dec. 2 as Jersey Grown Christmas Tree Day in NJ

"A visit to a New Jersey Christmas tree farm provides families with life-long memories," said Secretary Fisher.  "Not only do our farmers grow some of the most beautiful and healthy trees in the nation, they also are extremely generous to their surrounding community, donating trees to families in need and members of the military to brighten their holiday seasons."

The tree cut by Secretary Fisher and Commissioner Blake was donated to the Trees for Troops initiative, a charity program that donates real Christmas trees to service members and their families, sponsored by FedEx and the Christmas SPIRIT Foundation.  In addition, during today's ceremony the Belvidere FFA chapter presented the Wyckoffs with $2,025 in cash donations they received to purchase 81 trees for the Trees for Troops effort. 

The Wyckoffs also are donating another group of trees to Trees for Troops and 20 trees to NORWESCAP Family Success Center in Phillipsburg for families in need in the area.  Members of the Phillipsburg FFA Chapter will be assisting in the delivery of the trees.  Family Success Centers are funded through the New Jersey Department of Children and Families.

"This year's holiday season will be a little extra special for twenty Warren County area families thanks to Wyckoff's touching donation," said Commissioner Blake.  "The Christmas spirit is about giving and not only is Wyckoff's living up to that spirit, their donation is helping teach the joy of giving to the children of those twenty families now able to celebrate the holidays with a live Christmas tree."

Part of the Garden State's four seasons of agritourism, now is the time many families visit tree farms to cut their own Christmas trees.  Almost 79,000 trees are cut in New Jersey each year.  The 2007 U.S. Census of Agriculture ranked New Jersey sixth in the nation in the number of Christmas tree growers, with 1,150 farms that grow more than 6,000 acres of Christmas trees in the state.

A blue spruce from Wyckoff's Tree Farm in White Township this year won the annual contest held by the New Jersey Christmas Tree Growers' Association for the best Christmas tree in the state.  The Wyckoffs went on to compete in the National Christmas Tree Association's tree contest and became the first in New Jersey to be named national champion.  The tree was delivered to the White House over Thanksgiving weekend.

The 172-acre farm in White Township, outside of Belvidere, has been owned by the Wyckoff family since 1839 and is now being farmed by the sixth and seventh generations of Wyckoffs.  They have 55 acres of Christmas trees with 5,000 trees available this season.  They offer Fraser, Douglas, Concolor, and Canaan Firs, Norway, Blue, and Serbian Spruces and White Pine.

Christmas tree growers in New Jersey may participate in the Jersey Grown program, which allows farmers to tag their trees with the Jersey Grown brand to easily identify that their Christmas trees are grown in New Jersey. Jersey Grown includes quality standards and is similar to the well-known Jersey Fresh branding program for produce and other agricultural products.

The New Jersey Christmas Tree Growers' Association, organized in 1950, is a statewide organization of growers, professionals and industry leaders dedicated to the promotion and marketing of Christmas trees and related products.  A listing of farms consumers can visit is available at: www.njchristmastrees.org/where_find_christmas_tree.html.