SECRETARY OF AGRICULTURE MAKES CHRISTIE ADMINISTRATION SEASON OF SERVICE STOP
Helps Paint Garfield Senior Center Damaged In Superstorm Sandy

For Immediate Release: December 6, 2013
Contact: Lynne Richmond
(609) 633-2954
lynne.richmond@ag.state.nj.us 

(GARFIELD) – New Jersey Secretary of Agriculture Douglas H. Fisher joined a group of 10 Jersey Cares volunteers today at the Garfield Senior Activity Center in Garfield in brightening up the facility, damaged during Superstorm Sandy, with a fresh coat of paint.

The center suffered foundation damage from flooding and roof damage from wind and rain, which also damaged the kitchen area.  The outside issues have been repaired.  Jersey Cares began its indoor painting project during Sandy Service Day in October.

"For the last 13 months, as I travelled throughout the state, I have seen legions of volunteers helping their neighbors to restore our state to pre-Sandy condition," said Secretary Fisher.  "It is my sincere honor to be able to join in the effort and ensure the Garfield Senior Center is a bright, fresh place for local senior citizens to enjoy."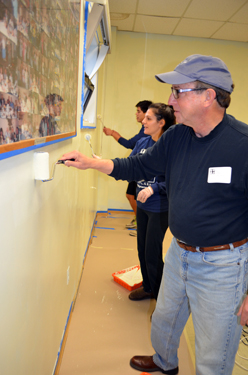 Secretary Fisher working alongside Jersey Cares workers

The Garfield Senior Activity Center is a non-profit agency and serves as a community focal point that provides the following: arts & crafts, Bingo, casino games, billiards, medication awareness, an on-site social worker, health monitoring services, intergeneration programs, various clubs, trips to New York and Atlantic City, and many more. Transportation is provided for residents of Garfield and Lodi. Every day begins with a complimentary continental breakfast and the option of a hot lunch.

Jersey Cares is a nonprofit organization established in 1993 that works to increase civic engagement in New Jersey by coordinating volunteer opportunities to address community-identified needs. We provide individuals, families, and corporate and community groups with a wide variety of volunteer opportunities. Jersey Cares partners with hundreds of nonprofit agencies to provide service projects that range from serving meals to building greenhouses in urban schools. Jersey Cares is an affiliate of the Hands on Network, an innovative alliance of volunteer catalysts throughout the world.