SECRETARY OF AGRICULTURE HONORS THE LANDY FAMILY AS NEW JERSEY HORSEPERSONS OF THE YEAR
For Immediate Release: January 30, 2014
Contact: Lynne Richmond
(609) 633-2954
lynne.richmond@ag.state.nj.us 

(TRENTON) -- The 2013 Governor's Award for Horseperson of the Year was awarded to the Landy family January 26 at the annual Breeders Luncheon by New Jersey Assistant Secretary of Agriculture Alfred Murray.

The Landy's, who own the 200-acre Congress Hill Farm in Monroe Township, have bred and trained horses from childhood and in past years have produced champion horses such as The Porter Grey who was the New Jersey Sire Stakes Champion at 3 and 4 years old.

"The Landy family has a commitment to their surrounding community, bringing horses and people together for their mutual benefit," said Secretary Fisher.  "They have many accomplishments through their lifetime of hard work and dedication to the equine industry."

A committee of past horsepersons of the year awarded the honor to the Landy Family for their many achievements, including the creation of the Open Space Pace, the newest agricultural fair in New Jersey which has been running for two years.  Its inaugural event was held in September of 2012.

In addition to the Open Space Pace, the Landy family also created the 4-H "Bits and Bridles" and "Share a Horse" programs, which offer children in the area different opportunities to ride and show horses beginning at a young age. They also started the internationally-known program, "Special Strides," which provides therapy to 140 children in the New Jersey area.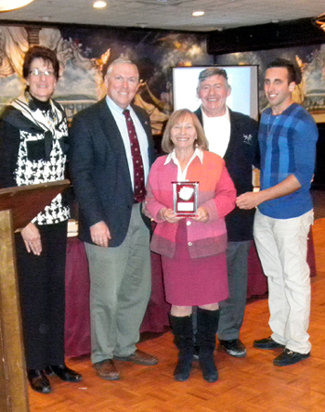 Karyn Malinowski, Director of Rutgers Equine Science Center
Al Murray, Assistant Secretary of Agriculture and Gloria, Eugene and Harry Landy

The annual Breeder's Luncheon celebrated the state's best in the equine field in 2013. Other awards presented at this event were:

Secretary of Agriculture Award for New Jersey Thoroughbred Horse of the Year: Geeky Gorgeous, owned by Daniel J. Lopez was bred in New Jersey by Joe-Dan Farm and trained by her owner.  The daughter of Devil His Due finished 2013 with $169,200 in earnings after a three race winning streak, including the $100,000 Regret Stakes.  She won eight of her 15 career starts with three seconds and three thirds with total earnings of $351,140.

Secretary of Agriculture Award for New Jersey Standardbred Horse of the Year: I Luv The Nitelife, owned by Richard and Joanne Young and trained by Chris Ryder. I Luv the Nitelife had a record of 17 wins, five seconds and two thirds in 25 starts. The daughter of Rocknroll Hanover, I Luv the Nitelife had a nearly perfect campaign in 2013 but fractured her right knee and will be in recuperation until the beginning of May.  Her career earnings are $1,943,287.

New Jersey Sire Stakes—Premier Horse of the Year: Smilin Eli, the son of Muscles Yankee accumulated a 2013 record of four wins and 11 in-the-money finishes in 14 starts, with four seconds and three thirds. His earnings for the year totaled $638,629. He is owned and bred by Nicholas Cimino of Pompano Beach, Fla.

Green Acres Horse of the Year: Ideal Helen, the daughter of Western Ideal was in the money in 11 of 14 starts, overall earning $125,736 for her owner D.R. Van Wizenburg of Crest Hill, Illinois.

New Jersey Equestrian of the Year: Angela Howard, Mullica Hill, is a Junior at Kingsway Regional High School, and was chosen based on her ability to communicate and her knowledge of horses, as well her essay about how horse owners prepare for disasters.

New Jersey Agricultural Achievement Award: CarolAnne Bekus, Hillsborough.  Bekus was awarded a $500 scholarship, sponsored by Amy Butewicz, a former New Jersey Equestrian of the Year who wanted to give back to the community.  She was selected based upon her essay, which answered the question: "How has your involvement within 4-H helped to shape your future career choice?" Bekus is a senior at Hillsborough High School and received the Princeton Agricultural Association Leadership Award in 2012 from Somerset County, She hopes to pursue a career in Animal Sciences in the future.

Sara Dubinin Scholarship: Danielle Kulyk, Aberdeen.  Kulyk was the winner of a $1,000 scholarship in memory of Sara Dubinin, a Sayreville equestrian who was the victim of a car accident in 2007.  She was selected based on her essay on "How horses have affected my life and how horses figure into my future."  Kulyk is a sophomore at Biotechnology High School in Freehold and is perusing her dream of becoming an equine veterinarian.

Bell Scholarship: Amanda Xue, Holmdel.  The scholarship is named for Ernest C. Bell, a horse breeder and one of the founders of the Equine Advisory Board.  Xue, a Rutgers University student, received a $1,000 scholarship.