Home
>
News
>
Press Releases
>
2014
>
WARREN COUNTY RESIDENT AWARDED 2014 OUTSTANDING YOUNG FARMER AWARD AT ANNUAL STATE AGRICULTURAL CONVENTION
WARREN COUNTY RESIDENT AWARDED 2014 OUTSTANDING YOUNG FARMER AWARD AT ANNUAL STATE AGRICULTURAL CONVENTION
For Immediate Release: February 7, 2014
Contact: Lynne Richmond            
(609) 633-2954
lynne.richmond@ag.state.nj.us 

(ATLANTIC CITY) – Mitchell Jones, a first-generation farmer from Warren County, was honored February 5 as the 2014 New Jersey Outstanding Young Farmer at the New Jersey State Agricultural Convention held in Atlantic City.

"Mitchell Jones is an innovative and hard-working farmer who has been an active participant in the agriculture community," said New Jersey Secretary of Agriculture Douglas H. Fisher.  "He is a great example for other young people who are interested in starting careers in agriculture."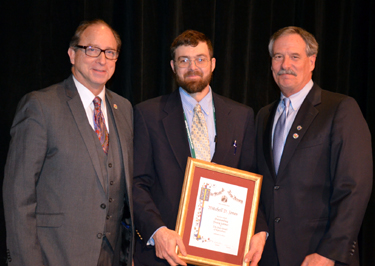 Secretary Fisher, Mitchell Jones and State Board of Agriculture President Robert Swanekamp

As a teenager, Jones worked on local farms and was a member of FFA, gaining hands-on experience about production agriculture. After graduating from Penn State with a Bachelor of Science degree in Agronomy in 1998, Jones began renting farmland.  Over time he has expanded his rental properties and now owns a small farm.

Jones is a hay and grain farmer who readily adapts to his hay customers' needs by providing diverse sizes of hay bales. Over the years, he has increased his volume of production and transitioned to larger bale sizes, which reduces his labor needs and increases his profit margins.

Jones, whose father worked for the USDA's Natural Resources Conservation Service, takes to heart the need to preserve and conserve natural resources. Conservation practices are applied to all acreage he owns and rents. He utilizes cover crops to control erosion and increase organic matter; uses minimal till or no till; has installed lined waterways, underground outlets and erosion control measures; has lands enrolled in a Conservation Stewardship Program; implemented Intensive Nutrient Management on farmland; and works with the NRCS in conjunction with the Audubon Society.



Contribution to agriculture and service to his community is of the utmost importance to Jones.

He has served or is serving in the following capacities:  soil judging coach to Belvidere High Schools FFA program; Warren County Board of Agriculture President, Vice President and Treasurer; Secretary and Treasurer on the Rutgers University Board of Managers; NJ Farm Bureau Convention and State Agriculture Convention delegate; Warren and Warren Pomona Grange member; and is a voting member of the Warren County Economic Development Advisory Committee.

"I'm very honored they chose me for the recognition," said Jones.  "It is important to keep agriculture vibrant and have new ideas and new blood coming along. FFA and 4-H are good places to start to learn leadership."

Jones' wife Lauren is a Certified Nursing Assistant at the Intensive Critical Care Unit of St. Lukes Hospital. She helps with the farms' daily chores, handles bookkeeping and financial planning for the farm and is active in several Warren Grange activities.

New Jersey annually recognizes the outstanding achievements of a young farmer, who is an upstanding leader, respected agriculturalist and is active in community or faith organizations.  Nominees must be farm operators, deriving a minimum of two-thirds of their income from farming and must be between the ages of 21-40, not becoming 41 prior to January 1 of the year for which they are applying.

A panel of judges reviews each nominee's application based on the following criteria: progress in their agricultural; soil and water conservation practices; and contribution to his/her community, state and nation.

Since the United States Jaycees presented the first award, eight New Jersey farmers' names have been added to the National OYF Honor Roll. They include Abbott Lee (1985), James B. Giamarese (1989), Robert Von Thun, Jr. (2001), Jeffrey VanderGroef (2005), H. William Sytsema (2009), Richard A. Norz (2010), John Melick (2011), and Paul "Duce" Tallamy (2012).

The OYF program is the oldest farmer recognition program in the United States, selecting its first group of national winners in 1955, and is administered by the U.S. Junior Chamber of Commerce. The goals of the OYF program are to foster better urban-rural relations through the understanding of farmers' challenges, as well as the appreciation of their contributions and achievements; to bring about a greater interest in farmers/ranchers; and to help build an urban awareness of the farmers' importance and impact on America's economy.  The OYF program encourages a greater interest in agriculture through the appreciation of the farmers' contributions and achievements and recognizes local citizens' contributions and encourages better urban-rural relations. The National OYF program is sponsored by Deere & Company, supported by the Outstanding Farmers of America (OFA) Fraternity and the National Association of County Agriculture Agents (NACAA), and administered by the United States Junior Chamber of Commerce.

For more information on the state's Outstanding Young Farmer program, visit: www.nj.gov/agriculture/about/sba/cover.html.