JANY AND KLINE HONORED FOR DISTINGUISHED SERVICE TO AGRICULTURE
Awards Presented During State Agriculture Convention

For Immediate Release: February 14, 2014
Contact: Lynne Richmond
(609) 633-2954
lynne.richmond@ag.state.nj.us 

(ATLANTIC CITY) – Steven R. Jany, a Mercer County grain farmer, and Dr. Wesley Kline, Rutgers Cooperative Extension of Cumberland County Agricultural Agent and associate professor at Rutgers University were honored February 5 with Distinguished Service Citations to New Jersey Agriculture at the State Agricultural Convention held in Atlantic City.

"Steve Jany has a great love for New Jersey agriculture and has spent the last 50 years in leadership roles that have improved the state's agriculture industry for all farmers," said New Jersey Secretary of Agriculture Douglas H. Fisher. "Steve is regarded as a consensus builder, organizer and mentor to younger farmers."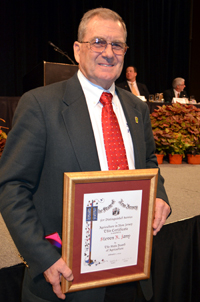 Jany began his career in agriculture in 1965 when he worked at a local farm. Four years later, he graduated from the Princeton High School Business Program and immediately got a job at Rustin Farms in Princeton Junction.

In 1971 he left there for Simonson Farms only to return to Rustin as a partner in 1973. The farm is now a thriving 2,000-acre spread that includes grain and Christmas trees.

Steve has served his community for many years taking leadership roles in various agricultural committees and boards across the state. He is currently Second Vice President of New Jersey Farm Bureau and also served as treasurer and county director. He was a member of the State Board of Agriculture from 1997-2002 serving as its president for one year. Steve also served as the President of the Mercer County Board of Agriculture from 2001 to 2003. He sat on the Cook College Board of Managers. In addition, Steve has served as an Officer of the Grain and Forage Producers Association of New Jersey, the New Jersey Soybean Board of Directors and a member of the New Jersey DEP's Water Supply Advisory Board and New Jersey Christmas Tree Growers Association.

Dr. Wesley Kline graduated from Salem College and earned his Masters and Doctorate at Cornell University. He spent time as a horticulturist in the Peace Corps and worked in Somalia, Ecuador and El Salvador. He came to Rutgers in 1996, where he works with growers and agribusiness personnel to the betterment of their livelihoods.

Working with the New Jersey Department of Agriculture, Dr. Kline helped set up a Food Safety Task Force and has trained more than 5,000 farmers on the Food Safety Modernization Act and third-party audits.

"Serving New Jersey agriculture is not just a job for Dr. Kline but a passion," said New Jersey Secretary of Agriculture Douglas H. Fisher. "He has tirelessly worked to educate and assist farmers in Cumberland County and throughout the state on food safety and other topics."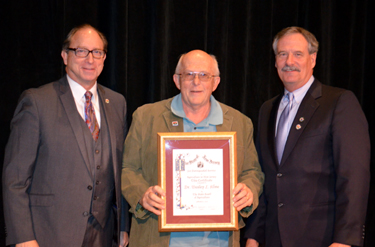 Secretary Fisher and State Board of Agriculture Robert Swanekamp present award to Dr. Kline
Kline coordinates the food safety extension training program in New Jersey. And, he was instrumental in the implementation of an educational program in Cumberland County concerning commercial fresh-market and processing vegetable production and herbs.

Kline is a frequent invited speaker at conventions, conferences and meetings and has produced several well-respected publications, fact sheets, manuals, newsletters, webinars, websites and CD's.

Since 1932, the New Jersey State Board of Agriculture has awarded the prestigious Citation for Distinguished Service to Agriculture to men and women who have given unselfishly of their time and talents to the advancement and betterment of the agricultural industry and rural life in New Jersey. This award is given to recognize and honor those individuals who have made outstanding contributions of public service to New Jersey agriculture.

Organizations who qualify to send delegates to the New Jersey State Agricultural Convention may nominate a state farmer for the award. For more information on the Distinguished Service to Agriculture Award, visit www.nj.gov/agriculture/about/sba/guidelin.html.