CHRISTIE ADMINISTRATION HIGHLIGHTS ORGANIC AGRICULTURE
Agriculture Secretary Tours Organic Farms

For Immediate Release: June 17, 2014
Contact: Lynne Richmond 
(609) 633-2954
lynne.richmond@ag.state.nj.us 

(TRENTON) – New Jersey Secretary of Agriculture Douglas H. Fisher today toured two organic farms in the state to highlight the organic agriculture sector and the many opportunities for consumers to purchase organic produce.

The 2012 Census of Agriculture showed there were 72 organic farms in New Jersey with more than $3.04 million in product sales.  Of the farm operators, 49 said their primary occupation was farming.  Atlantic County had the most organic farms with 11 and Hunterdon and Morris counties each had eight.  The New Jersey Department of Agriculture is an accredited certifying agent for the National Organic Program and currently certifies 85 organic producers and handlers.  Products certified include produce, coffee, tea, and cookies.

"Having a thriving organic farming industry in New Jersey satisfies the demands of our state's highly diversified marketplace," said Secretary Fisher.  "Some of these organic operations produce strictly for wholesale, some sell directly through their own farm stands, at farmers markets or by community supported agriculture."

Community Supported Agriculture (CSA) is a group of people who pledge to support a farm operation in advance of the growing season.  In return, they receive shares of the farm's bounty throughout the season. 

Secretary Fisher visited Chickadee Creek Farm in Hopewell Township operated by 13th generation farmer Jessica Niederer, who offers community supported agriculture (CSA).  She also sells through farmers markets and direct to restaurants.  She grows her organic produce and flowers on 17 acres of her family's 80-acre hay farm.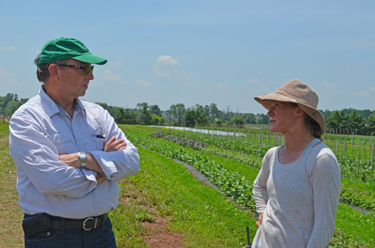 Secretary Fisher with Jess Niederer

"I have a three-pronged goal – to make a sustainable living off of the family farm, supply the community with healthy and flavorful food and be efficient and keep costs down," said Niederer.

Secretary Fisher's next stop was Savoie Organic Farm in Williamstown, where Barry and Carol Savoie grow a variety of organic produce on their 15-acre farm.  They are second-career farmers; Barry, a former U.S. Navy nuclear submariner, resigned on April 18th from his job at the Salem Nuclear Power Plant to farm full-time.  Carol has a Ph.D. in marine studies.  They met at Oregon State University where Carol had a post-doctoral fellowship. 

Carol's father and uncles bought the farm in Williamstown in 1955 and raised and trained horses.  Barry grew up on a 550-acre hay farm in Michigan.  They moved to Carol's family farm in 2005 with the goal to become certified organic.

"We live here on the farm, we have well water, we were growing our family at the same time we were starting our farm," said Carol Savoie.  "For many personal reasons, we decided that organic farming was safer and more nutritious for our family."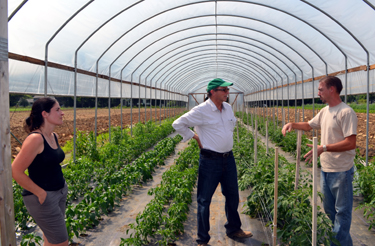 Carol Savoie, Secretary Fisher and Barry Savoie inside their high tunnel

The Savoies have had a CSA for four seasons and now have 55 members.  They also sell at weekend farmers markets and to fine restaurants in the region.  They produce a variety of vegetables.

For more information about the Department's organic certification program, visit www.nj.gov/agriculture/divisions/md/prog/jerseyorganic.html.