NEW JERSEY'S TOP SEAFOOD CHEF ANNOUNCED AT 2014 JERSEY SEAFOOD CHALLENGE
Jeffry Wierzbicki will Represent the Garden State in National Crown Competition this Summer

For Immediate Release: June 26, 2014
Contact: Lynne Richmond
(609) 633-2954          
lynne.richmond@ag.state.nj.us 

(BARNEGAT LIGHT) – New Jersey Secretary of Agriculture Douglas H. Fisher today declared Jeffry Wierzbicki and his Sous Chef Brian Kirby of Winberie's in Summit the winners of the 2014 Jersey Seafood Challenge for his signature dish, New Jersey Scallop BLT. As the champion, Wierzbicki and Kirby will be New Jersey's official representatives at the Great American Seafood Cook-off in New Orleans in August. Today's competition was held at Viking Village in Barnegat Light.

"New Jersey's 3,100 commercial fishermen and 200 aquatic farmers catch and grow some of the finest seafood in the world," said Secretary Fisher.  "Chef Wierzbicki will be a source of great pride for the Garden State when competes in the national cook-off this summer.  Congratulations to all the competitors who prepared an outstanding lineup of dishes that demonstrated the superior quality of our sustainable bounty of Jersey Seafood and Jersey Fresh produce."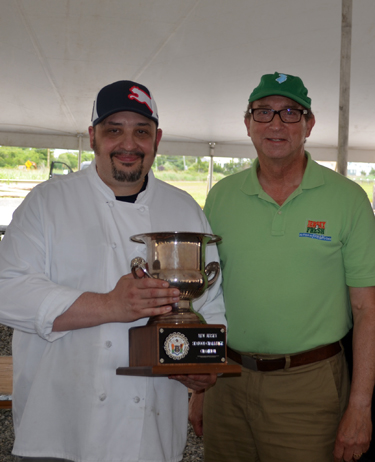 Chef Wierzbicki and Secretary Fisher with the Jersey Seafood Challenge trophy

Wierzbicki earned a Bachelor of Science degree in Culinary Arts from Johnson and Wales University in Rhode Island.  He began his career at the Boston Harbor Hotel and the Bay Tower Room in Boston.  He also spent time working at Biarritz, France, Ambergris Caye, Belize as well as opening Epicurean Restaurant at Mission Point Resort in Michigan.  He has been Executive Chef at Winberie's in Summit for more than eight years.

"It is an absolute honor and I'm looking forward to representing New Jersey and showing the rest of the states how good New Jersey seafood is," said Chef Wierzbicki.  "I developed the scallop BLT dish to represent New Jersey  in the most New Jersey way possible by paying homage to our state's diners."

First runner-up was James Costello of The Ohana Grill in Lavallette who cooked Smoked Pan-Seared Monkfish over NJ Corn Cheese Grits with butter-poached NJ asparagus.  Second runner-up was Christopher Sanchez of Black Eyed Susans in Harvey Cedars who prepared Seared Scallops, asparagus tips, baby summer squash, sugar snap peas and fennel puree.

Other chefs who participated in the cook-off, coordinated by the New Jersey Department of Agriculture and the New Jersey Chapters of the American Culinary Federation, included: Alex Waters of The Ebbitt Room at the Virginia Hotel in Cape May; Sofia Karakasidou of Kuzina by Sofia in Cherry Hill; Kara Decker of 100 Steps Supper Club and Raw Bar in Cranford; Danny Arturo of Village Food Garden at Shop-Rite of Greater Morristown; and Charles Ostergren of Viking Fresh Off the Hook in Barnegat Light.

The Jersey Seafood Challenge was sponsored by: Viking Village, New Jersey Restaurant Association, Garden State Seafood Association, New Jersey Chapters of the American Culinary Federation, Lund's Fisheries, Atlantic Cape Fisheries, Kuzina by Sofia and Viking Fresh Off the Hook.

The Great American Seafood Cook-off is limited to 20 chefs with the champion being named King or Queen of American Seafood. The cook-off is televised by the Food Network and is part of the Louisiana Foodservice Expo.  The event will take place on August 2 and 3 in New Orleans.

Judging the competition were: Douglas H. Fisher, NJ Secretary of Agriculture; Christopher Albrecht, Chef, Eno Terra, Kingston, 2013 Jersey Seafood Challenge Winner; Demetrios Haronis, Chef, Fin, Tropicana Casino, Atlantic City, 2012 winner of the Jersey Seafood Challenge; Jennifer Monaco, Club Managers Association of New Jersey; Gary Giberson, Lawrenceville School Food Service Director; Nancy Painter, Edible Jersey, Editor and Publisher; Greg DiDomenico, Executive Director of the Garden State Seafood Association; and Sonja Larson Panacek of Viking Village.

Home to six major fishing ports, Cape May/Wildwood was the fifth highest commercial fishing port in the nation in terms of value of the catch at $103 million.

New Jersey fishermen land more than 100 varieties of finfish and shellfish. New Jersey's commercial fisherman caught 180.5 million pounds of seafood in 2012 valued at $187.7 million.  The port of Cape May-Wildwood ranked 11th in the nation in terms of value of the catch at $72 million.  The most valuable fisheries in 2012 were sea scallops ($110.6 million), surf clams/ocean quahogs ($25.4 million) and blue crabs ($10 million), according to the National Oceanic and Atmospheric Administration (NOAA).

For more information about New Jersey seafood, visit the Jersey Seafood website at www.jerseyseafood.nj.gov.