NJ TOP SEAFOOD CHEF READIES BEST OF JERSEY DISH FOR NATIONAL SEAFOOD COMPETITION
Secretary Fisher Serves as Taste Tester During Practice Run

For Immediate Release: July 28, 2013
Contact: Lynne Richmond            
(609) 633-2954
lynne.richmond@ag.state.nj.us 

(TRENTON) – New Jersey Secretary of Agriculture Douglas H. Fisher today taste-tested  New Jersey Scallop BLT, which the state's top seafood chef Jeffry Wierzbicki will prepare as New Jersey's entry in the Great American Seafood Cook Off in New Orleans on August 2.

Wierzbicki,

of Winberie's in Summit, and his sous chef, Brian Kirby, today

practiced preparing their entrée that won them first place in the Department of Agriculture's Jersey Seafood Challenge in Barnegat Light on June 26.  The practice session was held at New Jersey Restaurant Association (NJRA) Headquarters in Trenton for Secretary Fisher and a group of restaurant industry experts, who gave Wierzbicki tips designed to help him at the Great American Seafood Cook Off.

"New Jersey's scallops are highly prized and Chef Wierzbicki's dish highlights their quality and great taste," said Secretary Fisher.  "We are sure that Chef Wierzbicki and Sous Chef Kirby will represent the Garden State proudly at the national competition."

In addition to Secretary Fisher, expert tasters included:  Marilou Halvorsen, President of the New Jersey Restaurant Association, Gary Giberson, food service director of the Lawrenceville School, Jared Flesher, Edible Jersey magazine editor, Meghan Baker of Chasing New Jersey and Phil Cragg of the Academy of Culinary Arts at Atlantic Cape Community College.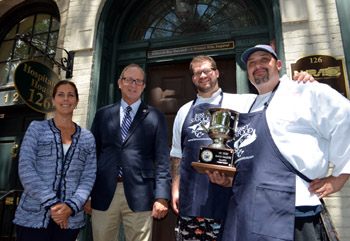 Marilou Halvorsen, NJRA President, Secretary Fisher, Brian Kirby and Chef Jeffry Wierzbicki

Wierzbicki competed against seven other premier seafood chefs from around the state at the Jersey Seafood Challenge at Viking Village, a main sponsor of the competition.  His New Jersey Scallop BLT was inspired by classic New Jersey diner food.  One judge at the competition called the dish "awe-inspiring" in an Asbury Park Press interview.

For today's practice session, the scallops came from Viking Village in Barnegat Light, the micro-greens from ARC Greenhouses in Shiloh, and the heirloom tomatoes from Blue Moon Acres in Pennington.  The bacon and focaccia bread were local as well.

"This dish is New Jersey on a plate," said Wierzbicki.  "New Jersey made this dish; we're going to New Orleans with great products, will prepare it well and represent the state."

Wierzbicki earned a Bachelor of Science in Culinary Arts from Johnson and Wales University in Rhode Island.  He began his career at the Boston Harbor Hotel and the Bay Tower Room in Boston.  Wierzbicki also spent time working at Biarritz, France, Ambergris Caye, Belize as well as opening Epicurean Restaurant at Mission Point Resort in Michigan.  He has been Executive Chef at Winberie's in Summit for more than eight years.

The Great American Seafood Cook-off is held during the Louisiana Foodservice Expo in the Morial Convention Center, and is sponsored by the National Oceanic Atmospheric Administration (NOAA) and presented by the Louisiana Seafood Promotion & Marketing Board.  The champion will be named King or Queen of American Seafood.

New Jersey fishermen land more than 100 varieties of finfish and shellfish. New Jersey's commercial fisherman caught 180.5 million pounds of seafood in 2012 valued at $187.7 million.  The port of Cape May-Wildwood ranked 11th in the nation in terms of value of the catch at $72 million.  The most valuable fisheries in 2012 were sea scallops ($110.6 million), surf clams/ocean quahogs ($25.4 million) and blue crabs ($10 million), according to the National Oceanic and Atmospheric Administration (NOAA).

For more information about New Jersey seafood, visit the Jersey Seafood website at www.jerseyseafood.nj.gov.