CHRISTIE ADMINISTRATION CELEBRATES FARMERS MARKET WEEK IN THE GARDEN STATE FROM AUGUST 3-9
Ag Secretary Encourages New Jersey Consumers to Visit Local Markets

For Immediate Release: August 6, 2014
Contact: Lynne Richmond
(609) 633-2954
lynne.richmond@ag.state.nj.us 

(BORDENTOWN CITY) – New Jersey Secretary of Agriculture Douglas H. Fisher and U.S. Department of Agriculture officials today marked Farmers Market Week with a visit to the Bordentown City Farmers Market in Bordentown City.

Governor Chris Christie proclaimed August 3 through 9, 2014 as Farmers Market Week in New Jersey and  U.S. Secretary of Agriculture Tom Vilsack, likewise, proclaimed the week National Farmers Market Week to remind consumers to visit these markets this summer and fall.

"The Department of Agriculture encourages New Jersey residents to support community farmers markets and our state's agriculture industry," said Secretary Fisher.  "Farmers markets like the Bordentown City market not only provide access to the freshest Jersey Fresh produce, but act as a neighborhood gathering place where people can meet the farmers who grow their food, exchange recipes using the fruits and vegetables and have an enjoyable time."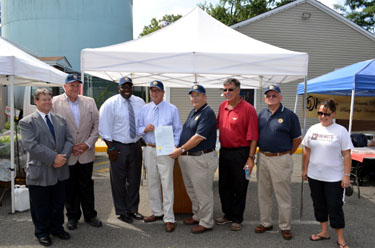 Secretary Fisher presents the Farmers Market Week Proclamation to Mayor Joseph Malone

Secretary Fisher was joined at the market by James Harmon, United States Department of Agriculture Food and Nutrition Service, Director of Special Nutrition Programs, Paul Hlubik, State Director of USDA Farm Service Agency, and other state, county and local officials. 

"USDA is pleased to see the farmers market sector mature and grow here in the Garden State, seeding new business opportunities for farmers, ranchers, and food entrepreneurs," said James Harmon.  "Farmers markets are often the first place consumers can meet their local farmers and are a building block for expanding local and regional food systems."

"The beauty of buying locally from your community farmers markets is that not only are you, the consumer, guaranteed some of the Garden State's freshest, most delicious, healthiest food choices at a convenient location and a competitive price; you also are contributing to the local economy," said Paul Hlubik.  "That farmer is your neighbor buying goods and services from other businesses in and around your local community, creating jobs, adding a scenic vista, contributing to a healthy environment -- all keeping your community vibrant. In my two careers both in USDA and as a farmer, I'm dedicated to promoting your neighborhood farmer for generations to come. "

There are 148 community farmers markets in the state, eight of which are new this season.   Farmers who attend these markets sell produce they've picked at the peak of ripeness within 24 hours of sale to ensure the best taste and highest quality.  Many of the farmers accept WIC and Senior Farmers Market Nutrition Program vouchers and SNAP food stamp cards. 

Bordentown City Farmers Market, open Wednesdays 3 p.m. to dusk through September 24, was, started by community members.  Danielle and Matthew McElmoyl of Oliver A Bistro in Bordentown City have been managing the market for the past three years.  There are four farmers and 12 to 14 vendors each week selling items such as baked goods, eggs, local cheese and handcrafted soaps.  Two local arts and crafts studios offer children's activities at the market. 

"The market offers fresh local produce and brings awareness to the community about the significant amount of farms in our area," said Danielle McElmoyl.  "We see more and more city residents come out for it every summer."

Eating Jersey Fresh fruits, vegetables and other agricultural products can go a long way to improving overall health.  Eating locally also is a good choice for protecting our environment by reducing the miles a meal travels between farm and fork, lessening fuel consumption.  In addition, choosing locally grown products helps keep New Jersey farmers on their land, preserving the Garden State's quality of life.