CHRISTIE ADMINISTRATION HIGHLIGHTS SCHOOL MEALS DURING VISIT TO MONROE TOWNSHIP HIGH SCHOOL
Officials Encourage NJ Children to Participate in School Lunch Programs

For Immediate Release: September 9, 2014
Contact: Lynne Richmond 
(609) 633-2954
lynne.richmond@ag.state.nj.us 

(MONROE TOWNSHIP) – New Jersey Secretary of Agriculture Douglas H. Fisher and U.S. Department of Agriculture Food and Nutrition Service Mid-Atlantic Region Administrator Patricia Dombroski today visited Monroe Township High School to talk about the district's success in making students' meals nutritious and appealing.

New Jersey schools over the last three school years have implemented the 2010 federal Healthy, Hunger-Free Kids Act, which required more fruits and vegetables, whole grains, fat-free or low-fat milk, fat-free flavored milk, and limited saturated fat and portion size.  It set requirements for school breakfast and snacks as well.

"New Jersey schools have embraced the new federal school lunch guidelines and have done so in very creative, exciting ways," said Secretary Fisher.  "We are proud of Monroe Township School District officials for their commitment to helping students engage in their own health strategies and finding interesting and new ways to help them learn about how their food is grown."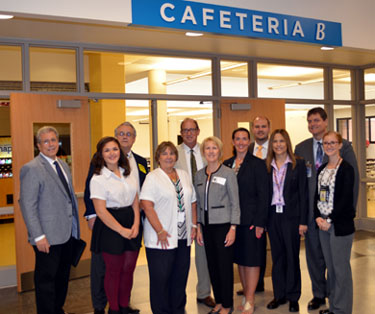 Secretary Fisher, Administrator Dombroski and NJDA Food and Nutrition Division Director Rose Tricario with Monroe Township officials outside of the high school's cafeteria
Secretary Fisher and Administrator Dombroski observed a school lunch period at the high school, which had whole grain mozzarella sticks on the menu, as well as the featured vegetable of the day – green beans, soup du jour, a salad bar, fruit and milk.  The ala carte menu included whole wheat crust pizza, wraps, sandwiches and premium salads and grill items, such as burgers, cheese steaks and paninis.
Fisher and Dombroski taste-tested some new and interesting menu items, including buffalo chicken pizza, vegetable and hummus whole grain wrap, and pesto chicken, roasted peppers and baby spinach whole grain panini. 
"I applaud Monroe Township High School  for offering healthier food choices to their students," said USDA, Mid-Atlantic Regional Administrator, Pat Dombroski. "Nothing is more important than the health of our children and the Healthy, Hunger-Free Kids Act sets positive standards ensuring that all foods and beverages sold in school, including through vending machines, school stores, a la carte lines and fundraisers, are healthy and nutritious."
District Food Service Director Nancy Mitrocsak said they have gone back to more "from scratch" cooking.  They make their own whole wheat pizza dough and use fresh spices and herbs.  The high school has a food court with more than 35 menu choices each day.  Menu items were developed based on the work of the district's very active Wellness Council.
The food service department also collaborates with the Science, Technology, Engineering and Mathematics (STEM) Academy, using a mobile, edible wall to grow produce and there are plans to start an outdoor greenhouse to grow more foods for the school meals program.
"It's exciting to see students engaging in our farm to school program," said Mitrocsak.  "For most of the school year we are provided with wonderful fresh herbs to use in our soups and recipes."
To enhance the nutritional value of school meals by adding more local fruits and vegetables, the Department of Agriculture will celebrate Jersey Fresh Farm to School Week September 22-26.  Last month, Acting Governor Kim Guadagno signed into law a package of bills to support and streamline the farm to school program.