AGRICULTURE SECRETARY GETS FIRST HAND LOOK AT THANKSGIVING FOOD DISTRIBUTION PREPARATIONS
Atlantic City Food Pantry Getting Ready for Holiday Meal Deliveries

For Immediate Release: November 20, 2014
Contact: Lynne Richmond
(609) 633-2954\
lynne.richmond@ag.state.nj.us 

(ATLANTIC CITY) – New Jersey Secretary of Agriculture Douglas H. Fisher today visited the St. Andrew-Resurrection Ministries Food Pantry in Atlantic City, one of the city's three largest pantries to see how preparations for the Thanksgiving meal distribution are progressing.  About 70 recipients will pick up full holiday meals on Monday, November 24.

The food pantry opened in December of 2012 with 100 households served in the first month and has seen a significant increase in need since then.  Last month, 264 Atlantic City households were served at the pantry, a 20 percent increase from the month before. 

"Over the last few years, we have seen an increasing need for emergency food in Atlantic City due to the economy, Superstorm Sandy and more recently, casino layoffs," said Secretary Fisher.  "There is great generosity at holiday time to ensure families in need can enjoy the Thanksgiving meal.  However, we urge continued support for our state's food pantries and soup kitchens year-round."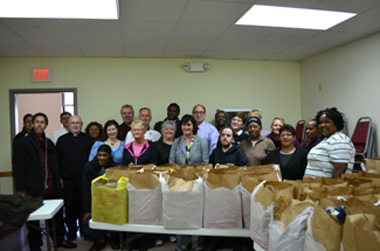 Secretary Fisher, NJDA Food Distribution Manager Jennifer Zeligson and St. Andrew-Resurrection Food Pantry volunteers with packed food bags

The St. Andrew-Resurrection Ministries Food Pantry relies greatly on food from the Department of Agriculture's State Food Purchase Program (SFPP) and the Emergency Food Assistance Program (TEFAP).  The State Food Purchase Program provides $6.8 million a year to the state's six-contracted food banks to purchase healthy food with an emphasis on Jersey Fresh produce for distribution to their networks of food pantries, soup kitchens and homeless shelters.  TEFAP distributes U.S. Department of Agriculture donated foods to the food banks.

The pantry receives its TEFAP and SFPP through the Community Food Bank of New Jersey Southern Branch in Egg Harbor Township.  The food bank stores the pantry's turkeys for the Thanksgiving meal and regular stock of fresh and frozen products.  Those items are delivered to the food bank prior to distributions.  McGettigan showed Secretary Fisher the preparations for the holiday distribution of turkeys and chickens with all the fixings, which will take place 9 a.m. on Monday.

Pastor David McGettigan, who runs the pantry, said they distribute emergency food twice a month.  The volunteers usually prepare about 150 bags of basic groceries prior to distribution day and supplement that day with fresh produce and frozen items.  They also adjust the amount of items by the size of the family.  He said SFPP and TEFAP are the backbone of their operation.

"We solicit outside donations from churches and other sources and they are generous but we probably could not serve more than 15 to 20 percent of the clients we actually do if it were not for the TEFAP/SFPP food," said McGettigan.

McGettigan urged the public to donate to the food pantry, especially high cost grocery store items such as peanut butter, jelly and cereal, saying the donations they get from the public counts and makes a difference.  He also encouraged people to come out and volunteer a few hours or more of their monthly feeding events.