NEW JERSEY'S TOP SEAFOOD CHEF ANNOUNCED AT 2015 JERSEY SEAFOOD CHALLENGE
Chef Bryan Gregg will Represent the Garden State in National Crown Competition this Summer

For Immediate Release: June 25, 2015
Contact: Lynne Richmond
(609) 633-2954
lynne.richmond@ag.state.nj.us 

(BARNEGAT LIGHT) – New Jersey Assistant Secretary of Agriculture Alfred Murray today declared Chef Bryan Gregg of Escape Montclair in Montclair the winner of the 2015 Jersey Seafood Challenge for his signature dish, Barnegat Light Scallops, Creamless Corn and Jersey Chanterelles. Chef Gregg will be New Jersey's official representative at the Great American Seafood Cook-off in New Orleans on August 8. Today's competition was held at Viking Village in Barnegat Light.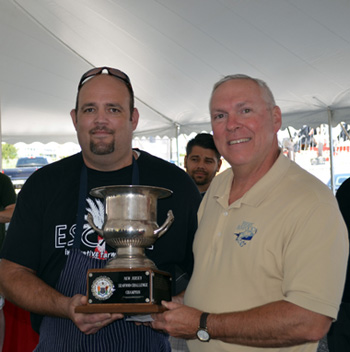 Assistant Secretary Murray presents Chef Gregg with the Jersey Seafood Challenge trophy.

"Congratulations to Chef Gregg who will proudly represent our state at the national competition and demonstrate to the country that New Jersey's seafood and the chefs that prepare it are top notch," said Assistant Secretary Murray. "Our state's commercial fishermen and aquatic farmers catch and grow superior quality, sustainable seafood. Thank you to all the competitors who prepared an outstanding lineup of dishes that showed off the variety and versatility of the catch and Jersey Fresh produce."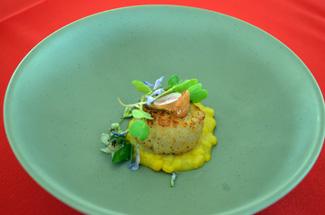 Barnegat Light Scallops with Creamless Corn and Jersey Chanterelles

Chef Gregg is a graduate of the Pennsylvania Institute of Culinary Arts. He worked at some of the most highly regarded restaurants in New York and New Jersey, such as Ho-Ho-Kus Inn and Michael Anthony's, before bringing the farm-to-table experience to Essex County, NJ, with Escape in Montclair. He recently was the featured chef at the James Beard House in Manhattan.

"It means a lot to me to represent New Jersey at the national competition," said Gregg. "We will show people outside of New Jersey what we can do. There are very few places like New Jersey where you can get the quality and variety of seafood and produce we have available."

The second place winner was James Costello of The Ohana Grill in Lavallette. Third place was awarded to Jennifer Monaco of Sustainable Fare LLC of Lawrenceville.

Other chefs who participated in the cook-off, coordinated by the New Jersey Department of Agriculture and the New Jersey Chapters of the American Culinary Federation, included: Frank Benowitz of Mercer County Community College in West Winsor; Joe Kratochwill of Zallie's Fresh Kitchen at Shop-Rite in Medford; Marita Lynn of Runa Peruvian Cuisine in Red Bank; and Charles Ostergren of Viking Fresh Off the Hook in Barnegat Light.

The Jersey Seafood Challenge was sponsored by: Viking Village, New Jersey Restaurant Association, Garden State Seafood Association, New Jersey Chapters of the American Culinary Federation, and Lund's Fisheries.

The Great American Seafood Cook-off is limited to 20 chefs with the champion being named America's Best Seafood Chef. The cook-off is part of the Louisiana Foodservice Expo.

Judging the competition were: Alfred Murray, NJ Assistant Secretary of Agriculture; Jeffry Wierzbicki, Chef, Winberies, Summit, 2014 Jersey Seafood Challenge winner; Peter Fischbach, Chef, Gourmet Dining Services, NJIT Newark, 2008 Jersey Seafood Challenge winner; Nancy Painter, Edible Jersey Editor and Publisher; Gef Flimlin, Rutgers Cooperative Extension Seafood Specialist; Gary Giberson, Lawrenceville School Food Service Director; and Jeff Kaelin, Lund's Fisheries, Cape May.

New Jersey fishermen land more than 100 varieties of finfish and shellfish. New Jersey's commercial fisherman caught 120 million pounds of seafood in 2013 valued at $133 million. The most valuable fisheries in 2013 were sea scallops ($65.3 million), ocean quahog ($12 million), surf clams ($10.9 million), and blue crabs ($8.1 million), according to the National Oceanic and Atmospheric Administration (NOAA).

For more information about New Jersey seafood, visit the Jersey Seafood website at www.jerseyseafood.nj.gov.