NJDA SECRETARY FISHER'S VISITS SHOWCASE JERSEY FRESH GROWING SEASON
IMMEDIATE RELEASE
July 25, 2017 www.nj.gov/agriculture
PO Box 330
Trenton, New Jersey 08625-0330
Contact: Jeff Wolfe
P: (609) 633-2954
C: (609) 433-1785
E: jeff.wolfe@ag.state.nj.us
(TRENTON) – New Jersey Department of Agriculture Secretary Douglas H. Fisher did a Jersey Fresh visit Monday featuring the many varieties of produce now available at the peak of growing season. Secretary Fisher toured Sun Valley Orchards in Gloucester County to highlight pepper production and Ron's Gardens in Atlantic County to emphasize the availability of Jersey Fresh fruits and vegetables at road side farm markets, community farmers markets and local supermarkets.
"When you are shopping for fruits and vegetables at this time of year, Jersey Fresh is available wherever you go," Secretary Fisher said. "Sun Valley plays a key role in producing and distributing Jersey Fresh all along the Eastern seaboard and is an example of high production agriculture in our state."
Sun Valley Orchards has been owned by the Marino family since the early 1970s and now farms more than 3,000 acres throughout southern Gloucester County and into Salem County as well. Bell peppers are a big part of the farm, helping New Jersey rank fifth in pepper production in 2016 at 63.3 million pounds with a $20 million production value. Sun Valley also grows cucumbers, squash, eggplant and peaches.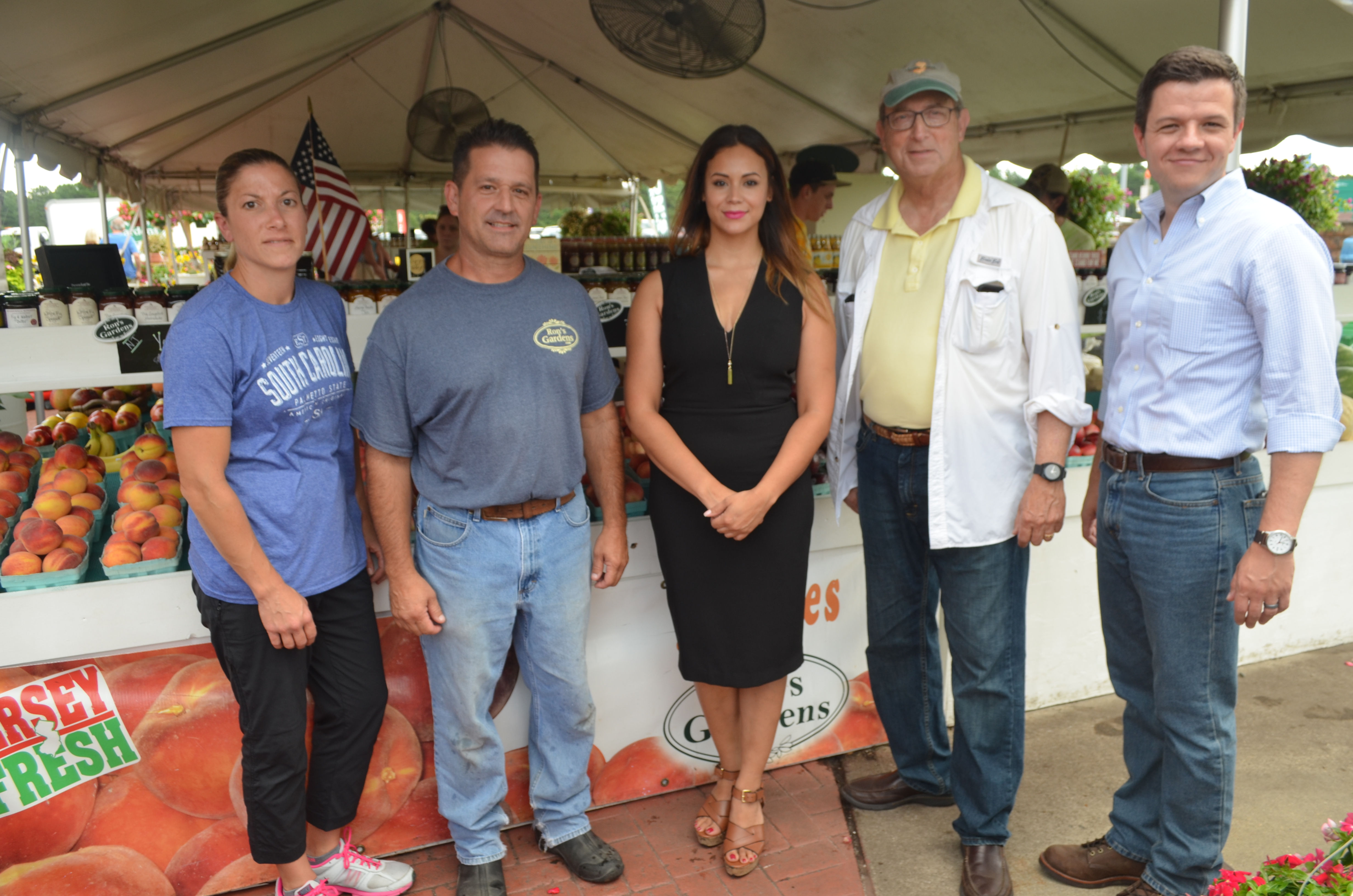 "It's been a good year for us so far and we believe our produce will continue to enhance the Jersey Fresh brand," said Joe Marino, one of the Sun Valley co-owners. "We take pride in not only producing a large crop, but a high quality crop that consumers can look forward to purchasing in a variety of places.
"We were founded on hard work, determination and family. The Marino family is committed to growing and supplying the very best from our farms to our valued customers. We make Jersey Fresh."

Ron's Gardens has been in business since 1992 with its primary store in Hammonton. It expanded five years ago to include a farm stand as well as a wide range of annual and perennial flowers at the Frank Farley Plaza on the Atlantic City Expressway.
"Ron's Gardens shows what can be done to provide Jersey Fresh fruits and vegetables to the large population that travels along the Atlantic City Expressway," Secretary Fisher said. "The summer months are a prime business time for Ron and a great opportunity to enjoy Jersey Fresh products."
"We love to be able to sell Jersey Fresh right here on the Expressway," said Ron's Gardens owner Ron Fisher, who has been Atlantic County farmer of the year and is the president of the Atlantic County Board of Agriculture. "We know it's great tasting produce that we can depend on having during the season and we take great pride in selling it to our customers here during these busy summer months."
New Jersey is among the top 10 in the nation in production of blueberries, peaches, peppers, tomatoes, cucumbers, squash, eggplant, apples, asparagus, cranberries and spinach. Secretary Fisher encourages everyone to buy Jersey Fresh as people know where the food comes from and supports the local economy.
Look for Jersey Fresh produce in your local supermarkets, farmers markets and roadside stands. To see what is available and where to buy Jersey Fresh items go to www.jerseyfresh.nj.gov.
To learn more about the New Jersey Department of Agriculture, find us on Facebook at www.facebook.com/NJDeptofAgriculture and www.facebook.com/JerseyFreshOfficial or Twitter @NJDA1 and @JerseyFreshNJDA.