Benefits Review task Force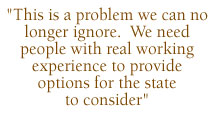 Thank you for taking the time to visit this web site. I appreciate your interest in state employee benefits.

Each year the state's fixed costs grow larger and larger and consume more and more of the budget. This is an issue we can longer ignore.

I established the Benefits Review Task Force to recommend ways to review this trend and provide an affordable benefits package that is fair and equitable to our workers and our taxpayers. The Task Force released its Final Report on December 1, 2005.

The business leaders and professors who served on the task force all have distinguished careers and experience in the areas of employee benefits, pensions, management, finance and economics, and I thank them for their dedicated service.





Acting Governor Richard J. Codey