Board of Landscape Irrigation Contractors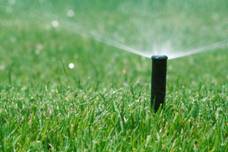 Board Member Information
Gaetano Virone - Environmental Designers Irrigation

(Vacant) - Landscape Irrigation Contractor

George McCarthy - Spring Irrigation

Robert Dobson - Middletown Sprinkler

Kevin Luckie - Assistant Director, DCS

(Vacant) - Professional Engineer/Landscape Architect

(Vacant) - Landscape Irrigation Contractor
The Board of Landscape Irrigation Contractors consists of seven members by statute (N.J.S.A. 45:5AA) as follows: the Commissioner of Community Affairs, or the commissioner's designated representative, who shall serve ex officio; five public members who shall be landscape irrigation contractors and residents of the State; and one public member who shall be a licensed professional engineer or certified landscape architect. Each of the public members shall be appointed by the Governor with the advice and consent of the Senate, for terms of three years. Each of these members shall hold office for the term of the appointment and until a successor is appointed and qualified. Any vacancy in the membership occurring other than by expiration of a term shall be filled in the same manner as the original appointment, but for the unexpired term only.
* Certification & Continuing Education
* Rules & Regulations (N.J.S.A. & N.J.A.C.)
* Meeting Dates & Minutes (see below)
2023 meeting dates:
* Mar 21 - Agenda; Minutes
* Jun 20 - Cancelled
* Sep 19 - Agenda
* Dec 12
Previous Meeting Minutes
Meetings will occur at 101 S. Broad St, Trenton, NJ 08625.