"Turning ideas into plans and plans into actions"
WHO WE ARE
Local Planning Services (LPS), an office within DCA, works with communities to achieve local land use and planning goals. As part of DCA's commitment to provide technical assistance to municipalities, our professional planning staff offers comprehensive planning services at no-cost to local governments.
LPS CAN HELP YOUR MUNICIPALITY WITH A VARIETY OF PLANNING SERVICES, SUCH AS:
Master Plans and Redevelopment Plans: Assist municipalities in the development, drafting and re-examination of Master Plans, including Master Plan Elements. Prepare plans for designated areas in need of redevelopment and rehabilitation.
Land Use and Mapping: Review existing studies and plans, analyze census and other demographic data, create GIS maps, facilitate public focus group meetings, draft land use ordinances, and propose recommendations.
Economic Development Plans: Analyze municipal demographic trends including housing conditions, characteristics of residents, neighborhood assets, property values and employment data to create a plan that promotes economic development in the municipality.
Special Municipal Projects: Provide assistance to implement special municipal projects.
For more information and a comprehansive list of services provided, please click on LPS Planning Projects.
Please Contact Our Director to Discuss Your Planning Needs:
Keith Henderson
(609) 292-3000
LPSmail@dca.nj.gov

Please check back frequently to view newly added content on this page
June 17, 2019 Adopted MSNJ Regulations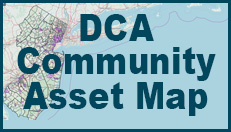 Click HERE to access the Community Asset Map


Click here to access DCA Data Hub:
an inventory of public data that DCA provides