Currently this brochure about New Jersey Displaced Homemaker Programs is not available on the PUBLICATIONS ORDER FORM. It can be downloaded by clicking on the links below. Please check back soon to place an order.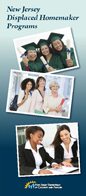 New Jersey Displaced Homemaker
This brochures provides an overview of displaced
homemaker programs and core services. It also
provides a contact list of programs by county.
Download English and Spanish.
Top ^