Across the West, hundreds of wildfires are consuming millions of acres of land. From South Dakota to Colorado, Wyoming to Montana and Nevada to California, blazes are burning their way through forests, homes and businesses. Natural lands decimated, neighborhoods destroyed, lives lost.
The largest wildfire in California – the August Complex – has charred more than 938,000 acres and resulted in the death of one firefighter since lightning triggered the combination of blazes in mid-August, according to InciWeb. A Sept. 16 article in the Philadelphia Inquirer looked at wildfire risks in New Jersey and Pennsylvania, and made this comparison: "… the August Complex in California, has scorched 800,000 acres — the localequivalent of an inferno raging from Reading, Pa., to Turnersville, N.J."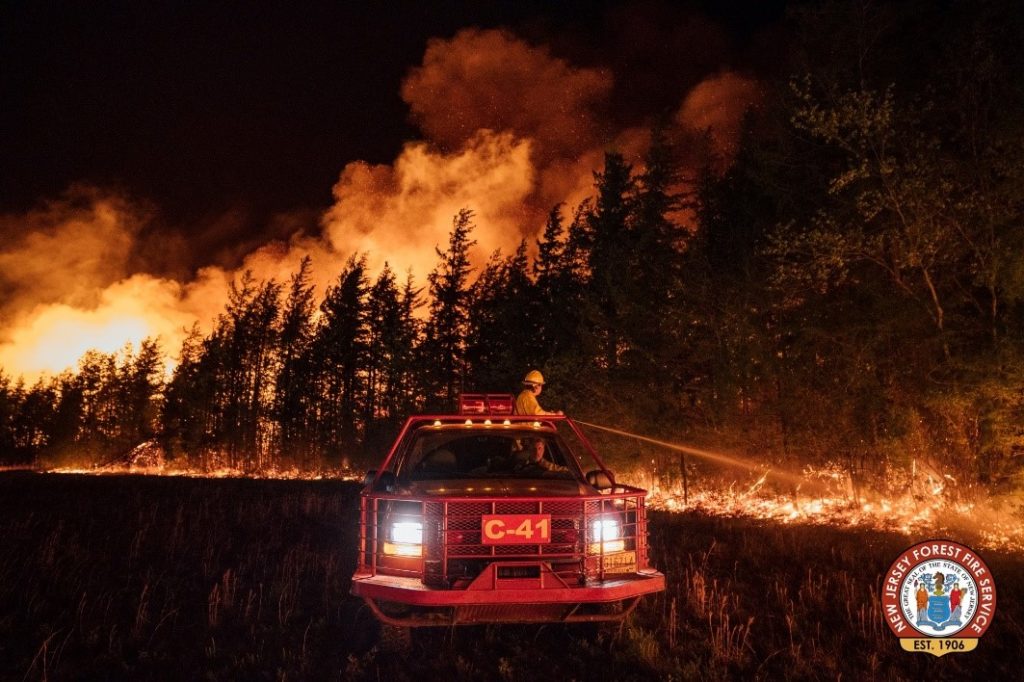 The Garden State has been far luckier than California, so far, this year: The New Jersey Forest Fire Service reports that, as of Sept. 25, there have been 894 fires across the state, resulting in 4,711 acres burned. These wildfires occurred mostly on forested lands; there were no fatalities.
Two of the more destructive wildfires were the Big Timber Fire in the Winslow Wildlife Management Area in May, which burned through more than 2,100 acres of heavy brush and timber; and in April, the Split Ditch Fire in the Millville Wildlife Management Area, which seared 1,518 acres. A wildfire in mid-May destroyed 99 acres in the Roosevelt City section of Manchester; and another blaze in mid-July scorched 200 acres in a remote area of the Colliers Mills Wildlife Management Area in Jackson.
Little more than a year ago, the state lost 11,638 acres of natural resources when the Spring Hill Fire swept through portions of the Bass River and Penn State forests. That Pinelands blaze in March 2019, which was the result of embers escaping from an illegal bonfire, burned for a month, closed roads, required the efforts of hundreds of firefighters and cost thousands of dollars to suppress.
Forest Fire Service Chief Gregory McLaughlin, who also is the state fire warden, reminds that it does not take a large fire to destroy someone's house or property. "Oftentimes, it is the large – in terms of acreage – fires that grab people's attention, but there are plenty of small fires that threaten property just as easily," he says.
The FFS, on its website, indicates that an average of 1,500 wildfires damage or destroy 7,000 acres of New Jersey's forests each year. The goal, the FFS states, is to limit the number of wildfires to under 1,400 annually and the acreage burned to less than one half of one percent (.5%) of the 3.15 million acres protected, or 15,750 acres.  
And now, a look at 2007 …
On May 15, 2007, a flare deployed during a military exercise at the Warren Grove Gunnery Range in Ocean County ignited one of the largest forest fires in the state's recent memory.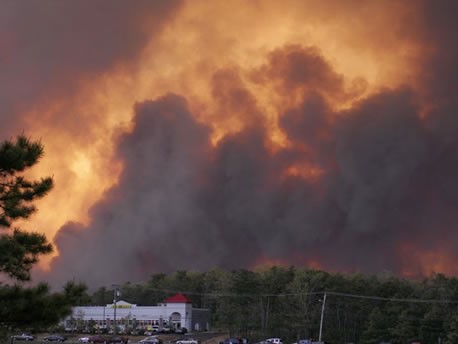 Fanned by high winds and tinder-dry weather, the Warren Grove Fire spread at an estimated rate of 200 feet per minute through the surrounding Pinelands of Ocean and Burlington counties, engulfing nearly 14,000 acres in a matter of hours and forcing the evacuation of approximately 2,500 people in Barnegat, Stafford, Woodland and Little Egg Harbor. The fire ultimately burned more than 17,000 acres and destroyed four homes, while damaging more than a dozen others.
Afterward, the Pinelands Commission and New Jersey Forest Fire Service, with the townships of Stafford and Barnegat, launched the joint Fire Safety Initiative to identify and implement measures for mitigating wildfire hazards and risks in the Pinelands region. 
Though not as fire-prone as western states such as California, the Garden State is no stranger to forest fires. According to the New Jersey Forest Fire Service, an average of 1,500 wildfires occur each year in the state, destroying approximately 7,000 acres. In 1963, the largest known wildfire in the state consumed more than 183,000 acres of land in South Jersey, destroying 186 homes and 197 buildings, and killing seven people. 
Fire mitigation practices such as prescribed burning – which uses deliberately set, controlled burns to prevent dangerous build-up of fuels – have done much to reduce the risk of such catastrophic fires.
Prior to European colonization, the Lenape people used fire to clear land, and aid in hunting and foraging. Many plants and animals of the Pine Barrens ecoregion are particularly well-adapted to fire, such as shrub oaks, with their large, tuberous underground roots; and pitch pine, whose serotinous cones release their seeds only when exposed to intense heat.  
###