NJ Sustainable Business Registry


Looking to save money, reduce your environmental footprint and be a NJ business leader? The NJ Small Business Development Centers (NJSBDC), in partnership with the NJDEP's Office of Sustainability created the New Jersey Sustainable Business Registry to recognize and promote sustainable businesses, nonprofit organizations and higher education institutions across the State. Check out the Registry Flyer to learn more about the program.
Participating is easy!
The Registry is open to NJ companies of all types and there is no cost to join.

To Become a Member:

Create a User Account
Log on here!

Report Five Sustainable Practices
A Written Description for Each Practice

Report One Measurable Environmental Benefit
A Quantified Benefit from One practice

Report Cost Savings from One Practice
An Amount of Money Saved or Cost Avoided from One practice
Why Join?
Members received many benefits including;
Testimonials from Members
"SBR has supported us at Greenleaf Painters in our efforts to utilize sustainable business practices. It has put us in front of other businesses and customers who are aligned with the same values."
--Jonathan Shenk, Owner, Greenleaf Painters, LLC, Registered September 2014
"Being a part of the program has served beneficial in NJ as well as across my assigned Region. This includes NJ, PA, DE, NY, CT, SC, & NC. The Registry adds credibility to my business and my customers appreciate the sincerity of a True Green company and not ....just a company claiming to be "Green". Thanks."
--Ron Timmons, President and CEO, Nothing But Green Living Enterprises, LLC, Registered Since September 2014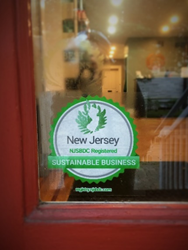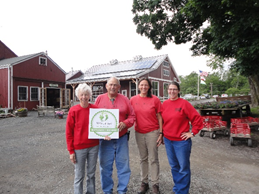 | | | |
| --- | --- | --- |
| NJ Sustainable Business Registry Seal displayed at Copper River Salon, in Princeton NJ | NJ Sustainable Business Registry Member, Terhune Orchards, Lawrenceville, NJ | NJ Sustainable Business Registry Member, Designs for life, LLC Lambertville, NJ |
About the Registry
The NJ Sustainable Business Registry was launched in 2014 by the NJ Small Business Development Centers (NJSBDC), in collaboration with the New Jersey Department of Environmental Protection (NJDEP). It was created to implement and support the Sustainable Business Initiative (SBI) goals. The Registry and related technical assistance programs are funded by a grant to Rutgers/NJSBDC from the US Environmental Protection Agency.
See a full list of Registry Members HERE