The Coastal Water Quality Network (CWQN) was established in 1989 to provide water quality information for assessing the ecological health of New Jersey's coastal waters. Approximately 40 sites are visited 5-10 times per year. Samples are analyzed for: Alkalinity, Biogenic Silica, Chlorophyll 'a', Dissolved Oxygen, Enterococcus, Ammonia, Nitrite, Non Purgeable Organic Carbon, pH, Orthophosphate, Salinity, Total Nitrogen, Total Phosphorus, Total Suspended Solids, and Turbidity. This long-term monitoring program is intended to provide environmental managers, researchers and the public with accurate, timely and comprehensive information about the condition of the State's ocean, estuaries, and tidal rivers.
Maintaining ecosystem health is consistent with our obligations under the Environmental Protection Agency's (EPA) Clean Water Act to maintain aquatic life uses. Currently, ecological assessment of New Jersey's coastal waters is achieved by evaluating indicators of eutrophic condition through; nutrients, dissolved oxygen, chlorophyll a, and secchi depth. Data generated by this network is assessed and reported in the latest version of the New Jersey Integrated Water Quality Assessment Report as well as in summary reports available from the NJDEP Bureau of Marine Water Monitoring.
For data, click here.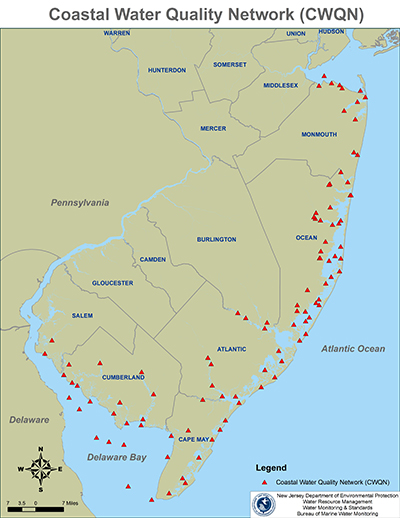 Interactive Map Coming Soon