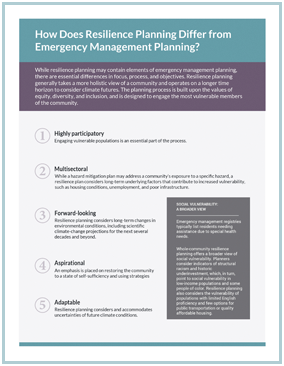 Resilience planning is sometimes confused with hazard mitigation and emergency management planning. Hazard mitigation planning is the process of reducing risks and impacts from natural and man-made hazards. Emergency management directs community response to disaster and emergency events in order to minimize risk to people and assets.
While resilience planning may contain elements of emergency management and hazard mitigation, resilience planning generally takes a more holistic view of a community and operates on a longer time horizon to consider climate futures. The planning process is built upon the values of equity, diversity, and inclusion, and is designed to engage the most vulnerable members of the community. Specifically, resilience planning is:
Highly participatory. Engaging vulnerable populations is an essential part of the process.
Multisectoral. While a hazard mitigation plan may address a community's exposure to a specific hazard, a resilience plan considers long-term underlying factors that contribute to increased vulnerability, such as housing conditions, unemployment, and poor infrastructure.
Forward-looking. Resilience planning considers long-term changes in environmental conditions, including scientific climate-change projections for the next several decades and beyond.
Aspirational. An emphasis is placed on restoring the community to a state of self-sufficiency and using strategies that promote multiple community benefits, such as natural infrastructure.
Adaptable. Resilience planning considers and accommodates uncertainties of future climate conditions.
Socially vulnerable populations typically listed in emergency management registries are residents who need immediate assistance due to physical or developmental disabilities, people with special health needs (including mental health), and senior citizens.
Resilience planning can complement emergency management and hazard mitigation planning by offering a broader view of social vulnerability. For example, whole-community resilience planning considers indicators of structural racism and historic underinvestment in certain communities, which, in turn, point to social vulnerability in low-income populations and some people of color. Resilience planning also considers the vulnerability of populations with limited English proficiency and few options for public transportation or quality affordable housing. Recent climate-related events in the mid-Atlantic region and elsewhere have underscored the vulnerability of immigrants and people with mental health conditions.