PLANNING FOR THE WHOLE COMMUNITY

Part Two: Opportunities to address social vulnerability in the Resilient New Jersey Planning Framework
From Planning to Action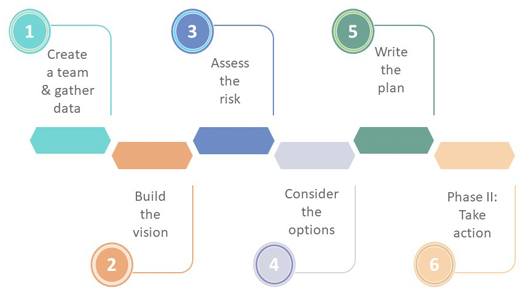 To get a better understanding of how to incorporate a whole-community approach into resilience planning, let's take a step-by-step look at the Resilient NJ Planning to Action Framework to identify where and how to address social vulnerability.
Resilient NJ is a long-range regional planning program that is conducted "through a resilience lens." It includes an inclusive process to reach underrepresented and socially vulnerable populations and has a strong focus on enhancement of ecosystems and social networks.
The steps outlined in Planning to Action are fairly well established in the field. Similar approaches can be found in the U.S. Climate Resilience Toolkit (NOAA), Getting to Resilience planning tool (NJDEP and JCNEER), and resilience planning process developed by the National Institute of Standards and Technology in the U.S Department of Commerce.
The outline below is a summary of each step in Planning to Action followed by notes on how to address social vulnerability within that step.