Engaging Socially Vulnerable Populations
In general, the goal of whole-community resilience planning is to engage all segments of the community – including the most vulnerable – in creating a resilience-based vision of the future. In order to do so, it's essential for resilience planners to understand the following:
Socially vulnerable populations have historically been excluded from, and may have distrust for, community-based decision-making processes;
Additional efforts may be needed to ensure up-front participatory engagement of socially vulnerable populations in resilience planning; and
Resilience planning teams can lead the effort to identify climate-related impacts on socially vulnerable populations and the actions needed to address them.
Concept 1: Socially vulnerable populations may face challenges that prevent them from participating in the planning process. Planners should be prepared to actively engage them.
Socially vulnerable people may be unwilling or unable to participate in resilience planning for any number of reasons: distrust of civic engagement, fear of public exposure (e.g., undocumented immigrants), lack of transportation or childcare, work commitments, health issues, stress, time constraints, family obligations, and others.
Proactive engagement of socially vulnerable populations is critical. The planning team should not assume that vulnerable people will simply turn out at community meetings. Writing an engagement plan can ensure that the resilience planning team takes specific steps to involve the community's most vulnerable populations.
Engaging socially vulnerable people may require a considerable investment of time and resources. Adequate time and resources should be allotted at the outset of the process.
Building trust is essential. Often a good first step is to establish a relationship with organizations well known to socially vulnerable populations.
Socially vulnerable people may be seeking solutions to underlying inequities. Their view of the solutions needed to achieve resilience may differ from those of other team members.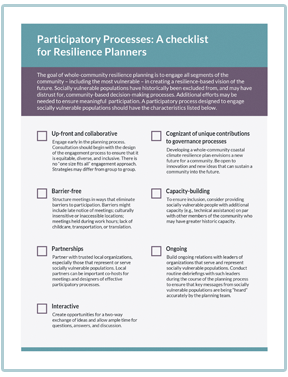 Concept 2: A participatory process designed to engage socially vulnerable populations should have the characteristics listed below. The planning team should allow adequate time for a full discussion of issues pertaining to vulnerable populations and give equal weight to the ideas under consideration.
Up-front and collaborative – Socially vulnerable populations should be engaged early in the planning process. In fact, consultation should begin with the design of the engagement process itself to ensure that it is equitable, diverse, and inclusive. There is no "one size fits all" engagement approach. Strategies may differ from group to group.
Barrier-free – Meetings should be structured in ways that eliminate barriers to full participation. Barriers might include late notice of meetings; culturally insensitive or inaccessible locations; meetings held during work hours; lack of childcare, transportation, or translation (for multiple language and communication needs).
Partnerships – Partnerships with trusted local organizations are encouraged, especially those that represent, serve, and support socially vulnerable populations. Local partners can be important co-hosts for meetings and designers of effective participatory processes.
Interactive – It's important to create opportunities for a two-way exchange of ideas and to allow ample time for questions, answers, and discussion.
Cognizant of unique contributions to governance processes – If socially vulnerable people act as technical consultants to the resilience planning process, the planning team may need to consider compensating them for contributing unique knowledge.
Capacity-building – To ensure inclusion, the planning team may need to provide some participants with additional capacity (e.g., technical assistance, consultative services, etc.) to ensure that they feel comfortable and prepared to participate meaningfully in the resilience planning process. Additionally, the resilience planning team may need to make accommodations to the resilience planning process to address the needs of some populations or offer alternative opportunities for providing input to the resilience planning process.
Ongoing – Resilience planners are encouraged to build ongoing relations with leaders of organizations that serve, represent, and support socially vulnerable populations. Conducting routine debriefings with such leaders during the course of the planning process will help to ensure that key messages from socially vulnerable populations are being "heard" accurately by the planning team.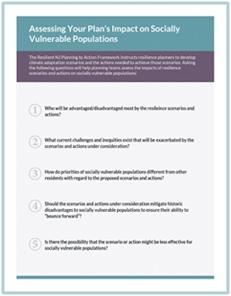 Concept 3: Asking the following questions will help planning teams assess the impacts of resilience scenarios and actions on socially vulnerable populations:
Who will be advantaged/disadvantaged the most by the scenarios and actions?
What current challenges and inequities exist that will be exacerbated by the scenarios and actions under consideration?
How do priorities of socially vulnerable populations differ from other residents with regard to the proposed scenarios and actions?
Should the scenarios and actions under consideration mitigate historic disadvantages to socially vulnerable populations to ensure their ability to "bounce forward"?
Is there the possibility that the scenario or action might be less effective for socially vulnerable populations?