Laboratory Certification Programs
The Office of Quality Assurance (OQA) offers certification for environmental testing laboratories to ensure that regulatory decisions made by federal, state, and municipal government agencies are based upon accurate and dependable analytical data. The OQA certifies laboratories in 36 states, Canada and overseas, and offers certification in:
Drinking Water
Solid and Hazardous Waste
Air

Wastewater - Non Potable Water
Radon
Tests for which certification is offered are called Department Sanctioned Analytical Methods (DSAMs) and include testing for microbiology, toxicity, physical characteristics, nutrients, inorganics, metals, volatile organics, semi-volatile organics, polynuclear aromatic hydrocarbons, polychlorinated biphenyls, dioxins, and radiochemistry. The current list of DSAMs for which certification is offered are contained in PART III of the Department's application for certification.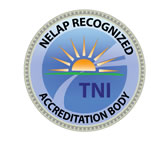 Two options for laboratory certification are offered by the OQA:
The National Environmental Laboratory Accreditation Program (NELAP) offers certification based upon nationwide criteria that use quality systems to insure the integrity of analytical data. Reciprocal certification is available to the thirteen accrediting authorities that participate in the NELAP.


The OQA offers New Jersey certification through its own state program, referred to as the Environmental Laboratory Certification Program (ELCP). The rules for administering the New Jersey program are detailed in N.J.A.C. 7:18 (as amended September 4, 2018) Regulations Governing the Certification of Laboratories and Environmental Measurements. This is a courtesy copy of this rule. All of the Department's rules are compiled in Title 7 of the New Jersey Administrative Code. For an official copy of this Chapter, please see the website for the Office of Legal Affairs.

Certification is provided through a formal process of application, audit and approval of a laboratories' quality system. Certification must be renewed annually.