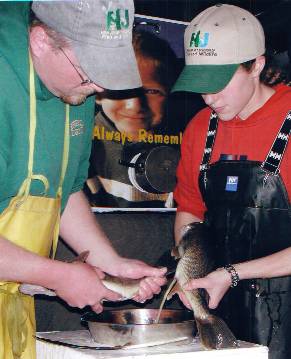 Ed Conley and Amy Schweitzer strip walleye
The second brood fish the Hackettstown crew searches for is the walleye. Two trap nets, one "Pennsylvania style" and one "South Dakota style", were set in Swartswood Lake (Sussex County) on March 31. The netting crew checked these nets the following morning and collected 70 adult walleye for spawning. Hatchery personnel stripped just under 1,000,000 eggs from 13 ripe female fish that afternoon.
As a result of lake temperatures hovering around 38 degrees this year, the number of walleye caught was significantly lower than last year - normal lake temperatures for this period of April are typically 42 - 46 degrees. Nets were checked 7 times from March 31 - April 11, yielding a total of 183 walleyes for spawning. This compares to a total of 303 fish that were captured in 2002 during an 11 day period.
Of the 183 walleye captured, 102 were females and the crew spawned 78 of them producing about 5.5 million eggs. The 78 females averaged 70,000 eggs each, 3.65 pounds and 20.2 inches. The males averaged 2.07 pounds and 17.6 inches. All of the fish were returned to the lake in good health.