Update 6/13/03
The latest report from the Hydroacoustics contractor was that the preliminary information showed the largest schools of American shad passing the site from April 23 through May 5. After May 5 there was a problem with power to the site and it was not remedied until later in the month.
The schools did not appear to be the tight, densely packed schools of fish recorded in earlier studies, but were more scattered and wide spread. The Lewis Fishery, too, had some of its larger catches during this time period including 35, 31, and 46 on 4/23, 4/30 and 5/1 respectively. Few gizzard shad were collected in their nets. They caught a total of 472 American shad this year, slightly more than last year's catch of 469.
The Delaware River has remained cold (60 degrees Fahrenheit) and the flows have been, mostly, above normal throughout the period due to the numerous rainstorms we've had and overflow from New York reservoirs. Because of this, recreational catches have been sporadic. Many anglers, discouraged with low catches, have switched over to striped bass, which are now plentiful. Only recently have the water temperatures warmed more, which is optimum for egg development and spawning, and anglers who have continued to fish for American shad have reported some good catches including a total of 42 American shad on with 30 boated at Dingman's Ferry on 6/8.
On 6/10, in the same area an angler had 22 hits for the day and 18 of those made it to the boat. There was no real "pattern." Fish were caught at 20 feet and at 5 feet in 20+ feet of water. One of those was an 8-pound roe, a couple of 6-pound roe, and the rest were the standard mix of average size roe and bucks.
The sunny and warm day really had an effect on the water which at 9:30am was 58 degrees, but was up to 63 degrees by the end of the day. Most of the fish were caught from 4:30pm until dusk. Other boats were observed fishing for shad at Dingman's for the first time in a while and most were successful. Another boat was reported to have caught 10 or more shad in only an hour or two.
On 6/12 at Dingman's Ferry, two anglers fished from 2:30pm till 8:00pm and had 17 hits with 15 in the boat all on flutter spoons. 11 of the 15 were nice size roe between 5 and 8 pounds. The water was pretty clean with occasional green weeds on the lines. Shad were seen spawning in the slack water behind the bridge supports. On 6/11 from 6:30pm-8:30pm two miles north of Belvidere, 10 shad (1 roe still had eggs) were caught on downriggers with spoons.
The most upriver report is from Knights Eddy, NY. On 6/11 from 10am - noon, 18 shad were caught on darts. The angler could have caught more but had to leave and reported that there appeared to be a lot of spawning activity, although the 3 roe that he caught were not yet ripe. Another sign of the delayed run is that only 216 American shad have been observed ascending the Lehigh River Fish Ladder, although more may have passed through undetected, as the Lehigh River is the largest tributary of the Delaware River and always becomes very turbid after heavy rain. As the Lehigh River rises even more, an attraction flow, which is designed into the fish ladder itself, can become ineffective.
Shad are being caught, in good numbers, in the upper Delaware River, and probably down to the Route 80 bridge, well above the muddy Lehigh. Many anglers are just not used to fishing for American shad this late in the year, but this has been an unusually cold spring. Another indication that the run was delayed by cold water temperatures was the fact that the PA Fish Commission netted nearly as many male American shad, 263, as female American shad, 304. Most years, the females outnumber the males by a much larger margin. The netting, conducted at Smithfield Beach, yielded 3.47 million eggs. The resulting fry will be stocked only in Delaware River Basin waters - the Lehigh and Schuykill Rivers.
Update 6/7 & 6/8/03
The following update was provided to Mark by Steve Andrusiak of Fishin' Fun Charters:
Is anybody else doing any shad fishing? Between a charter this morning and then an afternoon of personal fishing, I had a total of 42 shad on the line with 30 boated all on flutters. The chartreuse & red flutter on hammered silver in size 1 was still the hot one today. It was rain, rain, and more rain today! But I didn't see a dramatic impact on the water level or clarity. Let's see how it looks tomorrow! The water temps were at 58 degrees from morning till dusk. There were a lot of bucks caught for this late in the season, and the biggest roe was 6 pounds. No abundance of really big bruisers today, but lots of fishin' fun for my customers and for me.
I decided to try for shad on the Delaware at Dingmans Ferry with my wife & son late this afternoon from 3:30 PM till dusk. The water is still high, a bit off-color, a bit dirty, and a bit fast, but the water temps are now at 58 degrees. It turned out to be a great afternoon on the water. The totals were 30 hits with 28 of those boated. That's a new personal high for fish in the boat for me. The largest buck was 3.3 pounds, and the largest roe was 8 pounds even. The roe are still carrying their eggs. A chartreuse & red size 1 silver flutter spoon at 2 - 3 feet off of the bottom in 21 feet of water was the ticket today. Get out there if you can while there is still good fishin' to be had!
Prior to the previous storm on May 31st, I was catching most of my shad in the upper part of the water column even in 20+ feet of water. Also, prior to the storm I was finding pods in small windows of opportunity. Now it's pretty good action the whole time out. That's why the catch numbers have gone up so much for me. Hope this info helps everyone who's still trying for shad. In a 'normal' year we are wrapping up the shad fishing by now. Hopefully the water temps won't rise too much next week and we can keep this thing going for a little longer.
Update 5/29/03
As stated in earlier reports, the run appears to be very late this year and catches have been sporadic because of the cold water temperatures. American shad are still being caught on herring rigs. The Lewis Fishery reports that they have caught a total of 472 American shad this year, slightly more than last year's catch of 469. The roe still being caught are not fully ripe and the water temperature remains cold at 58 degrees.
The count at the Lehigh River fish ladder in Easton, so far, is only 31 American shad. The numbers should be into the hundreds by now and there has, in the past, usually been a second pulse in June. This year it will be the main pulse of American shad.
The egg take at Smithfield Beach is underway, although the fluctuating water temperatures have made it difficult. Eggs and biological data has been taken from nearly 520 American shad. The fish are in very good shape, especially if they are from the first pulse. By now, there should be a second pulse of American shad in even better condition, but only for a couple of days, as the water is usually much warmer. Another indication that the second pulse has not yet completely arrived is that up until recently, the male:female ratio was generally favoring males. It is just now starting to favor females.
At this time of year anglers fishing for American shad often catch other species on their shad darts and flutter spoons. There have been reports of walleye, smallmouth bass, striped bass and others - and this is not unusual. Many of these anglers, frustrated with not catching any American shad, will then switch to targeting other Delaware River species using different techniques, lures and even bait.
Seldom, using these alternative methods, are American shad caught. The only exception may be the use of spinners and small spoons when the water has warmed and the shad are spawning or after they have spawned. As stated above, the water has not warmed much this year. The American shad that are still being caught by the few anglers targeting them with darts and flutter spoons are fresh, large, heavy roes that have not yet spawned. One angler who fishes from both shore and boat near the mouth of the Lehigh River in Easton regularly catches American shad well into June. Yesterday, from 4 - 8pm, he caught ten American shad, seven of which were heavy roes. In a similar amount of time another angler caught twelve while trolling below the Delaware Water Gap. Both of these anglers also caught some walleyes.
Update 5/5/03
There are American shad throughout the Delaware River from the Bay to New York State and although recreational catch reports, as usual, vary, the fish are larger in size than in past years.
The Bureau of Marine Fisheries had its best week in Delaware Bay last week, tagging and releasing 131 American shad which is 77% of the total number collected since March 2 4th. Both buck and roe American shad are larger this year. Some bucks were 5 lbs. and there was a report of an 11 lb. roe.
Biologists from the Philadelphia Water Company electrofished the Schuykill River at the base of Fairmount Dam last week, collecting 155 American shad in 50 minutes. Last year they collected 20 shad in a similar period of time. The river was seeded with shad fry four years ago, so they were expecting a larger return this year, however it is later than usual.
Anglers in Trenton at the Old Wharf are catching American shad on the rigs that they are using for herring. In addition to American shad and herring, anglers there are also catching striped bass, which they must release. It is unusual to have catches of all three of these species there at the same time. The American shad are usually there first, followed by the herring, which usually signal the end of the American shad run, and then the striped bass.
Through this date in 2002, the Lewis haul seine fishery caught 367 American shad in 53 attempts. This year they have caught more (393) American shad in less attempts (40) and they started their netting at a later date. Their most recent catch included their largest American shad, an 8.6 lb. Roe.
The Hydroacoustic array at the Route 202 Bridge recorded small schools of American shad passing the site when the equipment was installed on 3/13. Subsequent high flows and debris dislodged some of the transducers so no data was collected for a period of time. Unfortunately this affected spans 2 and 3 which, in past studies, American shad migrated through during these high flows. When the river dropped sufficiently, repairs were made and some schools of American shad were recorded in the beginning of April. Around April 18th larger schools were recorded as flows continued to decrease and water temperatures climbed. This preliminary data shows that the largest schools passed the site on April 25, 26 and 27 in the main channel spans 4 and 5. Last year the majority of the run, 73%, passed the site from April 6 - April 27.
Moving upriver, the Lehigh River fish ladder at Easton PA has not passed any American shad from 3/31/03 through 4/28/03. The last two years 362 and 428 American shad used that fish ladder during the same time period. The annual American shad tournament, held from 4/26/03 - 5/4/03, had fewer fish entered this year, but the top ten entries were all over 7 lbs. The winning fish was a 7.8 lb. roe. A local bait and tackle shop had three American shad brought in to be submitted for a NJ Skillful Angler Award. This is the first time in nine years that he has had any shad over the required minimum weight of 7 lbs. to submit.
It is unlikely that the bulk of the run moved upriver during those high flows in April when the Hydroacoustics was inoperable, and that there were no Lehigh River American shad in those schools. Therefore, it appears that the run is still on, but late, and there are more American shad on their way. However, steadily increasing water temperatures will ultimately cause the shad to spawn were ever they happen to be in the river.
Update 4/24/03
The Hydroacoustics is now functioning in all of the bridge spans. The contractor is currently reviewing the data downloaded from the period prior to the Hydroacoustics being knocked out by the high flows and debris.
An ocean gill netter had his best day of American shad on Wednesday of last week when it warmed up with the strong south winds.
Delaware Bay - striped bass are so plentiful that they immediately get caught in the gill nets. Sometimes entangled by only their lips or spines, the stripers still struggle and continue to swim, bunching and folding the net on itself. The gill net is no longer set correctly and this excludes the capture of American shad. Instead of swimming into an open mesh and getting captured by their gills, the shad "bounce " off of this bunched up, striper entangled net. There are a lot of shad there, they just can't be caught. Further up in the bay, off of the Salem River, there are less stripers and one gill netter captured 1900 lbs. of American shad in one day. All of the above, coupled with recreational catches up to Dingmans Ferry, indicates that there are a lot of American shad in the Delaware River, Bay and more on their way from the ocean.
Good Delaware River American Shad Fishing 4/15/03 & 4/16/03 and Beyond
There have been reported catches of American shad from Trenton to Easton. Conditions are ideal with water levels near normal and the water temperature at 50 degrees F. Today's and tomorrow's warm weather will, of course, only improve the conditions.
A commercial gill netter out of the Salem River in NJ who had been catching a maximum of 600 lbs. of American shad per day last week has, in the past couple of days, caught 1000 lbs. per day. This is the poundage that he has caught other years at the height of the run. There were many good size Roes.
The recreational catches referred to above were mostly Bucks. All indications are that this main run of American shad is still on its way upriver.
Delaware River American Shad Run Update - April 2, 2003
The Hydroacoustic array on the Route 202 Bridge marked the first American shad schools migrating upstream on 3/13/03 at 4 PM in spans 1 and 2 closest to the Pennsylvania shoreline, and span 5 closest to the New Jersey shoreline. No American shad schools were detected in the middle spans 3 and 4. These schools, small, not densely packed and probably consisting of less than 1000 fish, moved through when the river discharge was below normal at 11,749 cubic feet per second. Shortly thereafter, the river began to rise reaching 15,000 cfs. on 3/17/03 when an additional, smaller number of American shad migrated through span 5. When the river reached 36,000 cfs. the underwater Hydroacoustic transducers were dislodged by debris moving through in the stronger current. Discharge, which ultimately reached over 80,000 cfs., has gradually decreased to 33,000 cfs. During this decrease there were some reported catches of male American shad near Route 95 when the water warmed to 47 degrees Fahrenheit.
All of this points towards what the past Hydroacoustic studies have shown. The American shad do not move upstream against high water discharge but remain downstream, hence the catches near the Route 95 Bridge. These fish are building up just below the wing dam. As this ever increasing school of American shad senses the river discharge decreasing to 25,000 - 20,000 cfs. they will migrate, quickly, in a densely packed school upstream hugging the Pennsylvania shoreline. If at that time the water temperature, which is now 41 degrees warms to near 50 degrees, conditions will be right for good catches. If the water remains cold, that's good too. Non-delayed by flutter spoon or dart, all of these shad will migrate upstream to procreate and, perhaps, return to the ocean again.
March 25, 2003
Now that Spring has actually arrived many anglers are dusting off their gear and readying equipment for fishing. The annual spawning run of American shad up the Delaware usually provides superb angling and the first major fishing excitement of the year. After the long cold winter we've just gone through the idea of getting out on the water under a bright spring sky is quite inviting. But so far in 2003, the serious angling for shad is still on hold.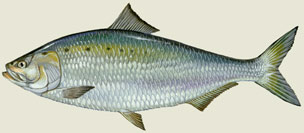 Recent rains and melting snow pack have raised the Delaware River to over 80,000 cubic feet per second (cfs) as measured at the US Geological Survey gauge in Trenton. The Lewis Fishery in Lambertville, the bellwether for the American shad run, could not conduct its first seining of the year as their island was underwater!
Some of the underwater transducers for the Hydroacoustic American Shad Spawning Migration Study, which began 3/17/03, have been ripped off of the Route 202 Bridge abutments by the high water and debris. A 10'x30' wooden boat dock, and the debris it has accumulated, is pinned against the upstream end of one of the abutments, threatening to shear off one of the remaining transducers when it breaks free. Needless to say, conditions are far from ideal as of the last week in March.
The Hydroacoustic contractor will not be able to repair the damage until the river drops to 25,000 cfs. As of this writing, the river has dropped to 69,100 cfs. and is predicted to drop further to 42,300 cfs. However, predictions of showers later this week may raise the river back to 50,000 cfs. and there is more rain forecast for the weekend.
The major New York City Reservoirs are spilling water into the Delaware River and with the on-going draw-down to normal pool of the F.E.Walters Reservoir that feeds into the Lehigh River, it appears that the Delaware River will remain high for some time. Additionally, the Trenton and Portland Power Plants, where many of the early season shad are first caught in the warmwater effluent, are inaccessible due to the heightened security alert.
Based on past Hydroacoustic American shad Spawning Migration Studies, large schools of American shad will seek refuge from these high flows by congregating behind the wing dam in Lambertville, NJ waiting for the river to drop. When the discharge reaches about 25,000 cfs., as measured at the USGS gauging station in Trenton, this large school (which this year could be the entire run!) of American shad will move, en masse, hugging the Pennsylvania shoreline. Last year a 60,000 plus school of American shad moved past the Route 202 Bridge close to the Pennsylvania shore in just two hours as flows were decreasing.
As the American shad migrate farther upriver, they will spread out and hug both the Pennsylvania and New Jersey shorelines avoiding the strong current in the middle of the river. If the water temperature at that time is 50 degrees Fahrenheit or greater, and other water conditions such as clarity and debris load are improving, American shad fishing, especially for shoreline anglers, should be excellent.
While shad fishing in the Delaware River is on hold, there are still excellent fishing opportunities available, such as trout fishing in our Trophy Trout Lakes or catch and release trout fishing in Trout Conservation Areas and Holdover Trout Lakes while pre-season closures are in effect. (The regular trout season opens April 12.) There are reports of good Northern Pike catches in the Passaic and Pompton Rivers, and of course, early season largemouth bass in waters that remain open. Check the 2003 Freshwater Fishing issue of the DIGEST for details.
For more information, see Mark's 2002 article on The American Shad Spawning Run and the regular updates from the "Shad Hotline".
External links:
Real-time Data for USGS Gauge, Delaware River at Trenton, NJ
National Weather Service Advanced Hydrologic Prediction Service - Delaware River at Trenton, NJ
Image by Duane Raver / USFWS
---