| | | |
| --- | --- | --- |
| | Artificial Reef Deployments | |
The Sinking of the Tamaroa-Artificial Reefs with Peter Clarke - (DEP Podcast, 5/12/17)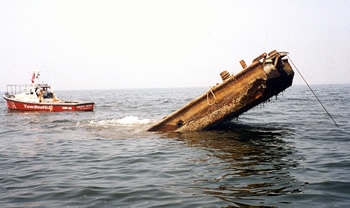 New Jersey's Artificial Reef Program provides a network of 15 artificial reefs in the ocean waters along the New Jersey coast. These reefs provide a hard substrate for fish, shellfish and crustaceans, fishing grounds for anglers, and underwater structures for scuba divers. The reefs are strategically located along the coast so that 1 site is within easy boat range of 12 New Jersey ocean inlets.
Artificial reefs are constructed by intentionally placing dense materials, such as old ships and barges, concrete and steel demolition debris and dredge rock on the sea floor within designated reef sites. Every deployment of these materials increases the complexity and productivity of a reef.
The links below are to information about upcoming and past deployments. For locations of reefs see the reef location page; for specific coordinates of a deployment please contact the Bureau of Marine Fisheries at 609-748-2022.
Planned Deployment(s)
None scheduled at this time.
Previous Deployments

2021
Granite Monuments Added to the Barnegat Light Reef Site
F/V CARTERS CREEK Deployed on the Manasquan Inlet Reef
Vessel Deployments at Little Egg and Manasquan Inlet Reefs
2020
Maher Terminals Reef On the Manasquan Inlet Reef Site
Memorial Reef Deplayoment On Atlantic City Reef (Cape May County Herald)
Tugboat Memorial Deployed On Sandy Hook Reef
Caisson Gate Deployed On Deepwater Reef
2019
Second Caisson Gate Deployed - Cape May Reef
Caisson Gate Deployed on Atlantic City Reef
2017
New Delaware Bay Reef Deployments To Begin
Vessel Deployment Scheduled for New Manasquan Inlet Reef
Deployment Scheduled for New Manasquan Inlet Reef
Watch: Crews Build New Artificial Reef off Point Pleasant (June, 2017 Shorebeat.com video)
Famed Zuni/Tamaroa Deployed On Reef Comprised of Former Military Ships (DEP News Release, 5/10/17)
2016
Vessel Deployment Rescheduled for Wildwood Reef
Another Vessel Deployment Scheduled for Axel Carlson Reef
New "Shady Reef" site to be created (app.com)
Sea Girt and Axel Carlson Reefs to Receive Final Loads of Concrete Rubble
Vessel Deployment Scheduled for Axel Carlson Reef
Vessel Deployments Scheduled for Atlantic City and Ocean City Reefs
2015
Sea Girt and Axel Carlson Reefs to Receive 10,000 Tons of Concrete Rubble
Vessel Deployments Scheduled In July For the Barnegat Light Reef
Barnegat Light Reef Deployment Video (July, 2015 Facebook post)
2014
Dredge Rock Deployed at Shark River Reef Site
2012
Horseshoe Crab Sculpture Deployment Rescheduled for August 30
2011
Retired Navy Destroyer Radford Now Part of Artificial Reef
2010
Four Hundred Reef Balls Slated for Deployment on the Cape May Reef
Vessel Deployment Slated for Barnegat Light Reef
Vessel Deployment Slated for the Townsends Inlet Reef Site
Vessel Deployment Slated for the Axel Carlson Reef Site
2009
Deployments for Garden State North and Garden State South Reef Sites
2008
500 Reef Balls Slated for Deployment on the Great Egg and Little Egg Reefs
Subway Cars to Hit Bottom on Cape May Reef in August and September
Vessel Deployment Planned for Early August
Ed Bogaert Memorial Reef Video (2008, Sinking of Smoke II)
Vessel Deployment Slated for When Conditions Permit
Subway Cars Hit Bottom on Atlantic City Reef - April 22, 2008
2007
Reef Ball Additions on the Ocean City and Wildwood Reefs in 2007
Vessel Deployment Slated for the Sea Girt Reef Site October 12, 2007
250 Reef Balls Slated For Deployment on the Wildwood Reef on Sept. 7, 2007
Four Vessel Deployments Slated for August, 2007 (NOTE - Three deployments were postponed)
Vessel Deployment Slated for the Ocean City Reef Site May 25, 2007
Vessel Deployment Slated for the Axel Carlson Reef April 24, 2007
Axel Carlson Reef to Receive 100 Tons of Buoy Sinkers in January and February, 2007
Axel Carlson Reef to Receive 800 Tons of Concrete Pier Pedestals - February 23, 2007
2006
Ocean City Reef to Receive 8000 Tons of Concrete - October 24, 2006
34,000 Cubic Yards of Dredge Rock to be Deployed on the Shark River Reef - September 16 - October 15, 2006
5,000 Tons of Jetty Rock to be Deployed at the Sea Girt Reef August 28 – September 18, 2006
700 Reef Balls Slated For Deployment on the Townsends Inlet Reef - August 23, 2006
Vessel Deployment for Ocean City Reef Site - July 26, 2006
Vessel Deployment for Townsends Inlet Reef Site - July 18, 2006
1,300 Tons of Concrete Castings for Barnegat Light Reef - June 13, 2006
Sea Girt Reef to Receive 7000 Tons of Concrete - May 17, 2006