| | |
| --- | --- |
| &nbsp &nbsp New Jersey Division of Fish and Wildlife | |
Round Valley Rainbows Get Anglers Off To An Early Start
by Shawn Crouse, Assistant Biologist (Fisheries)

October 8, 2003
The cooler weather has arrived and so have anglers on Round Valley Reservoir, one of New Jersey's two Trophy Trout Lakes. As the water begins to chill, the rainbow trout provide an excellent angling opportunity to the early-rising shoreline angler.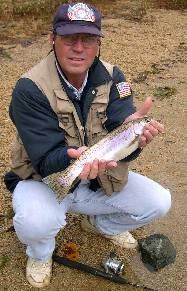 This opportunity does not exist in the summer when water temperatures keep the trout in deeper water. Nice rainbows are being caught from sun-up until noon, with scattered activity during the afternoon hours. Activity picks up again as evening approaches. It is anticipated that more and more rainbows (and eventually brown trout) will move into the shallows as the weather continues to cool.
Although fish are being caught around the perimeter of the reservoir, many anglers are catching rainbows in the vicinity of the boat launch. A variety of baits, including livebait, powerbait and marshmallows are resulting in anglers catching in excess of 5 fish per trip. Keep in mind that both rainbow trout and brown trout have a minimum size limit of 15 inches with an aggregate daily limit of 2 fish.
Anglers that are fortunate enough to catch a lake trout are reminded that regulations prohibit the harvest of lake trout from September 16th through November 30th.
---