| | | |
| --- | --- | --- |
| | Community-Based Deer Management | |
Community Based Deer Management Manual for Municipalities (pdf, 320kb)

White-tailed deer have reached problematic numbers in numerous suburban communities in New Jersey. Increased deer-vehicle collisions, damage to ornamental plantings and gardens, damage to agricultural crops and destruction of the natural forest ecosystem are some of the problems associated with high deer populations.

Historically, New Jersey's deer herd has been managed through sport hunting. However, as New Jersey's landscape continues to be developed, land open to deer hunting has been reduced.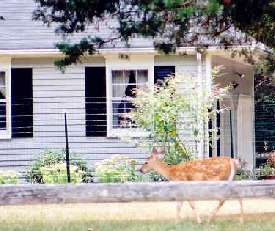 Facing this obstacle, the Division of Fish and Wildlife has taken steps to manage deer populations by lengthening the hunting seasons, increasing the bag limits, increasing the number of hunting permits issued, and offering incentives for hunters to harvest more antlerless deer (does and fawns). However, hunters can no longer control deer populations in some suburban settings due to safety zone regulations, township firearm discharge ordinances and posted private properties.
In an effort to limit deer populations in those areas of New Jersey where sport hunting is not considered a viable management tool, the Division has permitted alternative methods of controlling deer populations under the Community-Based Deer Management Permit (CBDMP) program. The program was created in 1995 to allow alternative methods of deer population control.
Alternative control methods include techniques other than traditional hunting, employed to reduce a deer population. These may include, but need not be limited to, controlled hunting, shooting by an authorized agent, capture and euthanization, capture and removal, and fertility control. The program allows townships, counties, airports and County Boards of Agriculture to apply for a permit issued by the Division that would allow these alternative control methods. A township resolution endorsing the CBDMP application must be submitted. Individual property owners may not apply for a CBDMP.
Some hunters view the CBDMP program as taking hunting opportunities away from sportsmen. However, since the inception of the CBDMP program, many townships have opted to utilize sportsmen during the traditional deer hunting seasons to reduce their deer populations. In fact, several townships have opted to open public land to hunting which previously had been off-limits to hunters.
The Fish and Game Council has the authority to modify or reject an application for a CBDMP if sport hunting is not used where feasible. In one instance, the Fish and Game Council did not permit a township to hire a company to cull deer on a public property until the deer hunting season ended. In another instance the Council did not approve the use of archery equipment by the paid agent but rather insisted the township open the property to licensed bow hunters.
All costs of the alternative methods of deer control are borne by the applicant. In many cases, utilizing sportsmen during the existing deer-hunting season is the most appropriate, and certainly the most economical management option. But when the land is too developed to allow for a traditional hunting program, an application for a permit to use alternative methods may be submitted.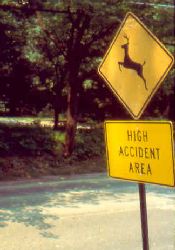 The applicant first designates a Special Deer Management Area where control is necessary. This Area may include an entire Township or a portion thereof. An applicant for a CBDMP then must demonstrate that an overabundant deer population has caused significant damage to property (crops, ornamental shrubs, etc.), has caused a significant number of vehicle collisions and/or is a significant hazard to airplanes on runways in the Special Deer Management Area. The applicant must explain if traditional sports hunting is being utilized to control deer or why it is not an option. These claims are verified by Division personnel.
When the review of a submitted application is complete, the Division approves, denies or recommends modification of the proposed plan and Special Deer Management Area. Once the Division approves the Special Deer Management Area and plan, it submits the plan to the Fish and Game Council for their review. If the application is approved by the Fish and Game Council, the permit is issued by the Director of the Division of Fish and Wildlife.
The process of developing a plan acceptable to the community, the Division and the Council is a lengthy one. Applicants must submit an application for a CBDMP 120 days prior to the implementation of the program. Applicants are encouraged to work closely with the Division throughout the process. Since the program's inception CBDMP programs have been instituted in Essex, Hunterdon, Mercer, Morris, Somerset and Union counties.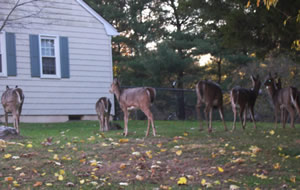 Since the CBDMP program was instituted, the Division of Fish and Wildlife has approved a wide variety of nontraditional and experimental methods to control deer populations in suburban communities. Programs to trap and transfer deer, trap and euthanize deer, use chemical fertility control, and shoot deer by volunteer and paid agents outside of the regular hunting season dates have been permitted.
Below are details about different components of the CBDMP program.
Trap and Transfer/Euthanize
The cost of trapping and transferring deer can be quite high. Portable paddock traps used to trap and transfer deer are costly and there may be additional fees for the transfer of the deer. Efforts to trap and transfer deer in Millburn and Summit have met with varied success. Most states now ban the importation of deer because of the concern for Chronic Wasting Disease and other diseases; Therefore the large-scale potential for using trap and transfer is doubtful.
In areas of Princeton and Millburn Townships where firearms could not be used, deer were trapped and euthanized by a private company. Neither hired agents nor sportsmen may discharge a firearm within 450 feet of a potentially occupied building without written permission of the property owner. In areas where written permission could not be obtained, deer were trapped deer under a drop net and euthanized with a captive bolt gun. A captive bolt gun uses a bolt instead of firearm ammunition to instantly kill the animal. Although controversial, this method of euthanasia is conditionally acceptable according to the 2007 American Veterinary Medical Association Guidelines on Euthanasia (pdf, 550kb).
Shooting by Authorized Agents
Townships receiving a CBDMP may opt to hire a company to cull deer outside of the traditional deer season dates, without bag limit restrictions. Millburn, Bernards, Bridgewater, Hanover, Princeton, Watchung, Mountain Lakes and Summit hired a private company to shoot deer on properties that were deemed too small to allow for traditional sport hunting. Some companies use shotguns, while other companies use rifles. They typically operate from tree stands at pre-baited sites, but may be permitted to shoot deer from a vehicle.
Deer may be culled day or night, depending on the experience of the hired agent. Suppressors (silencers) may be used, however the use of suppressors requires approval from the county prosecutor's office. Fees typically ranged from $200 to $500 per deer. In all CBDMP programs, every effort must be made to donate the venison from the slaughtered deer to a community food bank, and the applicant is required to pay for the processing of the meat.
Chemical Fertility Control
Chemical fertility control is an evolving method of population control. The use of fertility control chemicals and vaccines on deer in New Jersey requires a special permit to inhibit wildlife reproduction, issued by the Division. An application for such a permit must contain the credentials of the person administering the contraceptive procedure, the purpose or intent of the procedure and an assessment of environmental impacts. Written permission to access all properties on which the deer may be tranquilized, recovered and vaccinated must be obtained prior to applying for a Special Permit to Inhibit Reproduction. If the purpose of the Special Permit to Inhibit Wildlife Reproduction is population control, a CBDMP is also required.
The Morris County Park Commission first used chemical fertility control in 1997 at Frelinghuysen Arboretum in Morristown. Ten female deer were darted with porcine zonae pellucida (PZP). Frequent movements of the deer in and out of the Arboretum made subsequent booster vaccinations difficult, and the study was abandoned.
An experimental fertility control program using SpayVac™ was attempted at the Duke Estate (now Duke Farms), in Somerset County. SpayVac™ seemed promising in that it was effective over several years, and annual booster vaccines were unnecessary. Twenty deer inside the fenced portion of the Duke Estate were vaccinated. Unfortunately, that year's formulation of the SpayVac™ vaccine was ineffective in preventing pregnancy, and the program was abandoned. Due to manufacturing obstacles, SpayVac™ is no longer produced.
Princeton Township (Mercer County) implemented a program in 2003 to study the efficacy of the SpayVac™ and GonaCon™ contraceptive vaccines to reduce and then maintain a deer population in a suburban area. Does were captured under a drop net or darted with a tranquilizer gun, and then vaccinated with SpayVac™ and/or GonaCon™ vaccines. Information on the longevity of the vaccines is being obtained from does treated multiple times.
An experimental program using GonaCon™ at Giralda Farms in Madison (Morris County) was instituted in 2005. Thirty-two percent of the females treated once with GonaCon™ became pregnant. However, 84% of all vaccinated deer formed granulomas at the injection site, and 24% had abscesses along with granulomas. Although GonaCon™ was registered by the US Environmental Protection Agency in 2009, and was registered for use by DEPís Pesticide Control Program in 2011, GonaCon™ has limitations including the need to capture and hand-inject each animal, and later find that individual deer so as to administer booster vaccines. The time and cost of finding and administering booster vaccines to individual deer, and the need to obtain prior written permission to access all properties on which deer may be tranquilized, recovered and vaccinated makes chemical fertility control impractical for large, free-ranging deer populations.
Hunter-based Programs
Townships are encouraged to utilize sportsmen during the traditional deer hunting seasons to reduce their deer populations in addition to opening lands to sport or controlled hunting where possible. It is a technique proven effective and economical throughout the country in controlling deer populations.
Harding Township in Morris County chose to utilize sportsmen to decrease their deer population, during a four-day extension of the Permit Shotgun season. Not many deer were harvested during those four days. Harding now has additional township properties open to deer hunters. It was found that opening additional lands to deer hunters was more effective in increasing the harvest of deer.
The Union County Department of Parks and Community Renewal, and the Essex County Department of Parks, Recreation and Cultural Affairs chose to utilize sportsmen as agents to reduce the deer herd in their respective county parks. The CBDMPs allowed the counties to utilize volunteer sportsmen to cull deer outside of the traditional deer season dates, without restricting agents to a bag limit. Licensed hunters were carefully selected based on their safety and efficiency record. They were given a shooting proficiency test and trained to serve as volunteer agents for each county. Each volunteer agent is permitted to receive a portion of venison at the end of the program. The rest of the venison is donated to the Community Food Bank of New Jersey.
Union County's deer reduction program has successfully reduced and maintained the deer population at 20-30 deer per square mile.
Controlled hunting, as an alternative deer control method, involves the killing of deer during a modified hunting season with limited participation. Bernards Township opened township properties during and extension of the Permit Shotgun season to local hunting clubs under a CBDMP program.
Bridgewater Township utilizes local hunting clubs to cull deer on township and county properties during the regular deer seasons. The Borough of Mountain Lakes and Princeton Township use members of a hunting organization to cull deer on township properties during the regular bow-hunting seasons. Scotch Plains has hired a company to shoot deer on county properties, during the Permit Shotgun season. Whether agents are hired or volunteer, if the program occurs during the regular deer seasons, and no modification of the hunting regulations is requested, a Community Based Deer Management permit is not required.
Suburban communities in many states have successfully managed their deer populations by utilizing sport hunters under controlled hunting restrictions.
In Summary
The Division of Fish and Wildlife and the Fish and Game Council have a responsibility to manage deer populations in areas of the state where traditional deer hunting programs may not be the most effective method of deer population control. In a rapidly urbanizing state such as New Jersey, alternative methods to traditional deer management are necessary for the Division and the Council to responsibly manage deer populations in areas with high human densities.
County Boards of Agriculture, municipalities, counties and airports can get further information on applying for a Community-based Deer Management permit by contacting Senior Biologist Jodi Powers at 609-223-6073.
RELATED PAGES
White-tailed Deer in New Jersey
Deer Management Assistance Program