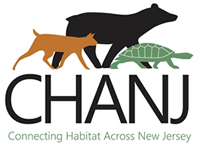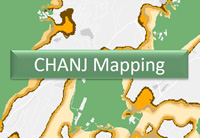 Access the Mapping via our online interactive CHANJ Web Viewer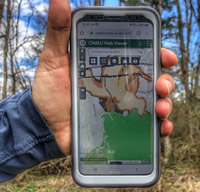 The CHANJ Web Viewer is easy to use from your computer or mobile device.  Bookmark it for quick access!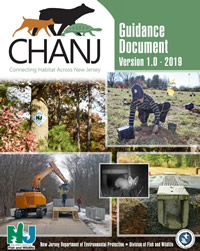 Whether on the local or statewide scale, the CHANJ Tools can help land managers, transportation planners, conservation groups, and the general public to visualize their place in New Jersey's habitat connectivity puzzle and to take meaningful steps to preserve and restore important linkages for wildlife across our landscape.

Mapping

The CHANJ Mapping highlights important areas for habitat connectivity across New Jersey. These include large intact "Core" habitats and the best available "Corridors" between them. It also identifies road segments that cut through habitats and are likely to pose problems for animal movement. Together, these Cores, Corridors, and Road Segments represent the most advantageous places to preserve and restore wildlife connectivity in New Jersey.

Access the Mapping via our online interactive CHANJ Web Viewer - it's easy to use from any computer or mobile device. The Web Viewer is pre-loaded with various supplemental layers, like municipal and county boundaries, watersheds, water bodies, preserved lands, and several aerial imagery and basemap options. We recommend bookmarking the CHANJ Web Viewer page or adding it to your device's Home Screen for ready access in the field.

Not sure where to begin? A step-by-step CHANJ Mapping Tutorial video walks you through it.
A detailed User Guide and a Quick Guide are also available in the Web Viewer's "About" section (i).
The CHANJ layers are also available to GIS users:
1. Download the layers from the NJDEP Bureau of GIS CHANJ menu, or
2. Add the layers to your ArcMap project as Feature Services. From ArcMap Desktop, under "Add Data," choose "Add Data From ArcGIS Online" and search for the layer by its name or its ArcGIS Online Item ID.
A complete description of the CHANJ Mapping - including goals, supplemental layers, and the methodology used to create it - is found in Chapter 2 of the Guidance Document (see below).

Guidance Document

A companion to the CHANJ Mapping, our Guidance Document (pdf, 16mb) offers information and resources to help you make strategic choices about preserving land, restoring habitat, and mitigating the effects of roads on wildlife.

Together, the CHANJ Mapping and Guidance Document can help steer a landscape strategy that preserves and maintains habitat connectivity for terrestrial wildlife across New Jersey, so that healthy populations can persist long into the future.