| | |
| --- | --- |
| &nbsp &nbsp New Jersey Division of Fish and Wildlife | |

11th Annual Governor's Surf Fishing Tournament
Sunday Oct. 6, 2002

by Sue Canale
Senior Biologist

One of the most popular surf fishing events on the East Coast is New Jersey's Annual Governor's Surf Fishing Tournament. Held each year at Island Beach State Park on the first Sunday of October, the event was created to enhance the appreciation of our marine resources through surf fishing and contribute to building support for marine resource conservation.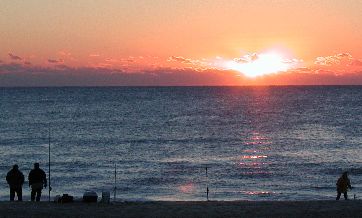 First held in 1992, the tournament is sponsored by the NJ Divisions of Fish & Wildlife and Parks and Forestry along with the Jersey Coast Anglers Association, the New Jersey State Federation of Sportsman's Clubs and the New Jersey Beach Buggy Association. From the tournament's inception, Island Beach State Park seemed the natural choice for such an event. The park's central location on the coast, size and fame for great surf fishing combine to make it the perfect place to spend a fall day.
This annual event has become a fixture of the New Jersey fall surf-fishing season for an increasing number of surf anglers and their families. Each year, between 1,200 and 1,400 anglers of all ages and levels of expertise from throughout New Jersey and surrounding states have entered the tournament to compete for the Governor's Trophy and the chance to have their name engraved on the Governor's Cup, on permanent display at the park. Last year, despite cold weather and wind, 1,128 registered participants brought along family and friends to share in the excitement of competing in this classic event.
"Surf fishing is a great family activity and the Governor's annual tournament offers the perfect opportunity for youngsters and adults to learn more about this relaxing and enjoyable sport," said Division Director Bob McDowell. "Also, by registering, participants contribute valuable funds toward providing surf fishing access, marine education programs and providing access for disabled and elderly anglers." To date, more than $84,000 has been raised toward these goals and have funded surf fishing instruction programs and equipment, the purchase of specialized beach wheelchairs, and the construction of an 800-foot long access ramp at Island Beach State Park.
Through the money generated by this tournament, the Fish and Wildlife's 'Hooked on Fishing - Not on Drugs' program received funds to train State Park Rangers and Division Conservation Officers as instructors to conduct HOFNOD programs throughout the state.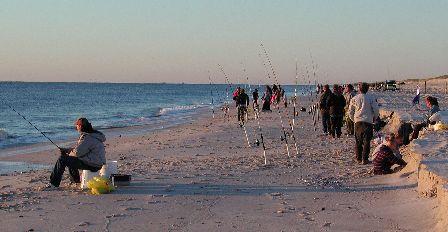 In addition, the Friends of Island Beach State Park received money from the tournament for educational materials and field study equipment to use in support of the Barnegat Bay Kayak Tour and Environmental Education Enhancement Program. The Sedge Island Natural Resource Education Center has also benefited from fishing equipment purchased with funds generated by the tournament. Programs at both the park and the Sedge Island NREC are designed to help make adults and children aware of the importance of a healthy and clean environment.
In association with the Surf Fishing Tournament, the Division of Fish and Wildlife sponsors a Surf Fishing Workshop and Salt Water Fly Fishing Clinic for women interested in learning more about these sports as part of our Becoming an Outdoors Woman Program. These hands-on workshops are held the day before the tournament and covers equipment basics such as how to choose and use rods, reels, bait and lures; fish identification; fundamentals of casting; reading the surf; and knowing the tides. For registration information go to the BOW page on our website.
Prior to the awards ceremony, numerous prizes are awarded in many categories, including earliest registration entry received and for each species of fish caught, as well as raffle prizes for those in attendance. Along with the overall tournament prize, award opportunities exist for youngsters, teens and women, with the prizes being supplied by different corporate and business sponsors of the tournament. The angler catching the longest eligible fish of the day is awarded the "Governor's Trophy" have their name engraved on the prestigious Governor's Cup along with previous years' winners. The Cup is on permanent display in the lobby of the park's administration building. Various dignitaries, including the Governor, present the prizes each year. Fishing and environmental exhibits and demonstrations are presented by sporting organizations and tournament supporters at the Pavilion on tournament day.
Entry forms for the Tournament may be found on our website, or at your favorite tackle shop. Those who registered by mail before Sept. 9, saved $5.00 on an adult entry fee. Registration after September 9 must be done in person the day of the tournament. Registration opens at 5:00 am Sunday at Pavilion #1.
Anglers may enter to win in the following age categories:
Adult (18 & over) - registration fee: $ 10.00, $15.00 day of tournament
Teens (ages 13-17) - registration fee: $ 5.00
Children (12 & under) - FREE, must be accompanied by an adult
PAST WINNERS OF THE GOVERNOR'S CUP
The Governor's Cup is presented to the angler catching the longest of all eligible species of fish in each Governor's Surf Fishing Tournament. Past winners are listed below: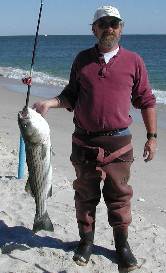 | | | |
| --- | --- | --- |
| 1992 | David McGoldrick, Brick | 20" Albacore |
| 1993 | Dennis Granville, Robbinsville | 34" Striped Bass |
| 1994 | Andrew Ciok, Bayonne | 23" Albacore |
| 1995 | Mike Palumbo, Brick | 31" Striped Bass |
| 1996 | David Stimon, Trenton | 35" Bluefish |
| 1997 | Ron Butliewicz, Plainfield | 34" Bluefish |
| 1998 | Peggy Peterson, Toms River | 34" Bluefish |
| 1999 | Dorothy Harrison, Wayne | 29" Red Drum |
| 2000 | Joe Early, Toms River | 32" Striped Bass |
| 2001 | David Hilgar, Fallsington, PA | 35 1/8" Striped Bass |
Add your name to the list! Come out and join us on October 6 at Island Beach State Park!
---