Wildlife Habitat Management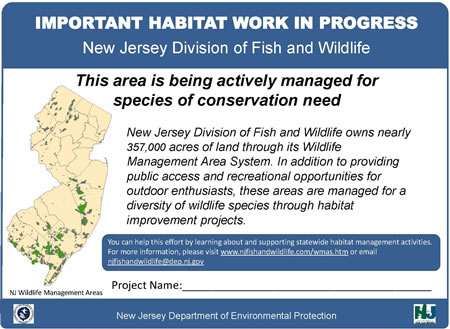 Sparta Mountain WMA Forest Management Update - 4/23/21
Disturbed Forest - The Forsaken Science of Healthy Forests - (Ruffed Grouse Society Video)
Habitat is the key to wildlife's survival, whether in the rain forests of South America or here in New Jersey. Quality habitat provides appropriate and sufficient food, water, shelter (or cover) and sufficient space for wildlife species.
The Division of Fish and Wildlife bureaus of Wildlife Management and Land Management, along with the Endangered and Nongame Species Program, work together to protect and enhance wildlife habitat on state lands. Projects such as mowing, plantings, tree harvests and other activities on state Wildlife Management Areas manipulate and enhance habitat to favor various species, often ones which are in decline (such as bobwhite quail).
The Division also often works with many partners to protect and improve habitat, whether on state lands or properties in private ownership. Several programs are available for financial and/or technical assistance to private landowners who want to improve habitat on their properties.
Wildlife Management Area Habitat Projects
Wildlife Management Area Habitat Restoration Projects
Stewardship Plans
Bobwhite Quail Habitat Management
Related Pages