| | | |
| --- | --- | --- |
| | Fishing and Hunting License and Permit Information | |
UPDATE YOUR E-MAIL ADDRESS!
Having your current e-mail address in the license database will help us keep you informed of conditions affecting hunting and fishing.
Log in and select Edit Customer Profile to make sure your information is up to date.
Get Your Licenses and Permits Online!
Licenses and permits are printed at home; licenses and permits on durable green stock can be ordered for $2.00 fee (except for Firearm and All-Around Licenses which are still mailed at no cost).
Deer, Bear, Turkey, Fox, Coyote, and Beaver/Otter Permit Information
Hunting Licenses
Fishing Licenses
License Agents
Marine Licenses and Permits
NJ Saltwater Registry
Boat Ramp Permits
Horseback Riding Permits
Wildlife Management Area Permits
Exotic and Nongame Wildlife Permits
Captive Game Information and Permits

Background
The Division of Fish and Wildlife issues licenses, stamps and permits for hunting, fishing and trapping. The first license, a non-resident hunting license for $10.50, was introduced in 1902. The first resident hunting license was required in 1909, hunting license at a cost of $1.15. In 1915 the first fishing license was required, enabling law enforcement to be adequately funded.
Revenues derived from these sales support, in whole or in part, the operations of the agency. This work includes the operation of two fish hatcheries and associated stocking programs, a pheasant farm, enforcement of fish and wildlife regulations, habitat protection, fish and wildlife research, wildlife management area maintenance and improvement, education, and other programs and activities. The number of licenses sold also figures in the amount of federal grants money the state receives from the federal Sport Fish and Wildlife Restoration Programs.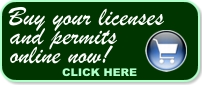 Speed Your Transaction by Having Your Customer Record (CID#) Up to Date
NOTE: Anyone needing assistance using the license Web site should e-mail NJDFWLicenses@dep.nj.gov or call 908-637-4125 ext. 0.
The Electronic Licensing System
New Jersey uses a web-based system to issue licenses and permits. The system is used by license agents and can also be used by individuals from a computer or mobile device. The system maintains a database with a "customer profile" for each individual obtaining a license or permit.
Purchasers of hunting and fishing licenses and permits have their profile identified by a lifetime Conservation Identification Number (CID#). This unique number appears on all licenses, permits and stamps. A customer record and CID# is created on the license Web site, or at an agent the first time a person purchases a license. (See CID information below.)
Licenses and permits are printed at home; licenses/permits on durable green stock can be ordered for $2.00 fee (except for Firearm Licenses which are still mailed at no cost).
A NJ Driver License is required for resident licenses purchased online.
Hunting and trapping licenses require proof of a previous year's resident license or hunter education course. Licenses need to be purchased at an agent if a record of such documentation is not in the system's database. Nonresidents ONLY may use the Nonresident License Documentation Form to "unlock" hunting and trapping licenses for purchases of hunting and trapping licenses.
Once documentation of a previous year's hunting license or hunter education is entered in the system, license purchases can be made online. Licenses purchased at an agent or mailed (optional for $2.00 fee, except for firearm licenses) are printed on durable, waterproof stock.
All NJ fishing and hunting licenses expire on December 31 regardless of when purchased. Deer permits for zones where the season extends into the next calendar year remain valid, but a current year's license is required. Waterfowl Stamps and HIP Certification become available on July 1 and are valid until the close of migratory bird seasons the following spring.