| | |
| --- | --- |
| &nbsp &nbsp New Jersey Division of Fish and Wildlife | |

Improving Relations Between Recreational Anglers and Commercial Fishermen
Taking the First Step
by Russ Allen, Principal Biologist
October 2002

Many anglers know that this is the time of year for excellent fishing in the inshore ocean waters of New Jersey. The fall migration is picking up and there are plenty of croakers, weakfish, bluefish and stripers, to name a few, swimming along our shoreline. It also means that it is prime time for user conflicts between the commercial gill net fishermen and recreational anglers as they attempt to catch the migrating fish.

How do we ease the tensions that are stirred up when these two groups come in close contact? Up until now, there has been a significant lack of communication between commercial and recreational interests that has resulted in much ill will. Recent meetings, moderated by Division personnel and New Jersey Marine Fisheries Council members, brought together representatives from the commercial and recreational sectors to develop solutions that should help reduce conflicts. The outcome of this and future meetings will focus on a continued spirit of cooperation through education, communication and respect. Both sides have agreed to take the challenge - now it is up to the rest of us to follow through to make sure we all benefit from the result. This is the first step in that process.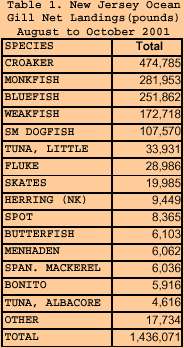 Let's start by explaining why commercial gill-netters are along the beaches in the first place. The main species being targeted from late August through mid-October are Atlantic croaker and weakfish (Table 1). Other species of importance include bluefish and menhaden. The commercial boats can easily be seen searching the nearshore waters for schools of croaker and weakfish.
When a school is located, the captain will set the net and let it drift for as long as they feel necessary to maximize profit while ensuring a good quality product at the market. The nets are small mesh (up to 3.88 inches stretched mesh), used for harvesting the smaller (between 10 and 20 inches) sized croakers. Drift gill nets, combined with the small mesh size, drastically reduces bycatch of unwanted species such as striped bass. The Division, along with the Marine Fisheries Council, has been working with the commercial industry on methodology to reduce bycatch discard. This issue will be addressed in future articles.
The 2002 fall weakfish gill net season is open from September 3 to October 19 and October 26 through December, so they too can be harvested during this time. Monkfish and smooth dogfish, as well as other larger species, are caught further offshore using nets with larger mesh sizes.
One thing to remember is that this is a drift fishery, meaning that the nets are on the move. Therefore, recreational anglers need to be aware of winds and currents when deciding where to fish - it is illegal for a recreational angler to fish within 300 feet of a set net. Vice versa, for a commercial fisherman to set a net within 300 feet of a recreational angler is also illegal. Common courtesy is called for to provide this minimal distance to everyone.
In 2001, the Division received many complaints about commercial boats fishing too close to the beach. The commercial gill net fishery does not have a minimum distance from the shoreline in which they must operate. However, representatives from the commercial industry have agreed to limit operations close to the beach during certain recreational fishing tournaments, and the Division will supply commercial docks with tournament schedules beginning in 2003. The word has already been spread to the commercial docks concerning the 2002 Governor's Surf Fishing Tournament, to be held on October 6. This is an example of the respect agreed upon and it is hoped that commercial fishermen will avoid the Island Beach State Park area on this important day.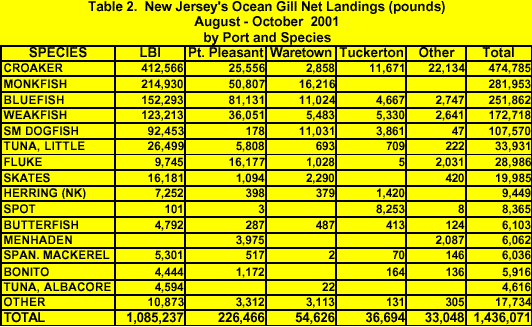 The location of many of the complaints coincides with the main focus of the fall gill net fishery, which is the Long Beach Island/Island Beach State Park area (Table 2). As you can see, approximately 87% of the catch was landed at Long Beach Island (LBI) alone.
For the recreational angler, autumn is a great time to get out there and fish. Table 3 shows the major species landed during the July- October time period. Although summer flounder tops the list, please remember that the season closed on September 24 in 2002. There should be plenty of opportunities to catch some blues, stripers or other species on the list.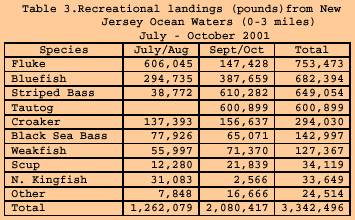 There are many issues yet to be tackled by both the recreational and commercial industries, but those involved in the initial meetings feel we are off to a good start. Remember, there are bad apples in every fishery, so don't base your reactions on any one individual to make a hasty judgement about the rest of the crew.
The Division will continue to make an effort to establish better relations throughout the commercial and recreational fishing worlds in order to make sound and practical management decisions to better our fisheries for everyone. Take the time to learn more about what people are doing around you, you might even be a little surprised.
---