May 20, 2022
Located in Cumberland County, Heislerville Wildlife Management Area comprises 7,670 acres of tidal marsh, shoreline, woodlands, and fields. Heislerville WMA also boasts 310 acres of coastal impoundments.
In 2013, the Division of Fish and Wildlife worked with Ducks Unlimited to obtain North American Wetlands Conservation Act (NAWCA) grant funding to refurbish the Heislerville WMA impoundments. The NAWCA grant funds were used to enhance these impoundments from stagnant lake systems into palustrine, emergent habitat to meet bird habitat and population goals. As part of this work, the water control structures were replaced. These enhancements improved habitat conditions and management capabilities to produce critical forage for migrating waterfowl and shorebirds.
The water control structure in Heislerville WMA impoundment #3 will be set to allow drainage of the impoundment. A late spring drawdown will expose the impoundment mud flat, along with forage items for waterfowl and shore birds; namely seeds and aquatic invertebrates. As the growing season progresses, emergent aquatic vegetation from the impoundment's natural seed bank is expected to grow. The growth of these plants, and subsequently the seeds they produce, will replenish the natural seed bank within the mud flat before the impoundment is flooded in the fall. The fall flooding of the impoundment will again provide waterfowl habitat and forage items during their taxing fall migration.
The Division recognizes that many users, including birdwatchers, crabbers, waterfowl hunters, and kayakers enjoy the setting of Heislerville WMA and it can be challenging to meet the desires of all users. To satisfy as many parties as possible, the following water management regime will be used during 2022 on the three impoundments on Heislerville WMA:
Impoundment #1 – North of Matts Landing Rd: Impoundment will remain flooded year-round.
Impoundment #2 – South of Matts Landing Rd: Managed to provide habitat for the shorebird migration.
Impoundment #3 – North of E. Point Rd: Managed for waterfowl and shorebirds, as outlined in the description above.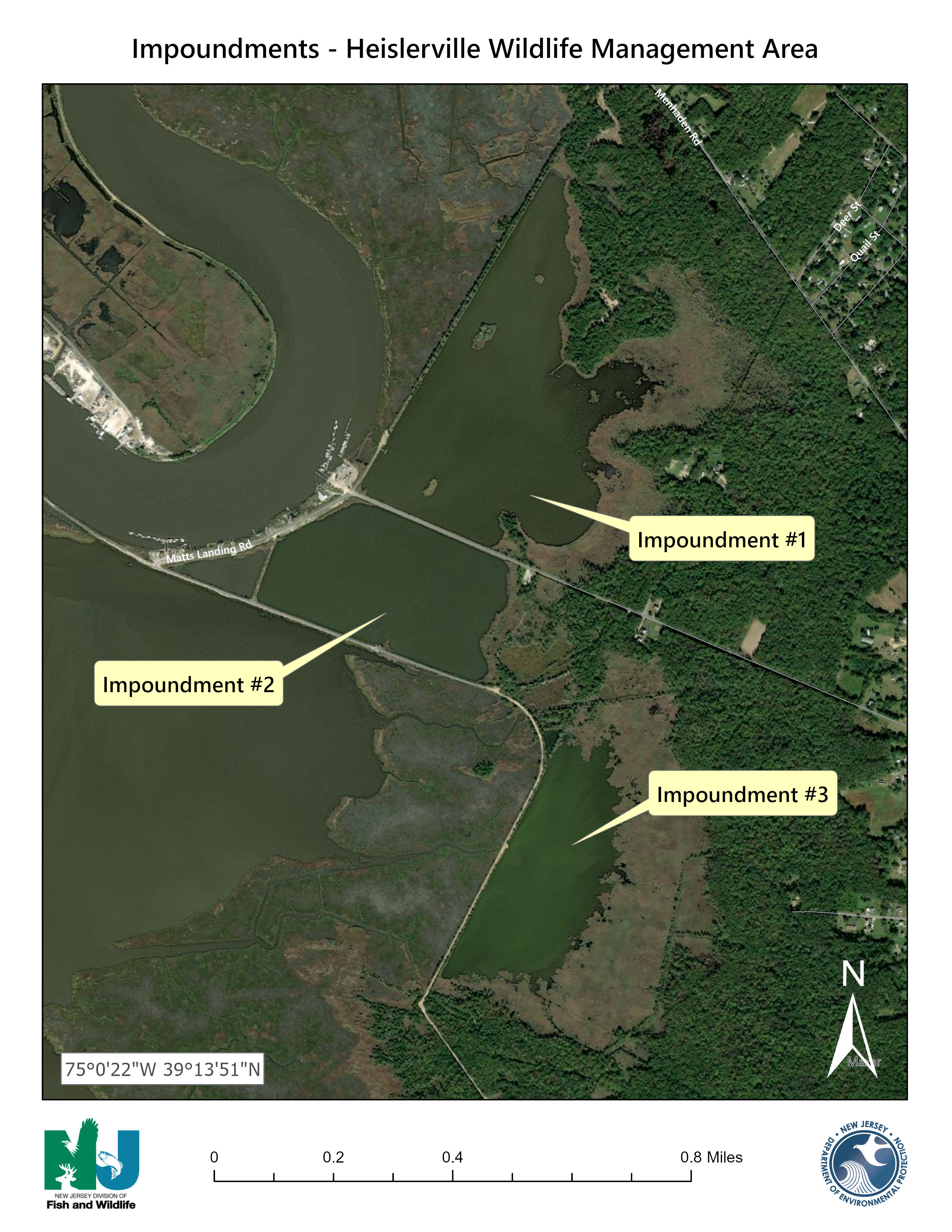 Click to enlarge