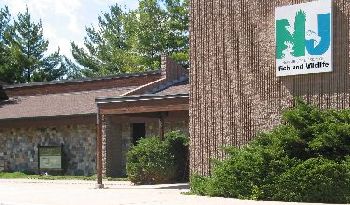 The Pequest facility includes a Natural Resource Education Center for environmental education as well as the only state-owned and operated trout hatchery. Pequest began operations when trout production was transferred from the Charles O. Hayford Hatchery in Hackettstown in 1981. Pequest produces up to 700,000 trout annually for stocking in the public waters of New Jersey.

Visitors to the site use the area to learn about trout and how they are raised, as well as to use the 5,100 acres of state WMA land that surrounds the hatchery for recreational opportunities such as hiking, hunting and bird watching, while great fishing opportunities abound in the nearby Pequest River.

Pequest is open for visitation year-round. The best time to see the hatchery is October through May when all areas of the facility are in operation. From May through September, the nursery building is not in use.

Pequest strives to teach visitors about a variety of natural resource topics - from fishing to forestry - with the goal that visitors will develop the behaviors and skills necessary to become stewards of wildlife and natural resources. Educational programs can be scheduled year round for groups of all ages. Besides scheduled group programs, Pequest teaches about trout and wildlife conservation at its annual Open House and other public events and programs throughout the summer for families, scouts and other groups.

Pequest and all state WMAs are "carry in - carry out" locations and trash/recycling receptacles are not provided; please plan accordingly to not leave any trash or recyclables behind.

NOTE: Licenses, stamps and permits are sold at Pequest, but only checks or credit cards are accepted.
Hours

Interpretive Center
Closed Due To COVID-19

Trails


Open daily, dawn till dusk
Pequest Trails Guide (pdf, 212kb)
Wildlife Management Area


Open 5:00 a.m. - 9:00 p.m. daily.
Open 9:00 p.m. - 5:00 a.m. for lawful hunting, fishing or trapping activities ONLY.

Maps

WMA Topo Map (pdf, 3.7mb)
WMA Road Map (pdf, 275kb)