July 16, 2007
The Jersey City peregrines have been mostly off camera since taking wing a few weeks ago. Recognizing that, we will soon be shutting down the video stream as a cost-saving measure. However, on the nearby Palisades, biologist Kathy Clark was recently treated to a rare sight - a nestling taking its first flight. This particular nest is an example of the perseverance of these birds in continuing the natural cycle - the nest had been destroyed by the April nor'easter. Read the account of this first flight at the NorthJersey.com Web site. Be sure to check out the "Sights and Sounds" feature on that page.

July 1, 2007
It is the time of year when young falcons fly. As they build their flight skills, they depend on their parents for food for at least a month, while the building, cliff or tower continues to be "home base" for most. In Jersey City, all three young are flying and only occasionally observed on camera. Rest assured they are not far away. There are multiple levels to the building, as well as other high spots and green spots in the city and the waterfront.

A Jersey City resident has reported seeing as many as three peregrines flying and perched around Van Vorst Park, about eight blocks away from 101 Hudson Street. This may be just one of their hang-outs as they learn to fly, hunt, and generally learn about the world!

For those suffering empty nest syndrome, check out this website from a Richmond, Virginia, high-rise building: www.dgif.state.va.us/falconcam/. This pair apparently failed in their first nesting attempt, making their current nest a very late one for the season. Hatched around June 22, the nestlings are dealing with the hotter temperatures of summer.

As rooftop activity tails off, we will be closing the Jersey City falcon cam around July 15. We will provide more reports here in Nestbox News whenever there is news. Thank you for watching and caring during this season dedicated to the memory of Ms. Linn Pierson, a dedicated aficionado and student of peregrine falcons, and someone who helped us appreciate raptors of all kinds.

June 20, 2007
As our viewers know, we've been frustrated by our technology! Both cameras stopped working Friday evening when the computer failed, and we were finally able to get things working today. Many thanks to the engineers at 101 Hudson for their on-site help!

Before things got cut off, it appeared that the oldest two were officially "fledglings," having tried out their wings. Viewers on Friday could see shadows of birds in flight over the roof, even if we couldn't see much of the birds themselves. Roxanne, our youngest, was in view, quickly shedding her white down as her body and flight feathers continued to grow in. Now that the cameras are working, we'll have to watch for her around the roof, but she too will soon be ready to fly.

June 15, 2007
This week has been an active one for the Jersey City nest site. The male eyas, "Alpine," took his first flight on or about Tuesday, and sightings suggest he was grounded for a little while before flying off. But Wednesday, he was delivered to the Raptor Trust, having been picked up by Jersey City Animal Control staff.

The Raptor Trust staff checked him out (he was uninjured), and gave him a couple good meals, and ENSP staff placed him back on the roof of 101 Hudson on Thursday morning. We believe he was on camera late Thursday, flying in with the remains of some prey, which "Roxanne" promptly took from him! Roxanne is approximately a week behind the others developmentally, so has been limited to walking around the roof and, with growing frequency, doing flapping exercises to gain strength. "Linn," the larger female, has been exercising (running and flapping) this week and is probably nearing her first attempt at flight.
June 12, 2007
We have good news about one of our Jersey City alumni! The female banded with "G/*S" (black over red) in June 2003, initially resighted in 2005 as part of a territorial pair in Elizabeth, is raising three nestlings there now.

After the pair was sighted in 2005, ENSP biologists installed a nest box (a dog igloo that in this application is a "perigloo"), on top of the Union County Courthouse and the pair has been resident ever since.
Protective peregrine and her young.

Click to enlarge

Biologists Kathy Clark and Mick Valent visited the nest site last Friday to band the nestlings. As the photos can attest, this falcon has inherited all the protective traits of her parents, and barely yielded us space at her eyrie at the summit of the beautiful building. She clearly felt she won the battle once her nestlings were returned safely (with leg bands for future identification).

Our thanks to the staff at the Union County Courthouse for hosting the falcons and assisting with their management. If you're in Elizabeth, you might watch the skies for peregrines, and for the training flights of three juveniles in about two weeks.
June 11, 2007
The eyases are reaching that stage of mobility that keeps them out of camera range for many hours (if not most) each day. Frustrating for us, but good for them as they exercise and move about the roof top. The last two evenings, all three young could be seen on one or both of our cameras in the still images.
"Alpine," the male, looks like he's very close to trying his wings in his first flight, since he has taken short hopping flights around the roof top. He may go out of view soon, as the young seem to favor the short flight down (just over the ledge) to another roof level not far below. "Linn," the older female, who has just a few tufts of down left, will be next to fly, but several days after Alpine. With luck, we'll continue to see little Roxanne (who is not so little anymore, but is noticeably more downy) for another week if she continues to return to the nest box area for food and/or shelter.
The time of fledging (taking their first flight) is one of the riskiest times for young birds. The biggest danger is landing on the street where they could impact cars, trains or wires. Learning how to control their path of flight and having the strength to gain altitude are acquired skills, aided by instinct and adult supervision. Even after mastering basic flight, they will rely on their parents for food, since it will be weeks before they can hope to catch prey on the wing. That's an amazing skill that will take time to develop. Unfortunately, that's action that we cannot catch on camera!
June 6, 2007
The nestlings have been fairly active the last few days. All three have been out of the nest box and onto the roof, but the two oldest (Linn and Alpine) have been most active. The adults are bringing most of the food to the nest box, which helps reinforce that as the "place to be" for the eyases. The box is also the best (but not only) place to find shade during the heat of the day. We have seen all three laying low and spreading out their wings and legs to cool themselves, which is normal. On the hot, sunny days they will be most active in the mornings and evenings. Mornings are especially interesting, when the young are rested and seem adventurous.
June 4, 2007
Steady rain last night and this morning interfered with the camera picture clarity, but it appears that two of the eyases made their way back into the box last night. A third, probably "Roxanne," seems to have remained outside the box, though likely retreated under the box for shelter. As the view improves today we will be watching to account for all three.
June 3, 2007
Early this morning, two of the nestlings (Linn and Alpine) made their way out of the nest box, down the ramp, and onto the roof surface to explore. Tiercel "Alpine" got comfortable and was seen using the ramp to move between nest box and roof many times. In the afternoon, after watching her older siblings (and not to be outdone), little "Roxanne" also made the steep trip down, and could be seen walking around with the others. These explorations are good exercise for the young birds, which now have a great expanse in which to run and flap, preparing them for hopping flights before the real thing.
In the various views, we can see the plumage of the eyases is developing: the tiercel "Alpine" has the most brown feathering, followed by "Linn" who still has a lot of dense white down in between patches of brown feathering on her head and several inches of flight feathers. "Roxanne," the smallest female, is still recognizable as slightly smaller than the others, and predominantly covered with white down (though her flight feathers are now visible as well). Now into their fifth week, they will change quickly, losing their downy coat and completing the growth of body and flight feathers.
We will be zooming out the camera view now that the young are moving about. The inside-box camera will remain available on the still image page.
May 31, 2007
Today was banding day in Jersey City! Endangered and Nongame Species Program biologist Kathy Clark quickly removed the eyases from the nest and placed them in a plastic carton while DFW webmaster Paul Tarlowe ran defense by holding a long-handled feather duster above our heads! The duster proved effective in keeping the diving female from getting too close to us. The tiercel wasn't far behind her in his alternating attacks. We retreated inside with the nestlings for banding.

The largest eyas is a female (females are larger than males even at the 4-week old stage), and second in size is the only male in the nest. Many viewers may have been wondering about the one we've called the "third" nestling: it has been smaller than the others since its brush with death due to an impaction in its crop (see May 18, 21 and 23 entries), but we also suspected it was a male, which would account for the smaller overall size. Surprisingly, it is a female, though still noticeably behind her siblings developmentally. Assuming there's enough food to go around, she will catch up.

The three chicks (left to right Alpine [40/S], Roxanne [93/Y], and Linn [92/Y]) after being banded. Compare to

photo taken May 12

.

Click image to enlarge
The male peregrine reacts to the presence of the biologists on the roof.

Click to enlarge

We normally do not name the nestlings, nor the nesting adults. (Though our adult tiercel is banded with "2/6" so we can call him by his number.) Today, however, we broke the rules and named the large female "Linn" in memory of our good friend, Linn Pierson, longtime author of Nestbox News, who passed away in April. Her absence was conspicuous today, as she had assisted with every Jersey City banding since 2001.

We also named the small female "Rocky," for her fighting spirit. Seeing that she is a female, we should probably call her "Roxanne," and hope she keeps her tough, winning ways!

We suggest a fitting name for the male eyas is "Alpine," for the Palisades cliffs we hope he calls home in the future, the historic habitat so important to the peregrine's full recovery in New Jersey.
This weekend marks the youngsters' 4 week birthday. Expect them to be increasingly mobile! From past experience we know to prop up a slab that acts as a ramp from the roof surface to the nest box: we want them to be able to get back into the box after they take that first jump out. You'll also notice that the video feed has been switched to the outside camera, but you may also view via the inside camera on the Still Image page. We plan to zoom out with the outside camera when necessary to catch the action. This is a good time to thank on-site engineers Sean O'Neill, Brian Duffy and Steve Burke, as well as building manager Barbara Deen, for their continued support and commitment!
Veteran viewers know that once the young start using their running legs, they can be hard to catch on any camera!
Hope you'll watch with us as they grow quickly over the next two weeks before flight!
May 23, 2007
The third chick was returned to the nestbox yesterday and appears to be doing well. It is noticeably smaller than its siblings, but participates in feedings and is expected to do well. All three now are much more stable on their feet and move around the nestbox quite a bit, often to the dismay of viewers as they seem to favor the back corner, out of sight. Their next milestone will be banding, at which time we'll switch to the outside camera.
May 21, 2007
Last Friday we sent technician Kevin Pollack to pick up the third nestling, thinking it was dead or nearly so. It turns out the nestling was not dead, but was in very serious condition. Friday night Kevin delivered it to a local animal hospital that has experience treating birds, and from there it was immediately transferred to the Raptor Trust in Basking Ridge.
The two-week old nestling had an impaction in its crop, the food-storage organ most evident in their neck just after they eat a meal. It could not digest what was there nor eat more, and became weakened and dehydrated. Thanks to the care proffered by the Raptor Trust, the condition was cleared before the nestling succumbed. We are amazed and happy to report that the nestling survived, and is back to normal, sitting up and eating. We plan to return it to the nest on Tuesday morning, when it should be back to full strength and ready to join its siblings.
May 18, 2007
We're saddened to report that one of the eyasses (chicks) has died. Staff removed the carcass and it will be tested to try to determine the cause of death. More information will be made available as it becomes known. The two remaining chicks seem to be in good health, vigorously feeding and moving about, though in the current cold snap they are usually seen being brooded by an adult or huddling together for warmth when alone.
May 12, 2007
Today biologists from the Endangered and Nongame Species Program visited the nest with two goals in mind: administer medicine to the nestlings to ward off trichomoniasis (a pigeon-borne disease), and collect the fourth egg that did not hatch. Biologist Kathy Clark gave each nestling a dose of antibiotic pill wrapped in a small piece of chicken, while biologist Kris Schantz stood guard against the adults' rapid-fire diving attacks.

The nestlings seemed only a little curious about the obvious alarm of their parents, and were not particularly hungry, so the feeding took a little coaxing. But all three did get the medicine, so we hope all will be fine in the next few weeks when they're most susceptible to the bacteria sometimes carried in their pigeon prey. The unhatched egg will be stored for future analysis.

The three week-old chicks.

Click to enlarge
While we were there, we got a better look at both adults. The tiercel (male) is banded with *2/*6 color band (black over green, with * signifying the digits are sideways), which confirms he is the same male that nested at this site last year. He was originally banded as a nestling in 2003 on Riverside Church in Manhattan. The female is banded with only a silver federal band on her right leg, so we know she remains the same bird as the last few years, though we don't know any details about her origin. Both are extremely protective of their nestlings, and were relentless in their attacks until we left the roof completely.
May 10, 2007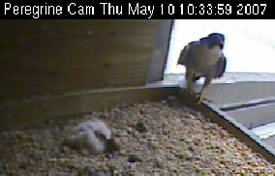 Viewers have been treated to great video of feedings and brooding in the nestbox this week. Three chicks hatched and seem to be thriving, while the fourth egg remains and is unlikely to hatch at this point. Were it to hatch, the chick would be so much smaller than its nestmates that it wouldn't be likely to compete successfully for food at feeding time. The next milestone will be banding the chicks in a few weeks.
May 8, 2007
Streaming video was restored about 11:10 this morning after a frustrating outage. Enjoy your viewing!
May 6, 2007
Hatching! The first two eggs hatched yesterday, May 5, and a third nestling was seen today, along with the fourth egg still unhatched around mid-day. The adults continue to brood closely, keeping the new nestlings warm as well as the egg, which we hope will hatch by end of today or on Monday.
Within a couple days of hatching the chicks will be strong in their begging for food, prompting the adults to feed them every few hours. But they need their parents to keep them warm and protected from all elements (even too much sun), so you'll have to watch and perhaps be lucky to see them, uncovered, for the first week or so.
April 30, 2007
The peregrines are four weeks into incubation, and we're counting down the last four or five days of the 32-33 day incubation period. This nesting pair has persevered through some incredible wind and rain storms, barely sheltered at the front edge of their nest box. Some other nests, particularly at natural cliff sites, have not fared so well. We certainly hope that the worst of the weather is behind us, especially with the projected week-end hatching of new and fragile nestlings.
With our camera inside the nest box we should have a better view of the hatchlings when they arrive. For the first few days, the adults brood them closely, stepping away only during short feeding sessions, and otherwise keeping them covered. Although peregrines start incubating in earnest only after all eggs are laid, and thus all should hatch together, often the third and/or fourth eggs will hatch a day later. So we'll be watching Friday and Saturday, and the days to follow, to see exactly what develops!
April 13, 2007
Despite groundhog predictions to the contrary, this has not been a particularly early or pleasant spring so far. The run of cool temperatures and spates of snow and rain are making life difficult for birds, especially those on their northward migration and early spring nesters.
Through webcam technology, and with our new view inside the nestbox, we can see how birds already on nests are coping with this tumultuous weather. Always amazing is the determination and patience evident in an incubating bird, sitting for hours and hours, moving little, and enduring wind and rain. A keen instinct carries them through day after day.
No doubt the weather will improve and it won't appear to be such a chore to incubate the remaining three weeks or so. With all four eggs laid by April 2, we expect hatching to occur around May 4. We'll keep watch from our comfortable chairs, but imagine and admire the perseverance of these amazing birds to survive and thrive.
April 10, 2007
We are extremely saddened to report that Linn Pierson, naturalist and author of Nestbox News since 2002, has passed away from cancer. Linn combined her passion for peregrine falcons with her brilliant writing skills to paint a picture for readers of Nestbox News. She was the interpreter of the nest-box and roof-top action, putting the pieces into the context of the entire nesting season and the life history of peregrines.
We know from your feedback and donations that thousands of viewers looked forward to new entries in the log, and we attribute that popularity to Linn's beautiful writing and shared enthusiasm for her favorite birds. In addition to her involvement in Jersey City, she monitored the re-establishment of peregrines on their historic cliff areas in the Palisades, and surveyed everything from songbirds to eagles for the Endangered and Nongame Species Program. Labors of love, all. As is so often the case with wildlife, there are the heights of joy in life and the tragedies of untimely death. Linn wrote about both so eloquently.
New Jersey's wildlife conservation community, and especially the Endangered and Nongame Species Program and the Conserve Wildlife Foundation, lost a great ally and friend yesterday. Soar high and free, Linn – we will miss you so.
We dedicate this 2007 peregrine season to our friend, Linn Pierson.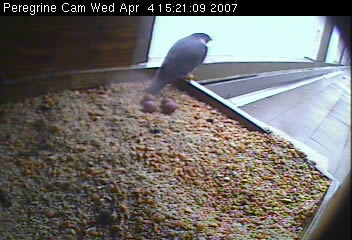 April 3, 2007
Earlier today staff from the Division of Fish and Wildlife ventured to Jersey City to replace the aging computer which broadcasts images and video over the Internet. The new camera inside the nestbox, purchased with a generous donation from an anonymous donor, was activated and is now sending still images. (The project relies on donations - you too can make a donation.) When the female temporarily left the box we could see four eggs had been laid - incubation is now under way!
It is interesting to note the location chosen to lay the eggs. As in past years it is in the front corner of the box. The apparent reason seemed obvious today as we watched the sunlit area inside the box gradually diminish as the morning passed into afternoon, until the last bit of sun reached the gravel bed - right where the adult sat atop her eggs. Or perhaps it affords her the best view to protect her eggs from disturbance. Wildlife seem to instinctively know where the optimal location will be, increasing the odds of survival just a bit.
We expect the last technical hurdle to be overcome in the next day or so and begin streaming live video. The camera is shut down at the end of each nesting season to conserve funds - there are substantial costs involved in operating a webcam over the Internet - and restarting the stream of video is more complicated than most realize.
We believe the fourth egg was laid during the weekend. Incubation occurs only after all of the eggs have been laid and lasts 32 to 33 days. So hopefully, during the first week of May, we can anticipate seeing the next generation of New Jersey peregrine falcons begin their journey to flight.
March 13, 2007
Welcome back to Nestbox News! It's mid-March and we're getting the first inkling of spring. New Jersey peregrines are well into courtship, and a few pairs in the state are already beginning incubation. The Jersey City birds are not usually so early in starting the nesting season. We are anxiously awaiting the complete installation and powering-up of our camera system, so we hope they will wait for us.

For immediate notification of when we "go live" viewers can subscribe to the Endangered Species E-mail List maintained by the Division of Fish and Wildlife. For information about our E-mail Lists and to subscribe, visit www.njfishandwildlife.com/lstsub.htm.

Bird's eye view from atop 101 Hudson St.

Click to enlarge