NJ Division of Fish and Wildlife
Hunter Training Areas
RANGE CLOSURE INFORMATION
Work on the 200-yard rifle range located on Millville WMA has been completed and the range has reopened.
---
The construction of covered shooting stations at the Colliers Mills and Stafford Forge WMA ranges will begin on Tuesday, October 13
and continue through February, 2021. We apologize for any inconvenience as we continue to improve your Hunter Training Area ranges.
Range Improvements at Flatbrook WMA
Air Gun Hunting In New Jersey
The following information pertains to NJ Division of Fish and Wildlife facilities located on state Wildlife Management Areas (WMA). Users must bring their own targets and/or clay birds and launcher; archery ranges include backstops. For range location see maps linked from the List of Wildlife Management Areas. For other WMA information call 609-984-0547.

These ranges are maintained by the NJ Division of Fish and Wildlife's Bureau of Land Management through license sales revenue.

Those using the ranges must provide their own firearms and/or bows, ammunition, arrows, clay birds and/or targets. Only backstops at bow ranges are provided. Please note that state WMAs and facilities are "carry in - carry out" and trash receptacles are not provided; please plan accordingly to not leave any trash or recyclables behind.

Information on privately operated facilities is available at Where To Shoot, a site maintained by the National Shooting Sports Foundation.

Note that some shotgun ranges, and one muzzleloader range, have been closed to comply with the recommendations for best management practices of the U.S. Environmental Protection Agency.


New berm at Stafford Forge WMA range Click to enlarge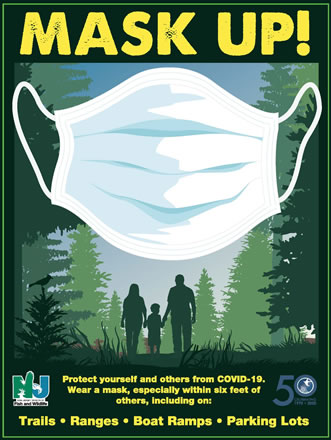 TRAINING AREA REGULATIONS
All WMA regulations apply.
At least one (1) member of the shooting party must have a current, valid New Jersey hunting license in possession.
Shotgun is for fine shot (lead-free at Assunpink; smaller than No. 4 lead or No. T steel ammunition) only. NO BUCKSHOT OR RIFLED SLUGS
Archery is for target or practice tips only - No broadheads.
Muzzleloader is for muzzleloading firearms, shotguns with rifled slugs or buckshot, modern .17 and .17 and .22 caliber rimfire rifles*, and air-guns in the calibers legal for small game hunting only.
No handguns or centerfire rifles* permitted.
Hours are 8:00 a.m. - sunset (except Black River WMA, see below)
Clinton Muzzleloader/Rifle Range Rules
*Rimfire and centerfire rifles up to and including .30 caliber are allowed at the Clinton, Colliers Mills, Flatbrook and Millville ranges ONLY
Range Locations (Region/County)
Range Descriptions (Archery/Shotgun/Rifle)
Above images found on page 65 in the 2020 Hunting & Trapping Digest
MAPS: Clicking on WMA name opens a location map in PDF format in a new tab or window.
NORTHERN REGION
Hunterdon County
Clinton WMA
Route 173W
Clinton
Shotgun, Archery, Muzzleloader (100 yards, Rimfire and Centerfire to .30 caliber)
NOTE: The Clinton Muzzleloader/Rifle Range has special rules which must be followed. See below.
Morris County
Black River WMA
Route 513 (Dover-Chester Road)
Chester
Shotgun, Archery
Shotgun range hours are 9 a.m. to 7:30 p.m., Monday - Friday ONLY, from the third Saturday in May through the Sunday of Labor Day weekend. (Archery range remains open.)
Hours are 9 a.m. to 5 p.m. daily for the rest of the year.
Range is closed on Christmas Day and Easter Sunday.
Sussex County
Flatbrook-Roy WMA
Route 615
Layton
Shotgun, Archery, Rifle/Muzzleloader, Rimfire and Centerfire to .30 caliber (75 yards)
Warren County
Pequest WMA
Pequest Road
Oxford
Archery
CENTRAL REGION
Monmouth County
Assunpink WMA
Imlaystown-Hightstown Road
Upper Freehold Twp.
Shotgun (lead-free shot only), Archery
Turkey Swamp WMA
Georgia Road
Freehold Twp.
*special regulations apply call 732-842-4000
Archery
Ocean County
Colliers Mills WMA
Off Colliers Mills and Hawkins Roads
Colliers Mills
Archery, Muzzleloader (50 and 100 yards, Rimfire and Centerfire to .30 caliber)
SHOTGUN RANGE CLOSED
Stafford Forge WMA
Off Route 539 south of Warren Grove
Little Egg Harbor Twp.
Shotgun, Archery, Muzzleloader (100 yards)
SOUTHERN REGION
Atlantic County
Makepeace Lake WMA
Elmwood-Weymouth Road
Weymouth
Shotgun, Archery, Muzzleloader (50 yards)
Gloucester County
Winslow WMA
Piney Hollow Road
Monroe Twp.
Archery (50 yards)
SHOTGUN and MUZZLELOADER RANGES CLOSED
Cape May County
Tuckahoe WMA
Off Tuckahoe Road (Route 631)
Tuckahoe
Archery
SHOTGUN RANGE CLOSED
Cumberland County
Millville WMA
Ackley Road (Route 718)
Millville
Shotgun, Archery, Muzzleloader (50 and 200 yards, Rimfire and Centerfire to .30 caliber)
Clinton Muzzleloader/Rifle Range Rules
The following rules apply to the Clinton Muzzleloader/Rifle Range ONLY:
All target frames must measure a minimum 30 inches from its base to the bottom of the paper target held in the frame. Frames must be placed only on top of a target mound located at the 25, 50 and 100 yard lines. This minimum target height requirement will eliminate the risk of ricochet and ensure that all projectiles are collected in the berm behind the 100 yard target.

Shooters may supply their own frames which meet the above specifications.

Spinner type targets for .22 caliber firearms MUST be placed directly at the base of the 25 yard berm so that all bullets are directed into the berm. These targets are not to be used at other yardage or berm placements.

Clinton Range Setup - Click to enlarge