Pollinator Conservation In New Jersey Program June 14
Heislerville WMA Drawdown of Impoundment #3
Raptor and Beach Nesting Bird 2020 Reports
Video: 2020 Atlantic Brant Full Annual Migration Cycle

Atlantic Brant Migration and Breeding Ecology Study 2021 Update
Ruffed Grouse Ecology
Grouse Priority Areas Siting Tool (G-PAST)
Connecting Habitat Across New Jersey (CHANJ)
WMA Habitat Management Projects
Fifteen Years Of Women & Wildlife (Conserve Wildlife Foundation)
American Woodcock Migration Study December, 2019 Update
American Woodcock Conservation (American Bird Conservancy Video)
Disturbed Forest - The Forsaken Science of Healthy Forests (Ruffed Grouse Society Video)
Resident Canada Goose Control Information (pdf, 85kb)
Despite being the most densely populated state in the nation, and the fifth smallest in area, New Jersey provides habitat for an incredible number and diversity of wildlife species. There are more than 400 species of vertebrate wildlife which can be found within the state, due in large part to the state's geographic position within North America, as well as 134 freshwater fish and 336 marine finfish.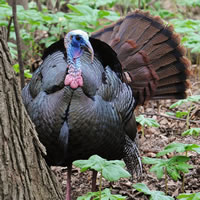 New Jersey lies at the southern edge of the range of many "northern" species and the northern edge of the range of many "southern" species. That, combined with hundreds of miles of coastline and five physiographic regions and the Pine Barrens area combine to support a diverse and abundant wildlife resource.
The Division of Fish and Wildlife is responsible for all wildlife in New Jersey. Management of both game and nongame species includes the common goals of protecting and managing habitats and wildife populations and maintaining wildlife diversity. This work has restored populations of wild turkey and peregrine falcons, as well as bald eagles and osprey. Beavers are again widespread, as are coyotes, and even secretive bobcat have extended their range in the state.
Wildlife management in the state is not without challenges, but even with the threat of habitat loss confronting many species, proper management has allowed our wildlife to thrive. This in turn provides enormous economic and recreational benefits to the people of the state. The links below will help you learn more about New Jersey's wildlife resources.
WILDLIFE INFORMATION


WILDLIFE DISEASE INFORMATION


ADDITIONAL LINKS