A section of the Garden State Parkway adjacent to the Stafford Forge WMA was widened in 2011. During construction, a section of wooded area on Stafford Forge Wildlife Mangement Area was removed, exposing a pheasant-stocked area. By recommendation of our Bureau of Law Enforcement, the area is no longer stocked with pheasants.

The Division is in the process of clearing six (6) new areas to create early successional habitat which will both mitigate the loss of our pheasant stocked areas as well as create habitat to benefit early-mid successional Pine Barrens obligate species (an obligate species is one which is restricted to a specific conditions, such as being dependent on a particular habitat to be able to breed). This project will create four (4) new native warm season grassland areas and two (2) pine savanna areas. Three of the warm season grasslands and one pine savanna will be planted with an appropriate native seed mix. One warm season grassland and one pine savanna will be left to see what native seeds are released after the land clearing.

For more information, contact Pete Winkler at Peter.Winkler@dep.nj.gov.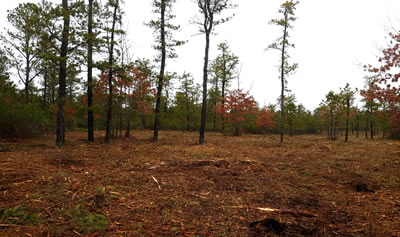 Click to enlarge