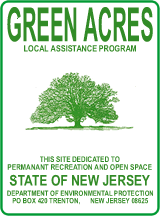 NJ Open Space Map
---
Open Space Database:
Find Green Acres
in Your Town
---
Visit a State Park or Forest Near You
---
Requesting Use of NJDEP Property
---
Photos of Green Acres
---

New Jersey's Green Acres


It's All Yours...

In 2021, New Jersey's Green Acres Program, part of the Department of Environmental Protection, celebrated its 60th year - and we couldn't have done it without you.

Whether you enjoy riding a bike along an old canal path, walking the dog in your city park, watching songbirds flitter around a wild meadow, going for a long hike in the woods, launching your boat in a lake for a relaxing day of fishing, or simply watching your kids have fun at the neighborhood playground, your life has undoubtedly been touched many times over by the DEP's Green Acres Program.

Green Acres has helped to preserve over 1.2 million acres of New Jersey's natural landscape, protecting water quality and wildlife habitat and providing the public with parks, beaches, historic sites and natural areas to enjoy in perpetuity. The New Jersey Open Space Map provides a stunning visual and details about where these properties are located and how they are administered.

New Jersey residents can enjoy hundreds of properties either acquired or improved with Green Acres funding, the state's treasures for all to enjoy. How would you recognize a Green Acres property? Many of the sites visibly display the Green Acres sign for visitors. To learn more about Green Acres funded properties in your municipality, visit the Open Space Database. Or, visit any of New Jersey's State Parks, Forests, Recreation Areas or Marinas because Green Acres funds have been used to supplement most of these properties.

New Jersey's Green Acres Program is a national leader in open space preservation. You, our residents, have consistently declared that access to recreation facilities and nature preserves is of utmost importance - as witnessed by the consistent passage of ballot initiatives since 1961.

Thank you New Jersey residents and voters, for your continued vision,
support and enjoyment of the state's Green Acres Program. Green Acres — forever yours!