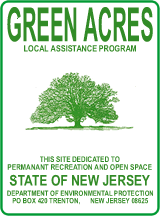 NJ Open Space Map
---
Open Space Database:
Find Green Acres
in Your Town
---
Visit a State Park or Forest Near You
---
Requesting Use of NJDEP Property
---



Green Acres is pleased to display the winning photographs from our 50th Anniversary Photography Contest, examples of the many ways New Jerseyans enjoy our great outdoors.
The Green Acres Program was created in 1961 to meet New Jersey's growing recreation and conservation needs. Together with public and private partners, Green Acres has protected 650,000 acres of open space and provided hundreds of outdoor recreational facilities in communities around the State.
The following list identifies the winning photographs, grouped by photo and age categories. The location and name of the photographer follows each photo title. Click on any photo below to open a full size version.
Nature Close-up
Ages 6-12
1st – Dragonfly at Turkey Swamp Alder Trail / Turkey Swamp Park, Freehold Township / Tyler Hechtle
2nd – Bullfrog Enjoying Lily Pad Pond / Tenafly Nature Center, Tenafly / Galina Bello
Ages 13-17

1st – Bee in the Garden / Durand-Hedden House & Garden, Maplewood / Jared Kofsky

3rd – Frog in Water / Sourland Mountain Nature Preserve, East Amwell / Lexie Fairman

Honorable Mention: Chip off the Ol' Block / Thompson Park, Jamesburg / Joelle Marrone

2nd – A Squirrel's View / Roosevelt Park, Edison / Kelly Gibson

Honorable Mention: Summer Morning / Heritage Park, Allentown / Lizzie Mayer
Ages 18+

1st – Licky Lulu / South Branch Reservation, High Bridge / Donna Herrmann

2nd – Baby Blues / Colonial Park, Franklin Township / Vivian Bedoya

Honorable Mention: Don't be Bugged by all the Signs / Baysholm Conservation Area, Freehold / Alison Astalos

3rd – Red Fox at Wild Acres / WildAcres Preserve, Montville / Sandy Urgo

Honorable Mention: Baby Robins' Nest / Woodbourne Park, Wantage / Gale Miko
| | | |
| --- | --- | --- |
| Honorable Mention: Taking Flight / Long Pond Ironworks State Park, West Milford / Alan Babbitt | Honorable Mention: Opening Willow / Leonard Buck Garden, Far Hills / Robert Pilkington | Honorable Mention: Eastern Towhee / Negri Nepote Native Grassland Preserve, Franklin Township / William Lynch |
People in Parks
Ages 13-17

1st – The Red March / Roosevelt Park, Edison / Kelly Gibson

2nd – Feet / Stony Brook Park, Princeton / Avery Gebhardt

3rd – Bike Rack / Marquand Park, Princeton / Emily Goldman

Honorable Mention: The Battle We Lost / Princeton Battlefield State Park, Princeton / Mackenzie Stricklin

Honorable Mention: On the Right Track / Thompson Park, Jamesburg / Joelle Marrone

Honorable Mention: Cutting Ice at Fosterfields / Fosterfields Living Historical Farm, Morris Township / Jared Kofsky

Honorable Mention: Peeking Through / Hilltop Park, Princeton / Ilana Multak
Ages 18+

1st – Eternal Love / Mercer County Park, Princeton Junction / Katelyn White

2nd – Hope / Memorial Park, Neptune City / Nancy Smith

3rd – Frolicking at South Mountain Reservation / South Mountain Reservation, Montclair / Charles Menjivar

Honorable Mention: Jumpin' Kids! / Hedden Park, Randolph / Laura Byrne

Honorable Mention: Young Hunter / Assunpink Wildlife Management Area, Upper Freehold / John Piccinic

Honorable Mention: Pumpkin Pickers / Franklin Park, Franklin Township / Lauren Curtis

Honorable Mention: Out for a Stroll / Colonial Park, Franklin Township / Vivian Bedoya

Honorable Mention: Friends Hiking / Bass River State Forest / Bass River Township / Rah'sh Horne

Honorable Mention: Seining in Fair Haven / Fair Haven Fields Natural Area, Fair Haven / James Ingle

Honorable Mention: Emma & Skyler up a Tree / Woodbourne Park / Wantage / Gale Miko
Scenics
Ages 6-12

1st – Lily Pad Pond in Full Bloom / Tenafly Nature Center, Tenafly / Galina Bello

2nd – A Fall Walk / Turkey Swamp Park, Freehold Township / Tyler Hechtle
Ages 13-17

1st – The Forgotten Bridge / Institute Woods, Princeton / Absnel Esteban

2nd – Evening Light / River Road Park, Bedminster / Jaclyn Hammond

3rd – Autumn Begins in the Park / Brightwood Park, Westfield / Jared Kofsky

Honorable Mention: Playground / Rosedale Park, Pennington / Nathan Kumar

Honorable Mention: Autumn Sunset / Heritage Park, Allentown / Lizzie Mayer

Honorable Mention: Twilight Silhouette / Thompson Park, Jamesburg / Joelle Marrone

Honorable Mention: Untitled - Millstone River / Millstone River, Princeton / Elizabeth Gudgel
Ages 18+

1st – Fairytale Forest / Black River Wildlife Management Area, Randolph / Sandy Urgo

2nd – Summer Serenity / Leonard Buck Garden, Far Hills / Robert Pilkington

3rd – Sunset at Ramapo Lake / Ramapo Mountain State Park, Wanaque / Nicholas Scheibner

Honorable Mention: Upside-down Sunrise / Celery Farm Natural Area, Allendale / Jim Wright

Honorable Mention: Seven Presidents Park after Snow Storm / Seven Presidents Oceanfront Park, Long Branch/ David Lipman

Honorable Mention: Paterson Falls / Great Falls Park, Paterson / Diane Perez

Honorable Mention: Blue Heron / Heistein Park, Randolph / Laura Byrne

Honorable Mention: Mercer County Bridge in Fall / Mercer County Park, West Windsor / Caitlyn McIntyre

Honorable Mention: Winter in Sayreville / Sayreville Boat Dock, Sayreville / Edward Hughes

Honorable Mention: Sunset over the Bay at Sunset Park / Sunset Park, Harvey Cedars / Deborah Campano

Honorable Mention: Sunset at High Point / High Point State Park, Montague / David Kenny