Beaches are gently sloping areas of sand or other unconsolidated material, found on all tidal shorelines, including ocean, bay, and river shorelines that extend landward from the mean high water line to either:
A man-made feature generally parallel to the ocean, inlet, or bay waters such as a retaining structure, seawall, bulkhead, road or boardwalk, except the sandy areas that extend fully under and landward of an elevated boardwalk are considered beach areas; or
The seaward or bayward foot of dunes, whichever is closest to the bay, inlet or ocean waters.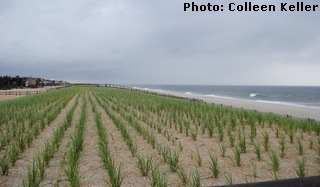 A dune is a wind or wave deposited or man-made formation of sand (mound or ridge), that lies generally parallel to, and landward of, the beach and the foot of the most inland dune slope. "Dune" includes the foredune, secondary or tertiary dune ridges and mounds, and all landward dune ridges and mounds, as well as man-made dunes, where they exist. Dunes provide protection for landward development as well as critical habitat for wildlife.
Beaches and dunes are considered "special areas" pursuant to the Coastal Zone Management rules at N.J.A.C. 7:7. Therefore, activities on and among beaches and dunes may require multiple approvals from the Division of Land Use Regulation. The presence or absence of special areas can be rudimentarily determined using the Department's online mapping service, NJ-GeoWeb.
The above tabs provide additional information on permit requirements relating to development on and among beaches and dunes. For impacts to streams, rivers, lakes, ponds, flood plains, flood ways, riparian zones, please see the "
Flood Hazard
" tab. For impacts to special coastal areas, please see the "
Coastal
" tab. For impacts to Freshwater Wetlands, see the
"Freshwater Wetlands
" tab. Information on Tidelands can be found by selecting the "
Tidelands
" tab.
Beaches dunes and seaside boardwalks very rarely impact freshwater wetlands. Should an area of coastal wetlands not appear on the promulgated coastal wetlands mapping however, then the Department will likely take jurisdiction over that wetland under the Freshwater Wetlands Protection Act and Freshwater Wetlands Protection Act Rules. Please see the Freshwater Wetlands Section of this website for more information.
Activities on and among beaches and dunes are regulated by the Coastal Zone Management Rules at N.J.A.C. 7:7. Please see the "Coastal" tab for more information.
Regulated activities on and among beaches and dunes which generally require a CAFRA and/or Waterfront Development permit include but are not limited to the following:
Excavation, grading and/or filling
Installation of structures
Routine beach maintenance
Emergency post-storm beach restoration
Dune creation, maintenance, and/or relocation
Development of trails, boardwalks and bike paths
Potentially applicable Permits-by-rule (PBRs):
PBR 3 - authorizes the placement of public safety or beach/dune ordinance signs at public parks, provided:
No footings are required; and
The signs are placed by governmental entities.
Please see N.J.A.C. 7:7-4.3 for complete rule requirements.
PBR 15 - authorizes the placement of sand fencing to create or sustain a dune, provided the sand fencing:
Is placed on the landward side of the dune;
Is placed parallel to the mean high water line; and
Does not prevent perpendicular public access to the beach.
Please be advised, this Permit-by-rule does not authorize the excavation or grading of a dune. Please see N.J.A.C. 7:7-4.15 for complete rule requirements.
Potentially applicable General Permits (GPs):
GP 2 - authorizes beach and dune maintenance activities, such as routine maintenance, emergency post-storm beach restoration, and dune creation and maintenance
If the proposed project does not meet the requirements of an exemption, Permit-by-rule, or General Permit, the project may require a CAFRA, Coastal Wetlands and/or Waterfront Development Individual Permit.
Emergency Authorizations:
Emergency Authorizations are available for beach and dune restoration after storm events when there is an imminent and direct threat to life and/or property. For more information, please visit the Emergency Authorizations webpage.
Please contact the Division's Technical Support Center at (609) 777-0454 should you require further assistance.
Tidelands, also known as riparian lands, are all those lands now or formerly flowed by the mean high tide of a natural waterway; that is to say any land that is currently or was previously covered by tidal waters. The State of New Jersey, and therefore the people of New Jersey, owns all Tidelands except for those to which it has already sold its interest in the form of a riparian grant. It is important to note that the State generally does not own artificial waterways such as lagoons however, the State does claim those lands within a lagoon that were flowed by the mean high tide of a natural waterway which existed prior to the creation of the lagoon.
Beach and Dune activities that are proposed in a tidelands area may require a tidelands grant if the activities are taking place in an area that is currently landward of the mean high water line but was, at some point, flowed by the tide.
A riparian grant, or tidelands grant, is a deed from the State of New Jersey selling its tidelands. Tidelands grants are generally only issued for lands that have already been filled in and are no longer flowed by the tide.
For more information on tidelands instruments, please see the tidelands section of this website.
For information and instruction on how to determine whether you are in an area that may require either a license or a grant, or for information how to apply for Tideland instruments please see the "Before you Build, Before you Buy" webpage.