CHRISTIE ADMINISTRATION TO PROVIDE RESIDENTS MORE THAN 130,000
SEEDLINGS TO REPLACE TREES LOST DURING SUPERSTORM SANDY
DISTRIBUTIONS TAKING PLACE AT 178 MUNICIPALITIES THROUGH MAY 9
(15/P29) TRENTON – The New Jersey Tree Recovery Campaign, a partnership between the Department of Environmental Protection's State Forestry Services and the non-profit Arbor Day Foundation, is distributing some 130,000 free tree seedlings to residents through 178 locations across the state, Commissioner Bob Martin announced today.
This is the second year of the effort, launched to help communities that were hit by tree losses resulting from Superstorm Sandy. Municipalities that registered last month for the seedlings will receive up to 1,500 trees each for distribution to residents. Any resident of the state is eligible to receive up to five free tree seedlings at any of the distribution locations. Proof of residency is not required.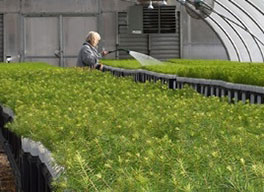 State Forestry Services will deliver the trees to 13 regional distribution centers for pick-up by those municipalities, which will then distribute them to residents through May 9.

"While we have made tremendous progress as a state in recovering from Superstorm Sandy, the storm destroyed a staggering number of trees across New Jersey – and not just in those communities hardest hit by the storm," said Commissioner Bob Martin. "This campaign will allow residents to replace trees where they are needed most, right in their neighborhoods and backyards."

State Forestry Service's New Jersey Forest Nursery is providing seedlings from more than 38 different tree species for the campaign after a hugely successful seedlings distribution effort last year. The species include a wide range of trees, from oaks to dogwoods and maples.

The seedlings, which are about knee-high when distributed, should be planted promptly to ensure survival. In choosing where to plant the seedlings, residents should consider the size of the tree when fully grown and be mindful of overhead utility lines and proximity to structures.

From now until May 9, each participating community will distribute seedlings on a designated date. Seedling distribution locations will be listed on the State Forestry Services Facebook page www.facebook.com/newjerseyforests and at www.forestry.nj.gov.

The New Jersey Tree Recovery Campaign is a joint effort between the New Jersey State Forestry Services' Community Forestry Program and State Forest Nursery, New Jersey Soil Conservation
Districts, Sustainable Jersey, Arbor Day Foundation, Brothers International, BJ's Wholesale Club, Wyndham Vacation Resorts, and FedEx.

The State Forestry Services' Forest Tree Nursery opened in 1982 in Jackson, where foresters grow 500,000 trees annually. The nursery sells the majority of trees in packets of 100 to private landowners, including non-profits and New Jersey landowners who use the trees to reforest their land. Packet prices start at $30.

The nursery also offers the Third Grade Tree Team program where each third grader in the state is eligible to receive a free tree seedling when requested by the student's school. For Arbor Day celebrations, the nursery offers 98 tube seedlings for $25. For more information on these programs, visit: www.forestnursery.org or call (732) 928-0029.

The National Arbor Day Foundation has been helping communities cope with the aftermath of natural disasters through its Tree Recovery Campaigns since 2011. For more on the Arbor Day Foundation, visit: www.arborday.org/newjersey.