CHRISTIE ADMINISTRATION PROPOSES COMMON SENSE REVISIONS TO
FLOOD HAZARD AREA CONTROL ACT REGULATIONS
CHANGES PROVIDE FLEXIBILITY WHILE MAINTAINING HIGH STANDARDS FOR
ECOLOGICAL AND FLOOD PROTECTION
(15/P49) TRENTON – The Department of Environmental Protection today proposed revisions to its Flood Hazard Area Control Act rules that will reduce complexity, correct conflicting regulations, and streamline the permitting process for project applicants while continuing New Jersey's high standards for flood mitigation and ecological protection of river and stream corridors.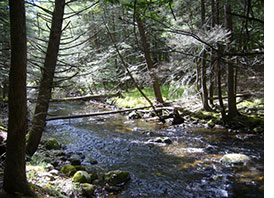 The revisions, based on recommendations made by stakeholder study groups, are part of the Christie Administration's ongoing effort to add common sense and predictability to overly burdensome state rules and regulations. The full proposal appears in the New Jersey Register issued today, and is now open for public comment.

"Our streams and rivers provide the state with many benefits, but many aspects of the way the rules are currently structured have not achieved their stated goals," DEP Commissioner Bob Martin said. "These rule changes will correct those problems while maintaining our high standards for protection of our waterways and mitigation of flooding."

For example, the rule proposal will defer enforcement of soil erosion and sediment control standards to local Soil Conservation Districts in areas that have highly acidic soils. These areas primarily parallel the New Jersey Turnpike corridor through central and southern New Jersey.

"Local Soil Conservation Districts have much greater expertise than the DEP in management practices to control erosion and runoff of acidic soils that can have significant negative impacts on water quality and aquatic life," said DEP Assistant Commissioner for Land Use Regulation Ginger Kopkash. "Current regulations requiring discharges of stormwater outside the 150-foot riparian zone along streams where these soils exist, in many cases, has actually caused erosion of acidic soils into streams that are supposed to be protected by our regulations."

In some cases, this process has resulted in the scouring away of deep gullies that have carried acid-bearing soils into streams. This severely degrades aquatic habitats, making it difficult or even impossible for many species of fish and plants to live in impacted waters.

"This rule change is an example of the DEP spending time in the field and finding that there is a better way to protect the state's surface waters," said Bill Brash, Director of the Mercer County Soil Conservation District. "I commend the Department for its willingness to review the riparian zone requirements and make the changes necessary to better protect water quality in those watersheds with complex resource problems of highly erosive soils underlain by acid-producing soils.

Other elements of the proposed rule include:
Amending requirements for the placement of stormwater discharges within riparian zones to address concerns raised by local Soil Conservation Districts regarding downstream erosion.
Making it easier to restore impaired riparian zones by encouraging such efforts as "daylighting" streams by removing culverts that enclose them.
Consolidating the Special Water Resource Protection Area and 300-foot riparian zone into a hybrid buffer with predictable standards to better protect the State's most ecologically sensitive streams and rivers
Streamline the flood hazard area permitting process by converting six existing general permits to general permits-by-certification and converting four existing general permits to permits-by-rule.
Making the permit review process more efficient and time sensitive for certain applications.
Making it easier to do projects such as minor road widening and bridge or culvert replacement projects.
Encouraging the preservation and creation of terrestrial crossings under bridges and within culverts.
In 2011, Governor Christie launched the bi-partisan Red Tape Review Commission which worked in conjunction with the Legislature to streamline regulatory processes across state government by eliminating burdensome red tape, thus promoting a more vibrant New Jersey.
In developing this rule proposal, the DEP held numerous stakeholder meetings that included representatives from local government, state and federal agencies; the development community; and the environmental community.

Various working groups were formed to analyze and make recommendations for improving the regulatory framework of the Flood Hazard Area Control Act, adopted in 1980. Many of the amendments the DEP is currently proposing reflect the recommendations of the subcommittees and stakeholders. The complete rule proposal is available at: http://www.nj.gov/dep/rules/proposals/20150601a.pdf

Today's publication in the Register triggers a 60-day public comment period ending July 31, 2015. Comments may be submitted electronically at www.nj.gov/dep/rules/comments
Comments may be submitted on paper to:
Gary J. Brower, Esq.
Attn.: DEP Docket No. 05-15-04
Office of Legal Affairs
NJ Department of Environmental Protection
401 East State Street, 7th Floor
Mail Code 401-04L; P.O. Box 402
Trenton, NJ 08625-0402

The DEP has scheduled two public hearings:

Tuesday, June 22, 2015, 10 a.m.
NJ Department of Environmental Protection
Public Hearing Room
401 East State Street
Trenton, NJ 08060
Thursday, June 25, 2015, 5:30 p.m.
City of Long Branch Municipal Building
Council Chambers
344 Broadway, 2nd Floor
Long Branch, NJ 07740