CHEESEQUAKE STATE PARK TO CELEBRATE 75TH ANNIVERSARY JUNE 6
PARK REMAINS DEDICATED TO MISSION OF PROVIDING OUTDOORS RECREATIONAL
OPPORTUNITIES IN ONE OF NATION'S MOST DENSELY POPULATED AREAS
(15/P52) TRENTON – Cheesequake State Park will mark its 75th anniversary with an array of festivities open to the public on Saturday, June 6, Department of Environmental Protection Commissioner Bob Martin announced today.
The ceremonies will focus on the people who have made the park, located in Old Bridge, Middlesex County, a success, from past and current employees to the many patrons who have visited since then-Governor Harry Moore officially opened the park on June 22, 1940.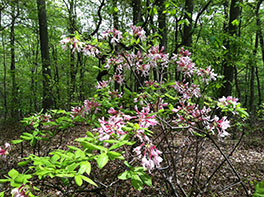 "This 75th anniversary celebration will focus on the mission of the park as it was then, and as it remains today, which is providing residents of this densely populated section of New Jersey a place to enjoy the benefits of outdoor recreation and to learn about nature," said Commissioner Martin. "In a sense, Cheesequake's mission is even more important today by providing diverse recreational opportunities and a place to get away from the many demands of modern living."
Saturday's event begins at 10 a.m. on the lawn next to the lake and will include speeches, followed by tours with park naturalists and historians. The day's events, which end at 12:30 p.m., will focus on the longstanding mission of Cheesequake, as well as its early history and the importance of its diverse ecology in an area that is easily accessible to people from across the region.

"The park's success is a result of the many people who over the decades have worked hard to ensure its vibrancy and resiliency, from its early years to its recovery after damages from Superstorm Sandy," said Richard Boornazian, DEP Assistant Commissioner for Natural and Historic Resources. "I encourage the people of New Jersey to come and experience the beauty of this park and learn more about its important natural history."
The 1,274-acre park has become known for being in a transitional zone between northern hardwood forest and southern Pine Barrens ecosystems. Located near Raritan Bay, the park boasts salt and freshwater marshes, open fields and a white cedar swamp.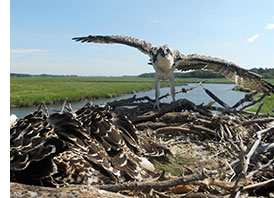 "Because of its diverse ecosystems, there are many ways to enjoy this park, really something for everyone," said State Park Service Director Mark Texel. "Whether it's swimming, camping, hiking, bird watching, fishing, crabbing, or canoeing and kayaking, there is no shortage of activities to help you get away from it all, whether it's for just a day, a weekend, or even longer."

The name Cheesequake is derived from the Lenape word Cheseh-oh-ke, meaning upland or "upland village." The park is home to more than 160 species of birds and a wide variety of trees, including Atlantic white cedars, red maples, black birches and sweet bay magnolias. The park also boasts eight productive nests for osprey, a species once threatened by now-banned pesticides and habitat loss.
In the early 1950s the park was bisected as a result of construction of the Garden State Parkway, which today provides the park with its easy accessibility. The first campsites were created in 1962 to handle overflow visitors from the World's Fair in New York City. After celebrating the nation's first Earth Day in 1970, a nature center was built to help visitors understand the park's varied ecosystems.
"This is a great place to start your visit, to learn what the park has to offer," said Park Superintendent David Donnelly.

A volunteer group has posted images of park visitors at http://cheesequakestateparknj.webs.com and seeks additional photos and memorabilia for inclusion on the site. Items may be brought to the Park Office at 300 Garden Road, Matawan, or emailed to the Park Superintendent at CSPsupt@optonline.net
To learn more about Cheesequake State Park, visit: www.nj.gov/dep/parksandforests/parks/cheesequake.html