CHRISTIE ADMINISTRATION FILES FIRST EMINENT DOMAIN ACTIONS TO
SECURE EASEMENTS NEEDED FOR BEACH CONSTRUCTION PROJECTS
ACTIONS TARGET HOLDOUTS STANDING IN WAY OF PROJECTS NEEDED TO PROTECT
FAMILIES, BUSINESSES AND INFRASTRUCTURE AGAINST STORMS AND FLOODING
(15/P62) TRENTON – The Christie Administration has filed its first eminent domain actions against beachfront property owners to secure easements that the U.S. Army Corps of Engineers needs to build engineered beach and dune projects to protect lives, homes and businesses in the state's economically vital coastal communities from severe storms and flooding, Department of Environmental Protection (DEP) Commissioner Bob Martin and Acting Attorney General John J. Hoffman announced today.
These filings build upon the ongoing work the Christie Administration has been undertaking to secure easements necessary to construct these projects that are vital to protecting families, businesses and infrastructure. The Administration has secured 90 percent of the 4,279 easements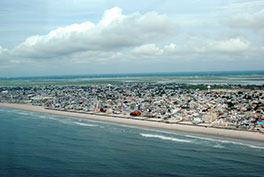 needed since Superstorm Sandy struck the state in October 2012. Only 388 easements, from 244 property owners, are still needed.

Work on coastal protection projects is underway along major portions of the shore, due in large part to the civic-mindedness of property owners who voluntarily provided easements.

"Owners of beachfront properties up and down the coast have overwhelmingly stepped forward and done the right thing," Commissioner Martin said. "Unfortunately, a few holdouts continue to refuse to provide easements, forcing us to seek condemnation of portions of their properties so we can move forward with projects that will protect lives and property."

"The property easements we have obtained, and the easements we still seek, are vital to coastal protection efforts that benefit all New Jersey residents," said Acting Attorney General Hoffman. "We appreciate that many property owners – clearly mindful of the destruction caused by Superstorm Sandy – have unselfishly donated easements for the greater good rather than engage the State in protracted litigation. But to those who continue to hold out, our message is that we remain committed to acquiring these easements as expeditiously as possible, and – consistent with a landmark Supreme Court decision issued in 2013 – without paying windfalls at the public's expense."

The eminent domain actions were filed in Ocean County Superior Court involving a property in Ship Bottom and in Cape May County Superior Court involving a property in Ocean City.

In response to the destruction caused by Superstorm Sandy in October 2012, Governor Chris Christie issued Executive Order No. 140 in September 2013, directing the Attorney General's Office and DEP to take any necessary actions to obtain property easements. The easements give the Army Corps right of access to construct beaches and dunes that will benefit the public.

The vast majority of easements to date have been provided voluntarily. Commissioner Martin attributed this success to the civic responsibility demonstrated by property owners as well as concerted state and local outreach efforts, and, in small number of cases, the commencement of legal actions under the state's Disaster Control Act.

Earlier this year, however, a Superior Court judge in Ocean County ruled that the Disaster Control Act does not provide the legal authority to take permanent easements without instituting a condemnation proceeding pursuant to the state's Eminent Domain Act.

The bulk of the remaining easements are in northern Ocean County, ironically the area hardest hit by Sandy. Of the 326 outstanding easements needed there, 123 are in Bay Head and 68 are in Point Pleasant Beach.

Helping significantly to clear the way for the obtainment of easements was a landmark decision by the New Jersey Supreme Court in July 2013, which resulted from strong advocacy by the State regarding how to determine compensation for easements needed for an already-completed shore protection project in the borough of Harvey Cedars on Long Beach Island.

The ruling enabled the State to obtain an easement from beachfront property owners Harvey and Phyllis Karan for $1 as part of a settlement that ended years of litigation that started when the borough sought an easement from the Karans to build a 22-foot-high protective dune on a portion of their lot. The municipality used its power of eminent domain to acquire the easement. However, the parties could not agree on fair compensation and ended up in court. The DEP ultimately became an intervenor.

A trial jury placed the value of the Karan's easement at $375,000, and the Appellate Division upheld that verdict. However, on July 8, 2013, the state Supreme Court overturned the jury award and ordered a new trial.

In reversing the jury award, the Supreme Court held that homeowners who are subject to a property-taking on behalf of public projects "are not entitled to a windfall" that disregards the protective benefits of those projects to their own properties. The Karans subsequently settled, accepting $1 as compensation.

The Army Corps, DEP, and local communities have been teaming up to construct a comprehensive coastal protection system for New Jersey, largely funded by the federal Sandy Relief Act, signed into law in 2013.

Last year, the Army Corps of Engineers, in partnership with DEP, completed eight post-Sandy beach repair projects, returning roughly 45 miles of previously engineered and constructed beaches along the New Jersey coast to their original protective construction design at a cost of $345 million.

The Army Corps and DEP are currently undertaking a $128 million beach and dune construction project on Long Beach Island; a $57.6 million beach and dune project in southern Ocean City, the Strathmere section of Upper Township and Sea Isle City in Cape May County; and a $38.2 million project to construct beaches and improve infrastructure in the area of Loch Arbour, Allenhurst and Deal in Monmouth County.

Work is expected later this year in Ventnor, Margate and Longport on Atlantic County's Absecon Island; in southern Long Branch and northern Deal in Monmouth County; and in the northern Ocean County municipalities of Point Pleasant Beach, Bay Head, Mantoloking, Brick, Toms River, Lavallette, Seaside Heights, Seaside Park and Berkeley.

A $202 million project to protect Union Beach, Monmouth County, with flood walls, levees, beaches and pumps, is expected to be launched next year.