CHRISTIE ADMINISTRATION SENDING NEW JERSEY FOREST FIRE SERVICE
CREWS TO BATTLE WILDFIRES IN PACIFIC NORTHWEST
32 FIREFIGHTERS AND THREE ENGINES BEING SENT TO FIRE LINES IN OREGON, IDAHO AND MONTANA
(15/P68) TRENTON – The Christie Administration is sending New Jersey Forest Fire Service crews and equipment to assist in the battling of wildfires that are raging across parts of the Pacific Northwest, Department of Environmental Protection Commissioner Bob Martin announced today.

The Forest Fire Service is dispatching a total of 32 firefighters and three wildfire trucks, known as Type 4 engines, which are specifically equipped to pump water in remote fire areas. These resources are being sent to fight wildfires in Oregon, Idaho, and Montana as part of a cooperative aid agreement with the U.S. Forest Service.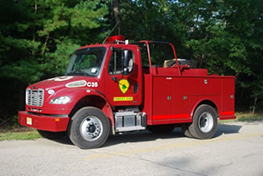 "Although these fires are more than 2,000 miles from New Jersey, we are all neighbors and feel a deep sense of responsibility in helping each other out," said Commissioner Martin. "We are proud to be sending our dedicated crews from the New Jersey Forest Fire Service to pitch in and help out fellow states under this cooperative agreement that has been in place since 1985."

Twenty full-time and part-time employees of the New Jersey Forest Fire Service are flying out tomorrow. Three left yesterday. The three wildfire engines are leaving this afternoon, each with a three-person crew. They are driving to the fire scenes.

"Our crews have extensive experience in fighting volatile forest fires, particularly in the fire-prone Pine Barrens," said New Jersey State Firewarden Bill Edwards. "Our crews are top-notch professionals and will provide invaluable support, helping to provide some relief to firefighters who have been working around the clock to control these wildfires."

"We really appreciate the opportunity to send our crews to help out our fellow firefighters who have been on the front lines of these massive fires for many weeks," said Firewarden Edwards. "These types of mutual assistance agreements are critical for helping to mass needed resources where they are most needed during major disasters."

The U.S. Forest Service has provided resources to New Jersey in the past to assist in clearing of downed trees resulting from major storms, most recently after Superstorm Sandy knocked down countless trees in October 2012.

The U.S. Forest Service will be reimbursing the state for all costs associated with the deployment of crews to the fires in the Pacific Northwest.

The following Section Wardens are being dispatched to lead the New Jersey crews:
Section Warden Chris Franek, Task Force leader, Mount Hood National Forest, Oregon
Section Warden George Efinger, Task Force Leader Trainee, Mount Hood National Forest, Oregon
Section Warden Scott Knauer, Task Force Leader, Bendire Fire Complex, Vale, Oregon
District Warden, Jim Parker, Safety Officer, Lawyer 2 Fire, Kamiah, Idaho
Deputy Warden Kevin Curry, Computer Specialist, Fisher Fire, Craigmont, Idaho
Fire crews are being sent to a staging area in Missoula, Montana for assignment. The Type 4 engines are being sent to the National Creek Complex fire in the Rouge-Siskiyou National Forest in Oregon.

All personnel assignments are expected to last two weeks. The engines will remain as long as needed, with crews rotated as necessary.

Personnel and equipment are being dispatched from across the state. The assignments will have no impacts on the ability of the Forest Fire Service to fight any wildfires in New Jersey.

The Pacific Northwest isn't alone in its battle with wildfires. In fact, wildfires had burned 5.5 million acres in the U.S. by the end of July, an area exceeding the size of New Jersey.
Alaska has taken the biggest brunt of the fires. Eighty-five percent of the acres burned in the U.S. this year have been in Alaska – a total of 4.7 million acres.
California and Montana have also experienced huge wildfires this season.
A fire in Glacier National Park in Montana has burned 11,400 acres. In California, 9,000 firefighters are battling 24 wildfires, leading to a state of emergency there.
For more information on the New Jersey Forest Fire Service, visit: www.nj.gov/dep/parksandforests/fire/aboutus.html