CHRISTIE ADMINISTRATION SEEKS APPLICATIONS FOR SECOND ROUND OF
GRANTS IN HUD-FUNDED FLOOD HAZARD RISK REDUCTION PROGRAM
DEPARTMENT OF ENVIRONMENTAL PROTECION IS MAKING $25 MILLION AVAILABLE
TO COMMUNITIES FOR STORM MITIGATION EFFORTS
(15/P96) TRENTON – The Christie Administration today announced that a second round of federal grants totaling $25 million is available through the Department of Environmental Protection for municipalities, counties and local government agencies to improve storm resiliency, with efforts focusing on coastal lakes and inland waterways.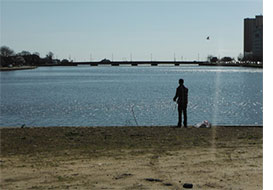 The DEP is seeking applications for grants to be provided through its Sandy Flood Hazard Risk Reduction and Resiliency Program, which is funded by the U.S. Department of Housing and Urban Development Community Development Block Grant Disaster Recovery (CDBG-DR) program. The DEP has already made $18.5 million available in the first phase of the Flood Hazard Risk Reduction and Resiliency Grant program, including flood mitigation projects now under way for a series of coastal lakes in Monmouth County that were severely impacted by Superstorm Sandy and flooded surrounding communities in October 2012.

"This important initiative provides our local governments with funding and technical assistance for projects that will protect their communities and make them more resilient," Commissioner Martin said. "The program provides opportunities for projects that will reduce risks storm surge and flooding."
"This program is also another example of the Christie Administration's commitment to making New Jersey resilient in the wake of Superstorm Sandy," Commissioner Martin said. "We stand ready to assist local governments in providing technical assistance to move these projects forward and make our communities stronger and safer."

Projects must be in one of the nine counties most impacted by Superstorm Sandy, as determined by the federal government and must address flood damage caused by Sandy. These are Atlantic, Bergen, Cape May, Essex, Hudson, Middlesex, Monmouth, Ocean and Union counties.
The DEP is encouraging regional coordination on projects. Each application will be evaluated for potential effectiveness in reducing flooding and enhancing resiliency, compliance with environmental reviews, constructability, analysis of cost-to-benefits, protection of critical infrastructure, and other factors. The maximum grant award for any project is $15 million.

Eligible projects include construction of flood-protection measures such as stormwater discharge systems and pumps as well as creation of wetlands and living shorelines to absorb impacts of wave action. Living shorelines utilize strategic placement of native vegetation, sand, organic materials, and/or bivalves such as oysters, clams and mussels to reinforce shorelines.

The program complements the Administration's comprehensive Sandy recovery and resiliency efforts. These effort include construction of engineered beaches and dunes and other flood mitigation strategies in partnership with the U.S. Army Corps of Engineers, Blue Acres buyouts of flood-prone residential properties, the DEP's partnership with the New Jersey Environmental Infrastructure Trust to provide financing for hardening of water and wastewater infrastructure, and partnerships with HUD to protect urban areas of the state.
The DEP will hold a series of information sessions on the Storm Risk Reduction and Resiliency grant program for elected officials and engineers. They are:
October 30: New Jersey Sports and Exposition Authority (formerly the Meadowlands Commission), Lyndhurst, 1 p.m. to 2:30 p.m.
November 12: Batsto Village Auditorium, located off Burlington County Route 542 in Wharton State Forest, 10 a.m. to 11:30 a.m.
November 19: Monmouth Battlefield Visitors Center, Monmouth Battlefield State Park, 16 Business Route 33, Manalapan, 10 a.m. to 11:30 a.m.
For more information, including scoring criteria for potential projects, please visit http://www.nj.gov/dep/floodhazard/