DIVISION OF FISH AND WILDLIFE RELEASES REHABILITATED PEREGRINE
FALCON, HIGHLIGHTING STATE'S RESURGENCE OF BIRDS OF PREY
STATE INCOME TAX CHECK-OFF PROVIDES PUBLIC WITH OPPORTUNITY TO
SUPPORT ENDANGERED SPECIES PROTECTION EFFORTS
(16/P9) TRENTON – The Department of Environmental Protection's (DEP) Division of Fish and Wildlife today released a rehabilitated peregrine falcon near Spruce Run Reservoir in Hunterdon County, drawing attention to the continuing climb in populations of birds of prey in New Jersey.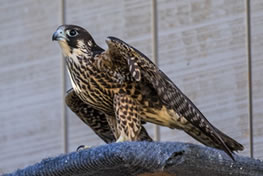 "The health of our wildlife is a good indicator of the overall health of the environment," said Division of Fish and Wildlife Director David Chanda. "This is particularly true of birds of prey, also known as raptors, which have made remarkable recoveries from past use of dangerous pesticides."

The annual state income tax check-off for Wildlife provides critical support to the Division of Fish and Wildlife's Endangered and Nongame Species Program, which works to promote and protect growing populations of bald eagles, peregrine falcons and ospreys.

The male falcon released from the Division of Fish and Wildlife's Clinton Wildlife Management Area sustained a severely broken wing in November. Its prospects back then appeared grim.

"This particular bird showed a lot of resilience. Due to the severity of its injury – a fracture of a bone that controls use of flight muscles – we did not think its survival chances were very good, let alone its prospects for being returned to the wild," said Kathy Clark, supervising zoologist with the DEP's Endangered and Nongame Species Program. "This is a wonderful day not just for this particular falcon, but for the species in general."

By the 1960s and early 1970s, bald eagles, peregrine falcons and osprey had nearly been extirpated in New Jersey due to the widespread application of pesticides that caused eggshell thinning and egg failure.

Peregrine falcons are experiencing record productivity rates. Thirty-two pairs now occupy appropriate nesting habitat in New Jersey, according to a 2015 survey conducted by the Endangered and Nongame Species Program. Of these, 28 pairs actively nested.

Though still small, the population has stabilized and exhibits excellent productivity rates. Last year, the active pairs produced 63 young, or an average of 2.25 young per pair.

Peregrines can be found nesting on bridges, water towers, and tall buildings. Some peregrine falcons relocated from New Jersey have even been used to help rebuild populations in West Virginia's Appalachian Mountains. Peregrines relocated from New Jersey between 2006 and 2011 have been confirmed inhabiting the mountain areas of West Virginia and western Maryland.
New Jersey's osprey population, meanwhile, continues to show signs of firm recovery from steep declines in the 1950s and 1960s due to habitat loss and pesticide contamination. The Division of Fish and Wildlife estimates that there are now more than 600 osprey nests across the state.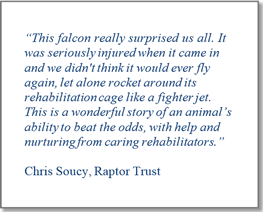 These specialized predators are found predominantly in coastal areas, with heaviest populations found around Barnegat Bay, Great Bay, Cumberland County's Maurice River marshes, the Avalon-Stone Harbor area, bays around the Wildwoods, and Raritan Bay.
Bald eagle populations, meanwhile, continue to soar to new record highs each year, with 150 territorial pairs counted in 2015. These nests produced 200 offspring – 199 to their natural parents and a chick recovered from a fallen nest in Maryland and fostered into a nest in Fairfield Township, Cumberland County, where it fledged successfully.

The male falcon released today was found Nov. 1 of last year in the yard of a Roxbury Township resident. It's not clear how the bird was injured, but peregrine falcons make steep high-speed dives – upwards of 200 miles per hour – to capture prey. This falcon may have hit an electrical power wire or other high object during a dive.

It was rehabilitated by the Millington-based Raptor Trust, a key nonprofit partner in the state's work to protect and enhance populations of birds of prey.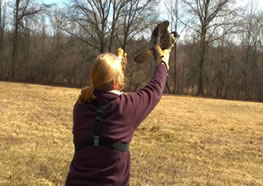 "This falcon really surprised us all," said Chris Soucy, Executive Director of the Raptor Trust. "It was seriously injured when it came in and we didn't think it would ever fly again, let alone rocket around its rehabilitation cage like a fighter jet. This is a wonderful story of an animal's ability to beat the odds, with help and nurturing from caring rehabilitators."

The DEP also issued a Certificate of Appreciation to Joseph Bourlier, the Roxbury resident who reported the injured falcon, enabling it to be taken to the Raptor Trust.

"The area around the Clinton Wildlife Management Area and Spruce Run Reservoir will provide a great deal of protected habitat that will allow this bird to re-enter the wild and become part of recovery for this special species," Director Chanda said. "It is truly a great day whenever we can make a difference by helping a species that inspires such awe in people and plays such an important role in a balanced ecosystem."

Wildlife check-off funds go to support wildlife conservation programs in New Jersey. Details are included in the Form 1040 instructions.
Separate reports highlighting the success of the raptor restoration efforts and providing detailed charts and analysis are available at http://www.njfishandwildlife.com/ensp/raptor_info.htm
For more on the Endangered and Nongame Species Program, including facts on species that the program works to protect, visit: http://www.nj.gov/dep/fgw/ensphome.htm
For more information on the Raptor Trust, visit: http://theraptortrust.org/
For the 16th season, Conserve Wildlife Foundation of New Jersey will operate the FalconCam at 101 Hudson Street in Jersey City. Since 2000, the popular webcam has captured the annual life cycle of a family of state-endangered peregrine falcons nesting on a skyscraper rooftop in Jersey City. To view the next online during the season, visit: http://www.conservewildlifenj.org/education/falconcam/
For more information on Conserve Wildlife Foundation of New Jersey's Peregrine Project webpage, visit: http://www.conservewildlifenj.org/protecting/projects/peregrine/
Top photo/Ming Chiou
Bottom photo/Caryn Shinske